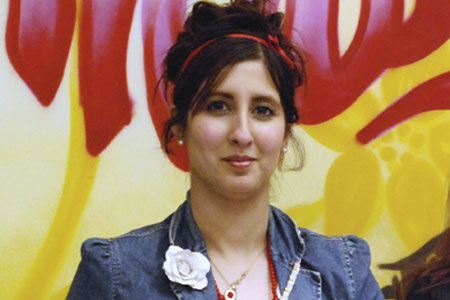 A Week in the life of Shemiza Rashid
Issue 73 October 2010
Shemiza Rashid is a full-time mum of five and the director and founder of the Creative Muslim Network (CMN), an organisation which uses creative mediums like art to better young people's understanding of Islam.
To celebrate the birthday of the CMN, we throw a glamorous bash, which is held in my sitting room room accompanied by my management committee aged seven, five, three and one - not forgetting baby bump number five. We celebrate with a lopsided, homemade cup cake and a recycled candle, stuck down by bubble gum but all lovingly prepared by my gorgeous and inspirational brood. Alas! Still living on a lifestyle of chick peas and child benefit but Alhamdulillah, life is great. My children play a huge role in my work and are my motivation and inspiration. I want to provide a positive and cohesive community for them and other children of all faiths to grow up in. My children attend meetings and the interfaith and civic events in the evening whenever possible with me and provide valuable insight into making the organisation work at its very best.
My Mondays like every other day,Replica Watches Shop typically begin with a colourful assortment of wiping, scooping, dressing, feeding, finding and finally screaming; making sure I have achieved a Michelin world record in the breakfast toast making region. The menu includes toast with only butter, toast with butter and jam- no crust and toast with no butter but jam, plain bread and not forgetting fried butter on leavened bread and Kashmiri tea. Whoever invented the term, 'the best thing since sliced bread' should strongly avoid crossing paths with me. Then it's back to screaming and finding a mismatch of uniform bits, filling the car with the kids, an accurate head count and going over spellings and reading books as well as filling in the reading record, and then finally emptying them in to their classrooms.
On Thursdays and Fridays, my only teaching days, the Monday morning procedure is done at super speed and not forgetting the all important spot checking to ensure I haven't got jam toast stuck on my back before entering my classroom, full of 16-19 year olds. The whole day is spent teaching but on occasion, I'll go home at lunch time and prepare a light lunch for my one year old and my husband.
I finish work at 4pm, then it's another mad dash to collect the children from school and get the children scrubbed, washed, fed and ready for Arabic classes. In the evenings, it's time for supper, a catch up with the family, homework, and finally bed time reading.
Then once the children are in bed, I will catch up on work emails, project designing and researching on ways to engage the community further. I am constantly searching for positive stories across the Muslim community, especially any achievements made by the local Muslim children and youth in Luton to send across to the local papers.
From Monday to Thursday, I work from home and look after my one year old whilst cooking, cleaning and sending out emails; taking and making calls, catching up with projects and community events by the Luton council of faiths and preparing lunch for my father in law who returns from work at 2pm and then for my husband, who is back by 6pm. I am blessed that my husband and in laws are so supportive of my work and appreciate the value of creative Islamic community engagement and education.
Some evenings, I will attend faith community meetings or events organised by the Jewish and Christian community. Wednesday evenings are spent preparing poetry or rehearsals for my local children's poetry group, 'Shining Ummah', who perform at local and national interfaith events.
With the grace of God, what was a just a vision has now become reality. The CMN was launched with the aim of engaging Muslim and children of all other faiths with the beauty of Islam through innovative community led projects based around Eid ul-Fitr and Eid al-Adha. I'm so glad that it's continued to be perceived as an organic organisation - supported by mothers, youth and Muslims and people of all other denominations.
Share this


Link to this
Printer Friendly