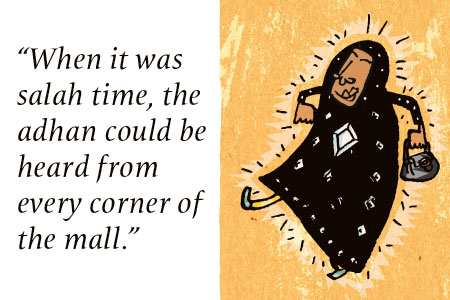 Diary of an Ex-Pat - 'Crystal Clear'
Issue 73 October 2010
With the sweltering summer safely on its way out, it was time to hit the local parks and the beach for the much-anticipated BBQ parties. Finally, the heat was subsiding and a slightly cooler breeze could be felt in the evening. There was something uniquely seasonal about October – it was probably the weather change, which brought about an element of excitement. Finally there was an excuse to go shopping for warmer clothes. For most, that sounds a little insane, wishing for cooler weather but when you've experienced 50 degrees Celsius in the sandpit, 21 degrees is considered borderline freezing.
A trip to the mall was definitely due; time to stash away the cool cottons and linens and upgrade to jersey and woolens. No doubt the rains would arrive in a month, so a pair of boots were on the shopping list too. First stop, Splash. This was a cheap and trendy brand, one that was popular with the locals too. I knew what I wanted, just some thin warm cardigans and jumpers and perhaps a long denim skirt. Despite looking around, I couldn't see any. I walked over to a sales girl and asked her where I could possibly find these items. "Hello, excuse me, do you have any long denim skirts and long cardigans?" I inquired.
"Yes, in my backside" said the lady gesturing behind her.
"Excuse me?!" I exclaimed.
"I said in my backside" she repeated, rather irritated at the fact that I didn't get her the first time round.
"Do you mean behind you?" I sniggered.
"Yes! Ma'am, that is what I said, backside" she said in a tone that implied that I was stupid and obviously couldn't understand English.
"Oh, OK. Thank you very much" I said and burst out laughing once I had got to the relevant department. It was not unusual to hear or experience such broken English in Dubai and with such an eclectic mix of nationalities, conversation always felt like a pick 'n' mix. Often I would hear, "Give me one coffee" or "I want chicken sandwich". I suppose, somehow, the omission of 'please' or 'thank you' was not considered rude. I couldn't imagine speaking like that in England.
After I bought my denim skirt, I decided that a pair of brown boots would go rather nicely. With all the major high street brands in Dubai, shopping here was great - especially during the sales. Malls were a big aspect of peoples' lives in the UAE. So much revolved around the 'mall culture'. Food courts were always packed with shoppers taking a break from their retail therapy and when it was salah time, the adhan could be heard from every corner of the mall. I passed an Abaya shop and decided to see what was on offer. I always admired the elegant abayas that most of the local women wore with dazzling Swarovski crystals.
"Yes Ma'am, may I help you?" asked the salesman. How odd, a man in an abaya shop, I thought. "Yes, is it possible to be served by a lady?" He seemed obviously offended by the request and attempted to convince me that him serving me was exactly the same as a woman serving me. I reiterated that I much preferred to be served by a woman. Thoroughly enraged by this demand, the previously 'happy' salesman went over to his manager and whispered in his ear. The manager looked up at me and smiled, whilst nodding.
I stood there waiting for at least half an hour. Then, a young woman appeared, with a badge that read 'Zara'. "Hello Ma'am, can I help you?" she smiled.
"Oh, thank you Zara, that would be great!" I said relieved.
"No Ma'am, my name is Erissa - I work for Zara" she clarified. "Oh…" Not wanting to let go of the help I had so patiently waited for, I allowed Erissa to lead me to the dressing room.
I tried on at least a dozen abayas and finally settled for the one with fitted sleeves and with tiny crystals on the edges. It was subtle and the material was soft. I liked the texture of the headscarf too. It was covered in tiny crystals dotted along the edge - oh how I would sparkle in this! Totally satisfied with my choice, I asked 'Zara' to pack my abaya. "Were you happy with Erissa Ma'am?" asked the salesman from earlier.
"Yes, thank you - she was great. So nice to have a female serve you in an abaya shop," I replied bluntly. He managed a fake smile and proceeded with my transaction.
As I walked out of the shop, I was overcome with guilt. How would I justify spending so much on an abaya? Whilst I battled with my conscience, Rehan called me on the mobile. I told him that I spent Dhs3000 on an abaya and thankfully he wasn't outraged. I felt much better and most grateful for having such a wonderful and understanding husband.
After that splurge, I decided to forego the boots and the cardigan...no more spending for a while.
words MEHVASH KHAN Illustration GRISCHA HEYER
Share this


Link to this
Printer Friendly