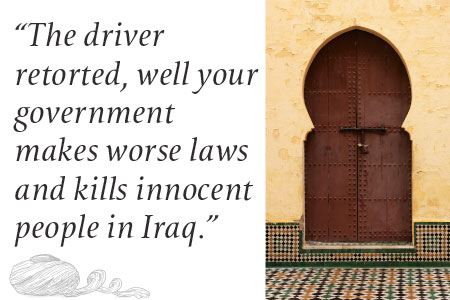 Diary of a Travelling Imam - Fussing in Fes
Issue 73 October 2010
We arrived at the port of Tangier in Morocco on a family holiday. Our destination was Fes, the religious and spiritual capital of Morocco. I was told that the King of Morocco had sent his cortège to receive us as his guest. My suspicions that this was a joke was confirmed when I was told a little later the King wasn't sending anyone after all. We would have to rely on our pre-arranged car and driver to take us to Fes.
We waited, but there was no car or driver for us. Maybe the King had cancelled that too, remarked my wife.
Together with our two young children, we waited under the blazing sun, and the hustle and bustle of people, with eager taxi drivers who were all too willing to serve us at an extortionate price. I could not believe our luck: rain check from the King and our driver!
I found out about a train to Fes that would take eight hours. We took a taxi to the train station, and bought our tickets after a hearty Moroccan lunch. The taxi driver was still harassing us to drive us to Fes for 10 times the price of our first class train tickets.
We found our cabin and made ourselves comfortable, thinking we had the whole cabin to ourselves, but soon a group of people joined us. A Korean tourist insisted on taking his designated seat, even though it was in-between my two children. Why are some people so inflexible?
We were picked up by the manager of the riyad, a beautiful home converted into a guest house with a courtyard in the middle. There was an orange tree in full bloom, a lemon tree with huge lemons weighing it down, and other Mediterranean flowers and plants. There were two tortoises lazily roaming the tiled floor.
Our room was on the 3rd floor, and it was beautifully decorated to reflect the Moroccan colours and cultures. It was exactly like the brochures. We had a lavish meal cooked for us. The kids were so hungry they ate the couscous and the tagine lamb as if they had never eaten before. This was all very different from our earlier experience.
The fresh morning smell and the noise from the courtyard broke our sleep. A ray of sun was shining through the crack in the wooden window. The breakfast was a 20 course extravaganza including olives, picked vegetables, hummus, freshly baked bread, feta cheese, fresh salad, eggs, fresh orange juice, fig and lemon jam and water melon. I have never seen so many items of fresh and healthy breakfast served on one table.
We hailed a taxi, but the driver refused to take us all. When I complained, he told me that the Moroccan government had passed a law that only allowed two passengers per taxi; we would have to take two taxis, he said. "How could your government be so stupid and make laws that are so impractical?" I asked.
The driver retorted, "Well, your government makes worse laws and kills innocent people in Iraq!" Suitably chided, I resigned to my fate and kept my mouth shut for the rest of my stay.
On the second night in Fes our 10-month old boy fell ill. We called an emergency doctor who administered an injection and prescribed some medication. I read the label and decided it was far too strong for him. His heart-breaking cry penetrated the silent night of Fes. We were conscious he was keeping others awake. This lasted for the whole of the next day, and on the second night we decided to go to hospital. The night keeper at the riyad drove us to a hospital that was dark and looked closed from the outside. After several attempts we found a gate that was open. We spoke to a doctor who said we need to take our son to a specialist hospital.
Luckily he got better the next morning. But our holiday spirit had been dampened. We were not keen on going out and stayed in the riyad enjoying the courtyard and the tortoises. The manager, a wonderful Moroccan lady, had pity on us and took two days off work to drive us around. Fes was supposed to be a place of spirituality, but I did not find any spirituality; I found a busy city with too many people chasing money - just like every other city I have been to.
We discovered a local restaurant that cooked fresh food, and at our request, supplied it to our riyad. The food was extremely tasty and cost very little. We walked the small cobblestone alleyways, visited small shops, and haggled in the market. We found the people of Morocco friendly to people who were not typical tourists; the locals were resentful that tourism was imposed on them. They were happy to host and entertain people who respected their culture and religious sensitivities. The Moroccan government was so far removed from its citizens that locals simply hated politics and the politicians, who just cared for their own families.
Fes was an experience incomplete. I would love to go back and experience the real Fes another day.
Share this


Link to this
Printer Friendly