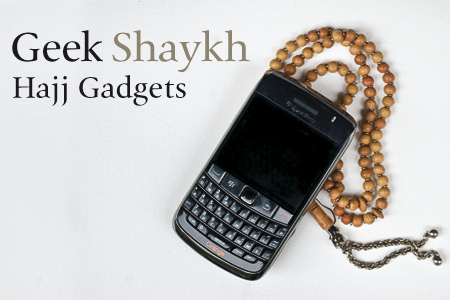 Geek Shaykh - Hajj Gadgets
Issue 74 November 2010
You're about to venture off to the greatest journey of your lifetime. Robi Chowdhury makes sure that you're kitted up with the essential gadgets that will make your experience of Hajj that much easier.

Ecco II GPS Locator
Virtual Breadcrumbs
During my own experience of Hajj, I remember what threw me off the most throughout the duration of the entire pilgrimage was the sheer size of the crowds around the Ka'ba and the masses of people around the jamarat areas.
When you're within a crowd of over two million people, converging in one particular area under the glaring heat of the sun, let's say that it's fairly easy to get lost once in a while. And people do get lost. It's not always the case of reading signboards, but more a case of finding your way back to a designated spot.
Enter the Ecco II GPS locator. This little fob can be attached to your keychain and will help you bookmark a particular place anywhere in the world. When you do find yourself trying to get back, it directs you through a blinking arrow back to your original point. It does this by tracking over 20 satellites in under 45 seconds.
The tracking distance is between 10ft to 10,000 miles, with battery life surviving a good 16 days on a single charge. The fob can store three locations and the best bit is that there are no service charges to use this. Remember to store one of these into your utility belt.
www.idcgps.com
£44.00
WHY
✔ Extremely good value for money
WHY NOT
✗ You'll have a huge amount of pilgrims following you around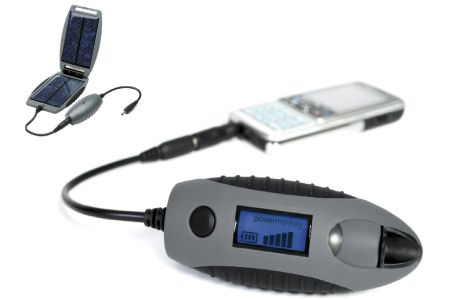 PowerMonkey Explorer Solar Charger
Charge as you go
If you are going to take a few essential gadgets with you to Hajj, the last thing you want is for them to run out of juice halfway through the marquees of Mina. When it comes to portable chargers, the market is saturated with dozens of options to take with you. One that I particularly like is the PowerMonkey Explorer charger. The device arrives with various tips which enables you to power up a range of gadgets using the sun (which comes in useful when you're in a desert). The device is protected by a water-resistant rubberised casing, and features a folding solar panel, as well as an LCD display screen.
www.firebox.com
£64.99
WHY
✔ There's no shortage of sun in the desert
WHY NOT
✗ Finding the time to sit down and charge your gadgets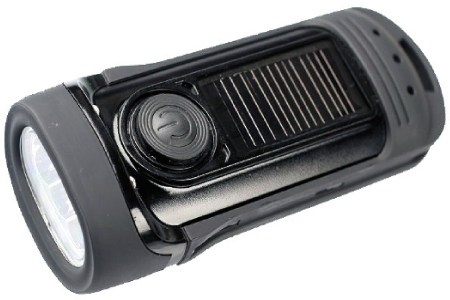 Powerplus Barracuda Torch
Let there be light
A definite must-have accessory to add to your Hajj luggage would be a decent torch. When pilgrims have to sleep under the open night sky in Muzdalifah, there are no floodlights, so all the pilgrims will be plunged into relative darkness. The Powerplus Barracuda torch will be a reliable tool at your side. You'll never have to replace batteries, as it runs on two renewable sources of energy; a wind-up dynamo handle, as well as a solar panel to store in its cells during the day. The torch is also waterproof to five metres and has a versatile rubber grip for easy usage.
www.ecofreak.co.uk
£14.95
WHY
✔ You won't have to worry about batteries
WHY NOT
✗ Remembering to keep this charged by winding it up after using it
________________________________________________________________
Deen Screen - What we found on the net



A Road to Hajj
This series from Al Jazeera shows the journey of a select number of Muslims from various parts of the world preparing to undertake the annual pilgrimage to Makkah. From Panama to Japan, and China to India; it is interesting to see how diverse the cultures are.
Hajj with Baba Ali
This funny, informative and incredibly useful video shows the popular YouTube personality Baba Ali reminding us just incase we forgot, the reasons for going to Hajj. It includes his personal account on his journey there, and what he found when he got there.

_____________________________________________________________________
Tech Notes - Virtual Hajj
"In this world driven by the engines of modern technology, it's easy to forget just how enslaved we are by the tools that were built to make our lives easier.
Many will be in denial and suggest that they can live perfectly fine without it, but have you ever left home without your phone and then spent the whole day on edge because of it?
I recall a few years ago on my trip to Hajj, a vivid memory left an imprint in my mind, of people having full-blown conversations on their phones whilst circulating around the Ka'ba, and others spending their time in the plains of Arafat, heads down in front of a display screen.
However, now with the advent of tools like prayer bead applications, and virtual Qur'ans, will smartphones be named as an essential Hajj item, or are we just giving pilgrims an excuse to remain plugged in? "


Share this


Link to this
Printer Friendly