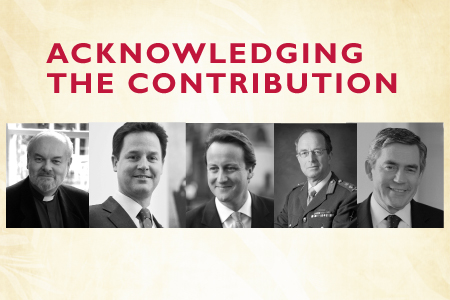 Acknowledging the Contribution
Issue 62 November 2009
Political, Military and Religious leaders pay tribute to the sacrifices made by Muslims for Britain in the two world wars.

David Cameron
The Prime Minister


"This is a great opportunity to recognise the contribution that Muslims from across the world have made in fighting on behalf of Britain - in particular in the two World Wars. The parents, grandparents and great grandparents of many British Muslims served - and all too often gave their lives - in the stand against totalitarianism, and we should honour their memory and their sacrifice".
Nick Clegg
The Deputy Prime Minister



"The bravery and sacrifice of thousands of Muslim soldiers during the first and second world wars is sadly not widely known today. We should be proud to recognise the invaluable role played by the Muslim men and women who fought, and died, during these defining conflicts."
Gordon Brown
The former Prime Minister

"I know I speak on behalf of the whole of the UK in paying tribute to the Muslim men and women who fought as part of the British and allied forces in the First and Second World Wars. Their service and sacrifice will never be forgotten. Their heroism, just like the contribution of British Muslims today, has helped to keep our country prosperous, strong
and free'.
Dr. Richard Chartres
The Bishop of London



"The Muslim contribution to the millions of Commonwealth volunteers that served in both World Wars was considerable. Next year, on Commonwealth Day, I will again lead a service to remember the unforgettable part that all those men and women played."
General Sir David Richards
Chief of the Defence Staff, former Head of the British Army


"Our forebears, as well as the people of this country, owe an enormous debt of gratitude to the Muslim soldiers who gave so much on our behalf in two World Wars – as well as in numerous smaller conflicts since."
Share this


Link to this
Printer Friendly