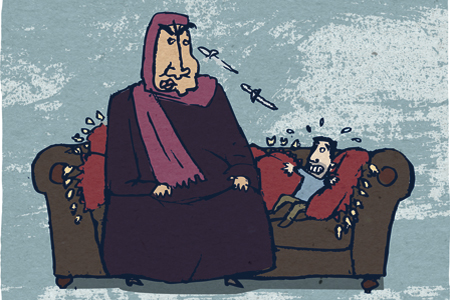 Foodie At Heart
Issue 74 November 2010
Eid al-Adha, which marks the end of Hajj, was to fall in November and that meant more feasting in the form of BBQ's. I had already discovered that I had unwillingly gained a few kilos. With so much variety, it was inevitable. Such are the advantages of living in a Muslim country; everything is halal, so how could I resist a 'triple cheese with turkey' sandwich melt? How could I not succumb to the overbearing powers of Gourmet Burger Kitchen? How could I simply waltz passed a flamin' grilled Burger King Whopper? How could I not indulge in a creamy chicken and mushroom pie from Spinneys? The problem, of course, was that this had become somewhat of a regular occurrence. I could dine at Gary Rhodes' restaurant and sample his famous, gastronomical creations and not have to worry about the 'pork or wine' content. Yes, indeed, eating out in Dubai was a whole lot of fun. But now it was showing. Sitting next to Rehan on the sofa, I looked as though I was towering over him like The Hulk.
For some reason, ever since we had come to the UAE, my appetite had increased. I wasn't as active as I was back in England. I had a full time nanny who took care of most of my domestic chores, which meant I simply sat and instructed her. I didn't have to dust, wash or clean. If anything at all, I simply cooked. And even that was easy. I didn't clear up. I didn't chop. Everything was neatly laid out and prepared for me. When I got home from work, I simply threw the ingredients in the pan, sprinkled my secret spices and voila! There was hardly anything to it. So, naturally, there was not much 'movement' involved in my lifestyle anymore. Dinner was usually followed by tea on the sofa. Tea 'served' to me; with biscuits or cakes – another delightful addition to the calorie bank. "I think I should join the gym and this Eid, I think it best not to indulge in any juicy beef burgers or lamb chops," I announced one morning during breakfast. My bemused kids stared at me with amazement. "But mum, why?" quizzed my eldest. "Daddy thinks I am fat," I replied.
"No, I don't!" exclaimed Rehan. Adding with little tact, "I just said you looked pregnant."
"Are we having a new brother or sister?" exclaimed Mariam with excitement.
"Now look at what you've started," I rolled my eyes at Rehan. We cleared up the confusion and the kids seemed disappointed that there was 'no baby' but were equally bemused as to why daddy thought that mummy 'looked' like she was having a baby.
I left for work wearing an extra loose abaya and promised myself that I would not give up my burgers but that instead, I would walk a mile a day. Unfortunately, the idea of walking a mile a day never morphed into a reality – all of sudden, there was always just 'something more pressing' to get done at work or home. I knew secretly it was my own subconscious pulling me away from the idea of having to exercise.
After several days of fussing, however, I realised that life was too short to worry about what not to eat. The most important aspect of life is to be happy. God has bestowed upon us such great blessings and we should enjoy the food that he has given us. Who knows what tomorrow might bring? As long as we are sensible about our eating habits, we should be fine. Life and death is not in our control, for death can greet us at any time in our life. Or at least that's what I had learnt watching Oprah on the sofa with a box of my favourite cookies and a cup of tea.
Regardless, I decided that I would go to the BBQs on Eid and enjoy my food. But, I also promised myself that I would take care of my health. After all, life is a gift from God and it is my responsibility to take care of it; I shouldn't abuse it – with three packs of family-sized Monster Munch or anything else, for that matter.
words MEHVASH KHAN Illustration GRISCHA HEYER
Share this


Link to this
Printer Friendly