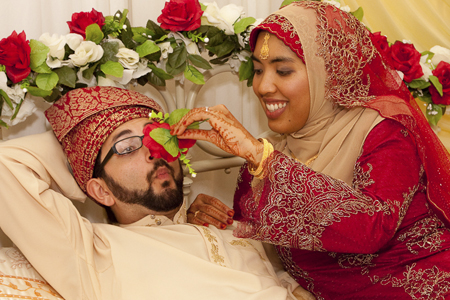 Hijabman meets Logicwoman
Issue 75 December 2010
A wacky redundant man and a meticulous divorced woman with a child – not the most obvious match, but Javed and Aida became an instant hit.
Javed
After getting laid off my job, I took up wedding photography in addition to my already established hijabman.com shirt business. Within a few months, I was photographing weddings all over North America, but one request stood out from all the others: a Muslim woman was going to marry a Christian man. I was flown to Chicago for the Church ceremony and Malaysia for the Muslim ceremony. I stopped in Singapore on my way to Malaysia where Aida, one of the bride's friends, left the following instructions for me: "Tell the driver to go to Block 888. The ride should cost about S$30 and take around 30 minutes. Take the elevator to the 11th floor and walk down one floor to level 10." I soon found myself outside her apartment. "There'll be nobody at home when you arrive. Your ticket and some maps will be taped to the TV. Please feel free to make yourself at home. There's coffee, tea, milk, bread, eggs, cereals. Needless to say, lock the doors when you leave. I will leave a phone with a Malaysia sim card in it so you can call the bride when you're there."
Could this person be any more helpful or hospitable? A couple of days later I met Aida at the wedding in Penang. We didn't get much of a chance to talk, but I was able to observe her interacting with her two-and-a-half year old daughter. She was engaging, positive, and very patient.
After travelling around Malaysia I had three days left to explore Singapore, so I asked Aida if I could visit her and her daughter. She agreed, and we spent three days hanging out. Eventually, I asked if she was interested in marriage and to my great delight she said yes. A couple of months later, I was back in Singapore and all three of us flew to Penang where I met her whole family – and unofficially photographed her brother's wedding. A few months after that, Aida flew to the US to meet my family, and after they fell in love with her too I proposed to Aida.
For me, it was meeting her family that sealed the deal. I knew my parents and siblings would treat whoever I married as their own family. I was seeking the same; I wanted her family to treat me like a son rather than a son-in-law. And thankfully, that is what I found.
I didn't have to do much preparation for the wedding beyond helping half my family get to Malaysia. I was a little bit nervous since my frame of reference for weddings had never been Malay-style. The day went down without any issues at all; in fact it was pretty enjoyable.
Since we've been married, I've learned a lot more about Aida. I admire her sense of responsibility and work ethic. I love everything about her, from the way she logically argues her point to her bond with our daughter. It helps that she is just as silly as me and appreciates life. Her positivity is disarming; her smile is infectious.
And while marriage has made me mature, it hasn't stopped me from jumping around like a monkey, becoming a Tickle Monster, or calling her at work just so I can sing Stevie Wonder's classic, "I Just Called To Say I Love You."
Aida
I was enjoying life as a single mother, happily juggling the demands of a great research position and those of a growing toddler. I had learnt a great deal about myself from my first marriage and was comfortable with the person I was. I was definitely not looking to get married again. And then Javed came along.
I met Javed over a Facebook message sent by a mutual friend. She had hired him to photograph her wedding in Malaysia, and he needed a place to stay during his one-day stopover in Singapore. We finally met face-to-face at my friend's house the day before her wedding. In the meantime, I did some Google-stalking and found his "Hijabman" web site. I was interested to meet the face behind the blog and was happy to see that the friendly, candid, wacky online personality translated well in to the offline one. We did not have time to get to know each other during that wedding, but through lengthy heartfelt email exchanges I got to know him better. We discussed all manner of topics including life lessons, religious thoughts, personality traits, strengths and weaknesses, future goals and dreams, quirks and silliness. His replies were strikingly earnest and never failed to be thought-provoking.
It was not easy building a friendship and evaluating a future partner while negotiating a 12-hour time difference, but after four cross-the-globe trips Javed made a fifth to Penang for our wedding. The decision to marry was really a no-brainer: we got along really well, he blended easily into my larger family and got along fantastically with my friends, and most importantly he formed a great relationship with my daughter. Planning went smoothly as there had been three previous weddings in the family, and preparations were down to a simple checklist. Other than wearing desi outfits for the nikah, it was more or less a standard Malay wedding. I was very happy and felt very relaxed on our wedding day. Whilst I did also feel excited, we knew each other so well that it felt like we had been married for absolutely ages.
Javed reflects and complements me in our relationship, both as a husband and as a father. His limitless patience reminds me that flipping out does not solve problems. The gentle way with which he communicates with our daughter reminds me to temper my own tone. What I appreciate most is Javed's communication skills – I like to say that whilst I might have a high IQ, he has a high EQ. I am blessed to have such a wonderful person in my life and look forward to a long and fulfilling life together.
Share this


Link to this
Printer Friendly