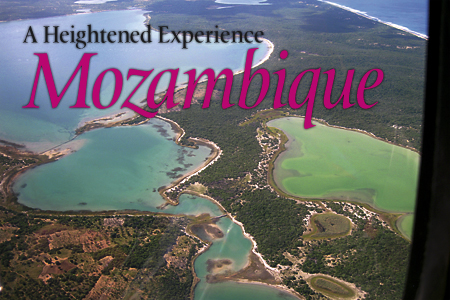 A Heightened Experience - Mozambique
Issue 75 December 2010
In a dramatic departure from emel's usual travel stories, we take a self-fly trip from the plains of South Africa to the islands of Mozambique - and back.
Words & Photography by Julian Beere
I am a qualified pilot of a two-seater aeroplane. I love flying, but I had limited experience; the last time I flew over water the plane crashed and I came close to death. Therefore, my decision to fly up the coast of Mozambique and over the Indian Ocean was rather ambitious.
I had been planning the trip for weeks together with my co-pilot, Peter. I spent many evenings revising controlled airspace procedures and short field landings. Peter had done most of the work: planning the route, the frequencies, the alternate airfields and calculating fuel requirements. He had also prepared a tiny emergency survival kit.
We arrived an hour before take-off to pack the plane with all the basic essentials. The weather was fine, and the trip to Kruger International took two hours. At Kruger, we completed the customs and immigration paperwork to leave South Africa and began to taxi to the holding point when the antenna for the radio developed a problem. We turned around and eventually set off for Maputo International with spare radio firmly in hand.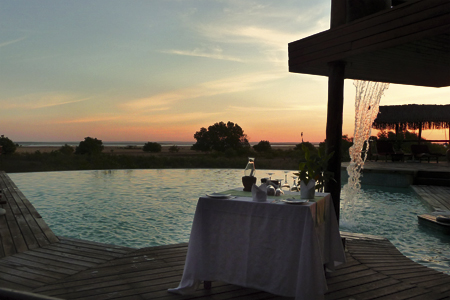 (top) Five star luxury lodges on stilts in Flamingo Bay; Julian (below right) with co-pilot Peter; (below left) their little 'sports plane - an Ekolot JK05 almost being run over by an Airbus.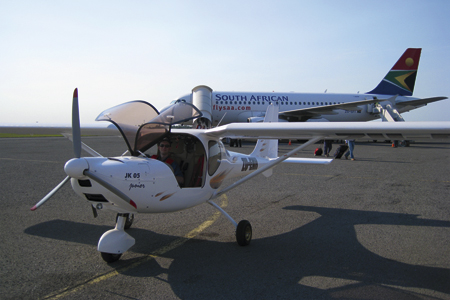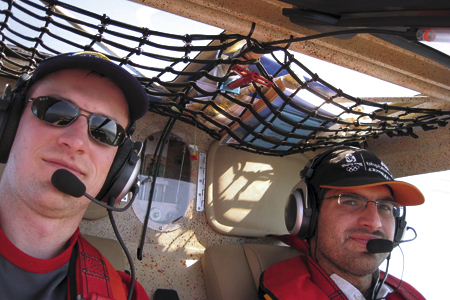 The landing in Mozambique was uneventful and we departed after completing two hours of paperwork and using a helpful 'fixer'. In the plane, when I turned the master switch on there was no power at all. The radio was also down. It turned out to be a loose master fuse. We were hard at work fixing it when an Airbus A319 almost taxied over us! The next stage of the journey involved 20 minutes over water to Inhaca. Peter and I put on our life jackets. I briefly circled Maputo to ensure everything was in good working order before heading over the ocean. I knew that the landing at Inhaca was going to be the trickiest: the runway was only 600m long with the sea at the other end. My fears were unfounded and I made a safe landing. In the evening, we stayed in a lodge and ate food straight out of the sea: we tucked into oysters, barracuda, crab and prawns with great relish.
Next day we crossed the bay to the mainland. I snatched a few glances at the stunning scenery below. The coastline was uninhabited for hundreds of kilometres. There were endless inland lakes and estuaries of varying colours.
The landing at Inhambane was much easier than others I had negotiated. We stayed two nights in a luxurious lodge built on stilts in beautiful Flamingo Bay. We spent the day looking around the local market in Inhambane and seeing what remained of the Portuguese influence. There has been no maintenance since they left, and a 13-year civil war had only increased the degeneration. It reminded me of Zanzibar – a story of faded past glory.
The next day was perfect for flying, with no clouds and no wind. The only problem was we had 22 litres of fuel left - not enough for the next leg and there was no AVGAS at the airport. When I found a petrol station, the pump attendant offered me 'unleaded'. I did some mental maths and reckoned that we could safely mix our remaining AVGAS with 30 litres of 'unleaded'. Peter fed the fuel into the tanks through an old pair of tights to filter out any dirt.
By now, the weather had changed; I took off into the wind and was up within 50m. I made a shallow bank and headed out over Flamingo Bay. It took about 30 minutes of turbulence before we cleared the cold front. Most of the time I kept the plane at over 1000 feet, but I could not resist dipping down to 200 feet above the waves. Below us, the sand banks stretched for miles.
I landed at the international airport of Vilanculos, set in a shallow bay. It was early afternoon when Peter and I donned our life jackets again – just in case, and we flew over the islands of Margaruque and Benguerra, then to the largest island in the archipelago, Bazaruto. Indigo Bay is a luxurious resort, costing $1,500 for one night. We sauntered in wearing our casual and dirty clothes, looking for a milk shake and pizza. The milkshake was much appreciated, but $30 for a slice of pizza was out of our price range. We took off again, flew low over the beach and headed for Paradise Island.
Our final day was the longest in terms of flying hours. We had to get from Vilanculos in Mozambique to Kruger in north-west South Africa and then back to the Panorama airfield south of Johannesburg.
The Vilanculos-Kruger leg measured 570km on the GPS, which at 17 litres/hour and a 70-litre tank meant our plane would only be carrying 15 litres of spare fuel. If there was a head wind, we would need more fuel: an emergency landing was a real possibility.
We got to the airport, topped up the fuel tank and went through passport control. Once powered and cleared for takeoff we discovered a flat tyre! Peter and I got out and pushed the plane to the side of the runway, took off the wheel, replaced the inner tube and within the hour were ready to go again. It took us almost four hours with a slightly favourable tailwind to reach Kruger. We went straight in to final approach and landed with just 17 litres fuel to spare.
After a much-needed breakfast, we climbed back in for the final two-hour leg to Panorama. A few days earlier, this last leg would have seemed a daunting challenge but now it felt quite straightforward. We entered Johannesburg airspace, passing over the Slimes Dam that will be forever etched in my memory. After 16 hours of flying and five days away, we had made it home. With the help of others, I had achieved something I would never have thought possible, even just a year ago. Anyone for flying?
Share this


Link to this
Printer Friendly