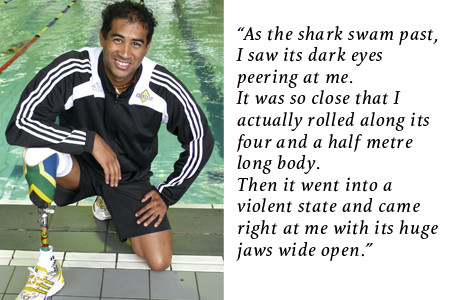 After Hardship Comes Ease - Achmat Hassiem
Issue 75 December 2010
Achmat Hassiem's life revolved around sports and he dreamed of representing his country. However, a shark attack left him with half a leg - but that did not prevent him from reaching the 2008 Beijing Paralympics.
I was a lifeguard, and in August 2006 I was on a training exercise with my brother Taariq and some friends off Sunrise Beach in Cape Town. On the rescue boat there was a crew tasked with rescuing three swimmers in trouble at the same time. Taariq, a friend and I were the three swimmers, each of us in different depths of water. Shortly after the instructor blew his whistle, I spotted a big black shadow moving towards my brother, and the fin of a massive great white shark emerged from the water. I immediately knew this was big trouble.
As the shark moved in Taariq's direction, I swam towards him and started to distract the great white by shouting and splashing vigorously on the water, giving my brother enough time to be picked up by the nearby crew. I felt a great sense of relief when I saw him on the rescue boat. The other swimmer was already out of the water, so now it was only me and the great white.
As the shark swam past, I saw its dark eyes peering at me. It was so close that I actually rolled along its four and a half metre long body. Then it went into a violent state and came right at me with its huge jaws wide open. I tried to kick it away, but the shark grabbed my lower leg and began shaking me violently, dragging me deep underwater away from any chance of rescue. I feared the worst and thought this was the end; visions of my life swept past me and I was very completely terrified.
But I didn't want to go down without a fight; and around 50 metres or so underwater, I began to punch and kick the shark with whatever strength I had left. Later at the hospital I found out that all the skin on my knuckles had come off as a result. I eventually broke free and managed to swim to the surface, where I was met by the outreached arms of my brother. He pulled me into the boat and we rode back to shore. We were met by paramedics and flown in a helicopter to hospital.
I woke up in ICU after having an operation, and my brother told me that my right foot and half my right shin had been torn away by the shark. I broke down in tears and did not know how I was going to carry on with life. I had terrible nightmares and began to experience phantom pain, which were sensations on the amputated foot.
I was in and out of hospital for check-ups afterwards, and then went into rehab. My friends and family were shocked throughout the ordeal but were obviously happy that I was alive. Taariq and I have always had a strong relationship; it got stronger with each day that passed, and we make an amazing team. My family kept me positive and strong; I felt motivated and realised that my life does not end here: it begins again - with a slight difference.
I have strong faith and I believe that God guided me through the hard times, during and after my ordeal. God had prescribed this for me because I have a strong will power, positive attitude and can motivate others to live and enjoy life, whilst helping people with certain life issues.
I was lucky enough to be sponsored a prosthetic leg from Jayson Chin & Associates. It was hard adapting to it at first, but I quickly adjusted and got used to it. Now it honestly feels like I never lost my leg.
I took up swimming again and was selected by Team South Africa to compete at the 2008 Beijing Paralympics, which pushed me to train even harder. Although I didn't win any gold medals, the experience was amazing and it has motivated me to achieve success in my sporting career.
Since then, I have broken many national and continental swimming records, and am currently ranked in the top eight for most of my events.
My eyes are now firmly set on competing at the 2012 London Paralympics, maybe even the Olympics. As the Adidas slogan says: Impossible is Nothing.

Achmat is the official Brand Ambassador for Footgear, for whom he promotes the Footgear brand through motivational engagements. Through this they have helped him in many ways, including sponsorship and aiding him to achieve his hopes and dreams.

We are always looking for inspirational stories like the one you just read above. Ask your friends and family members if they are interested in being featured. Click here to find out how to get involved.
Share this


Link to this
Printer Friendly