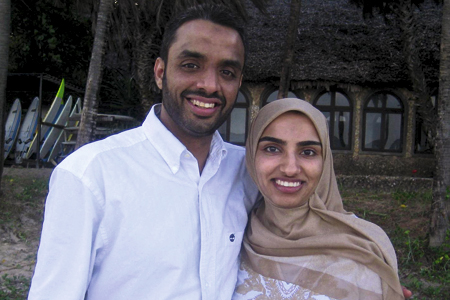 Sharing Knowledge
Issue 76 January 2011
After almost 10 years of marriage, Abbas and Shaheen decided to share their story and wrote a book for newly wedded couples and those looking to get married based on their experiences.
Abbas
I first met Shaheen in Mombasa back in 1999 where my cousin was getting married. We all gelled so well together that we became a group of friends and made sure to keep in touch. The following year, we all met up at another wedding.
In the autumn of 2000, after obtaining the blessings of our parents, we got back in contact with each other and spoke on MSN and by email. We got along really well and I knew I had found the right person based on gut instinct. I decided to propose to her. And thankfully, she accepted.
In the summer of 2001, we got married in Austin, Texas - Shaheen's hometown. We settled in London; with me working and studying and Shaheen completing her Psychology degree. After three years, we took a sabbatical and went to Iran to learn Farsi and explore the country.
We were in Iran when Shaheen was expecting our first child, so we started to translate some material from Farsi to English on the Islamic etiquettes of pregnancy and raising children. We realised how valuable this information would be for other couples in our situation, so we approached the World Federation, a global charity, and they agreed to publish it in a book.
The book we wrote is entitled From Marriage to Parenthood, containing teachings from the Prophet Muhammad and everything that a newly married couple will go through, from the wedding to raising children. It's great to hear from couples and even singletons around the world that have read the book and benefited from it.
Back in the UK, we started to co-facilitate workshops for engaged and newly wedded couples to help them along their path. One is a pre-marriage prep seminar where the underlying theme is 'you will never walk alone', emphasising that many issues that a couple go through are not unique to them. We also run role plays, which cover a range of situations, from dealing with in-laws to how to find a healthy balance in your relationship.
We stress upon the degree of change that people go through where there will be times when they are thrown out of their comfort zones. An example we use from our own marriage is three months after our son was born when he was diagnosed with acute eczema. He couldn't sleep at night due to the constant itching, and we really had to dig deep to keep each other going due to our own lack of sleep.
The other workshop we run is 'how do you know?' We are writing another book on this topic, aimed at people looking to get engaged. We go over the basics, such as if they are ready to start looking, what they should be looking for, how they should look for a spouse, and how they know if they've found the right person.
I think Shaheen and I complement each other well; she has a great sense of focus, whereas I think outside of the box, so it is good that she keeps me going off on random tangents.
In my humble opinion, I've always believed that the key to a successful marriage is to be at peace with yourself, being comfortable in your own skin, and being comfortable with who you are. Often the days that I have found I am most at peace with myself are the days I have been the happiest in my married life, for then it is easier to take everything in your stride.
Shaheen
My cousin was getting married in Kenya and I met Abbas there. My first impressions were that he was a funny, lively guy with a great personality. To be honest, I wasn't really thinking about getting married at the time but looking back, he had the qualities that I would have looked for in a spouse.
When the wedding day was set, we weren't too fussy about wedding plans, and were happy to go with what worked for our families. One thing that my family did want though was a picnic, which is a tradition that we have. We played volleyball amongst other sports, and had a few other wacky things like who's the fastest to peel an orange or sew on a button. My family definitely won most of the competitions, but we had to let Abbas' family think that they won.
After getting married, Abbas and I found that we developed new joint interests, such as a desire to learn Farsi and study in Iran. So after I had graduated and Abbas had finished his accounting qualification we decided to take some time out and travel around Iran together. It was fantastic just being able to experience it all together and sharing so many wonderful memories.
When I was expecting my son in Iran, we were looking up information on parenthood from various religious books. It didn't help that everyone would give me loose pieces of paper with different advice. With our book, Abbas and I decided to create a comprehensive, centralised resource with all the relevant information in one place, so that other couples wouldn't have to plough through bookshops to find what we already had.
Alhamdulillah, we are blessed with a son Husayn Yahya, who is now five and a daughter Zainab Fatima who is three. We love them both to bits and even when we are away from them, we can't stop talking about them. Having kids has made us more self aware and introspective, as we have realised that a lot of our own habits and characteristics come from our families, and so to ensure they pick up the best of these, we are constantly checking ourselves to make sure we practice what we preach – which is definitely not easy.
Although we do teach younger people in our workshops, we have gained a lot from them ourselves and it has made us really appreciate each other more. We've realised areas that we take each other for granted, and try and work on that.
The Heavenly Path: From Marriage to Parenthood is available online at www.al-islam.org/heavenlypath


Share this


Link to this
Printer Friendly