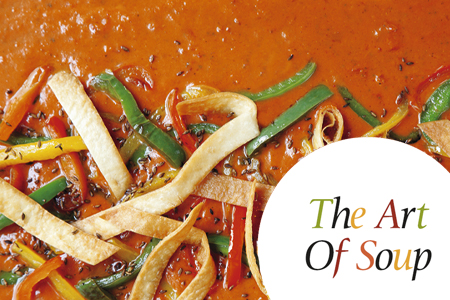 The Art of Soup
Issue 76 January 2011
Warm your palette this winter as emel paints you a canvas of traditional soups with a twist.
Photography by Steven Lawson
Oyster soup shots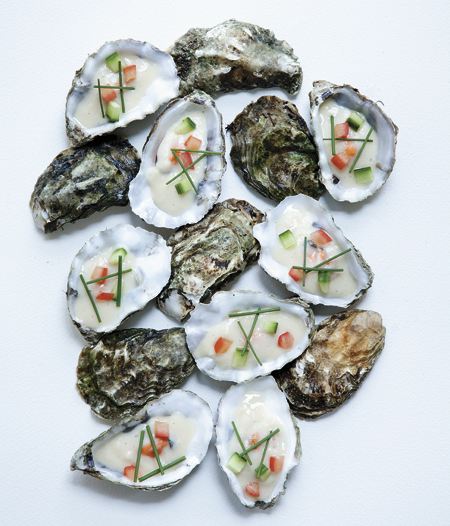 Ingredients
56g butter

56g plain flour

700ml fish stock

12 large oysters, shucked and quartered

2 tbsp finely chopped fresh parsley

1 lemon, cut into wedges
Method
Heat the butter and stir in the flour. Cook for about three minutes.
Stir in the stock until it thickens.
Add in the oysters in the stock and simmer for less than three minutes.
Top the soup with parsley.
Serve with lemon wedges.
Rustic Tomato Soup with Toasted Cumin and Mini Rajas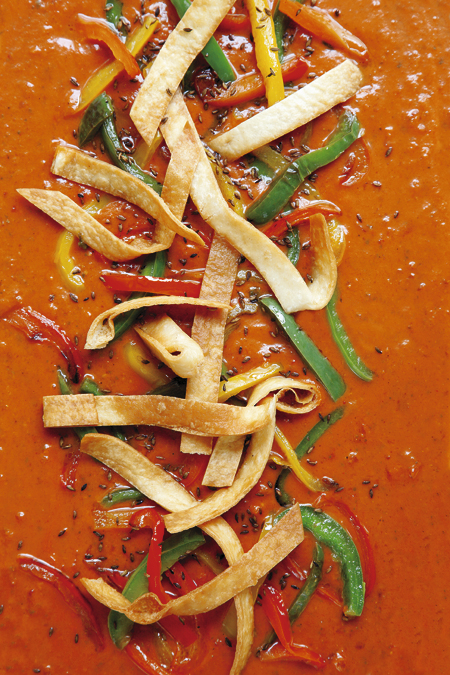 Ingredients
2 tbsp cumin seeds

6 tbsp olive oil

2 large onions,chopped

6 large garlic cloves, peeled

2 tsp achiote paste

¼ tsp ground allspice

2 cans peeled whole tomatoes

900ml chicken stock

2 birdseye chillies, kept whole and deseeded

Cayenne pepper

salt to taste
For the Rajas
Ingredients
4 four-inch corn tortilla squares (cut from round tortillas), halved, cut into 2x¼-inch strips

3 bell peppers, stemmed, seeded, cut into thin strips

Vegetable oil
Method
Stir the cumin seeds in a small skillet over medium heat until they start to smoke and pop. Then pour the seeds onto a plate to cool. Once cool, grind finely in a spice mill.

Heat the oil in large pot over medium heat and then add onions. Cover and cook until tender but not brown, stirring often for approximately eight minutes.

Remove from heat and then using a garlic press, squeeze in the garlic. Add in the achiote and allspice.

Stir over a low heat for one minute, then add tomatoes with juice, stock and chillies and bring to simmer. Reduce heat to low; cover and simmer 15 minutes.

Blend the soup in a processor in two cup batches until you reach a coarse consistency of puree (some texture should remain). Mix in one and a half teaspoons toasted cumin; season with cayenne, if desired, and coarse salt and freshly ground black pepper.

Chill uncovered until cold, then cover and keep chilled.

Heat oil over medium heat for four minutes.

Fry half of tortilla strips until just golden. Using a slotted spoon, transfer strips to paper towels to drain (colour will darken slightly). Repeat with remaining strips.

Heat one and a half tablespoons of the tortilla-frying oil from the saucepan in a medium skillet over medium-high heat.

Add mini peppers and then toss until tender, for approximately two minutes.

Sprinkle with salt and freshly ground black pepper. Let stand at room temperature.

Reheat soup over medium heat. Ladle into bowls. Top with tortilla and pepper rajas and sprinkle with toasted cumin. Serve, with additional cumin separately.
Beetroot Soup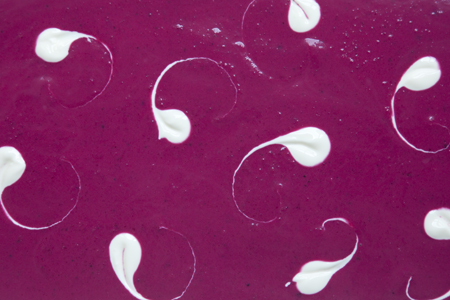 Ingredients
4-6 raw beetroot, about 500g

3 bay leaves

1 onion, chopped

1 garlic clove, crushed

Olive oil

1 tbsp red wine vinegar

600ml chicken stock, hot

2 tbsp crème fraîche

2 tbsp freshly grated horseradish

4 spring onions , sliced quite thinly

2 sticks celery with leaves, from the heart, thinly sliced

2 baby carrots , finely sliced on the angle
Method
Cook the beetroot in boiling, salted water with the bay leaves for 50-60 minutes until tender. Cool in the water, then skin and dice.

Fry the onions and garlic in two tablespoons of olive oil for 15 minutes or until really soft. Add the red wine vinegar and the diced beetroot. Tip in the hot stock and simmer for 15-20 minutes.

Purée the soup, push through a sieve and season. If it's too thick, add a little more water or stock. Chill completely if serving cold.

Spoon into serving bowls, and finish with the sliced vegetables and a slug of olive oil. Mix the horseradish with the crème fraîche and serve alongside the soup.
Pumpkin soup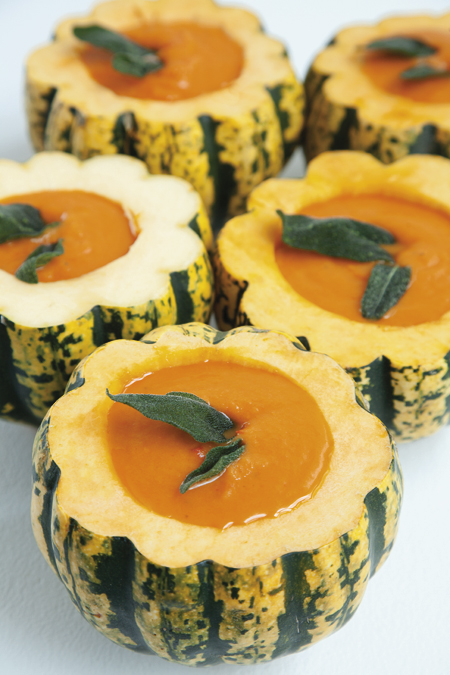 Ingredients
5 baby pumpkins

125g butter

2 medium onions, peeled, finely chopped

1 cinnamon stick

Freshly grated nutmeg

Salt and freshly ground black pepper

170 ml chicken stock
Method
Cut the top off the pumpkin and set aside. Scoop out the seeds and fibres from the middle and discard.

Using a sharp knife and a spoon, carefully hollow out the pumpkin, removing the flesh and setting aside.

Roughly chop the scooped-out pumpkin flesh.

Melt the butter in a large pan with a lid over low heat and add the onions. Cook the onions gently for 10-15 minutes, until they are softened and golden-brown.

Add the pumpkin flesh, the cinnamon and nutmeg, and season to taste with salt and freshly ground black pepper. Increase the heat to medium and cover with the lid. Cook for 40-45 minutes, stirring occasionally to prevent the base from burning, until the pumpkin is cooked through.

Add the stock and bring to the boil. Remove from the heat and allow to cool slightly. Transfer the soup to a food processor in batches and blend until smooth.

Return the soup to the pan and bring to a low simmer and cook for a further half an hour.

Forty-five minutes before eating, preheat the oven to 170C. Pour the soup into the hollow pumpkin shell.

Place the reserved pumpkin 'lid' onto the pumpkin and place onto a large baking tray. Cook in the oven for about 45 minutes, to bring the soup up to temperature.
Petit Pois Pea & tarragon soup with Enoki Mushrooms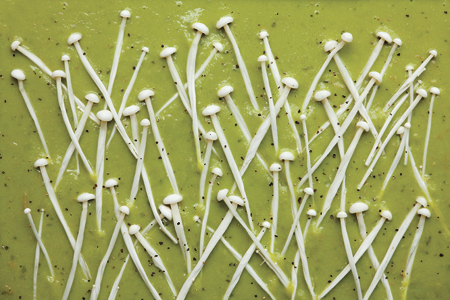 ingredients
400g frozen petits pois

1 large onion, chopped

1 medium potato, peeled and diced

160g enoki mushrooms, trimmed from base and stripped

2 tbsp tarragon leaves, chopped

Butter

vegetable or chicken stock
Method
Fry the onion in a knob of butter until tender, add the potato and stock and simmer until the potato is very soft. Add the peas and tarragon, simmer for three minutes then blend to a smooth soup.

Garnish with mushrooms, season and serve.
Sichuan Beef Noodle Soup with Pickled Mustard Greens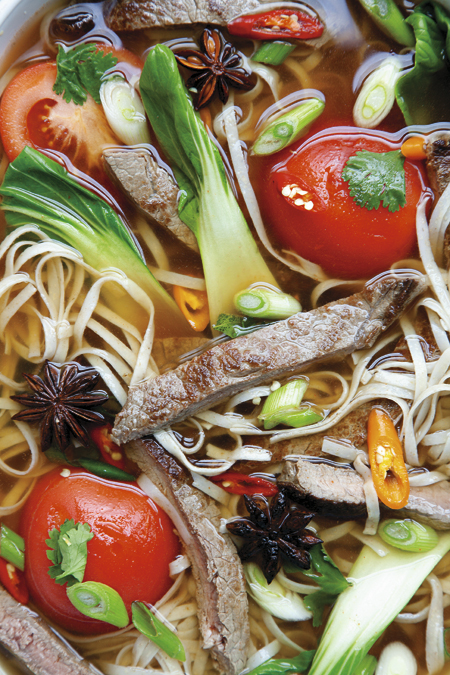 Ingredients
5 pounds boneless beef shank

1 piece fresh ginger, peeled and finely chopped

3 large garlic cloves, coarsely chopped

1 medium onion

2 ½ tbsp chili bean paste

3 whole green onions, trimmed,

6 spring onions, chopped

120ml soy sauce

2 tbsp salt

6 whole star anise

2 ½ tbsp sugar

1/2 tbsp Sichuan peppercorns

2 large plum tomatoes, cut into 4 wedges

Freshly ground white pepper

1 lb eggless Chinese wheat noodles

3 baby bok choy, rinsed and chopped

Chopped fresh coriander (for garnish)

Vegetable oil
Method
Bring large pot of water to boil over high heat. Add the beef and return water to boil. Reduce heat; simmer until beef is brown on the outside, turning occasionally. Drain and rinse beef under cold water until cool; cut into one and a half inch strips.

Heat the oil in the same pot over a medium heat. Add ginger and garlic and sauté for one minute, and then add chopped onions and sauté for about three minutes. Add chilli bean paste, 480ml water, whole green onions, soy sauce, two tablespoons of salt, star anise, and sugar.

Mix in beef and peppercorns to the soup. Bring soup to boil, and then reduce heat to medium-low. Gently simmer uncovered for one hour, adjusting heat to avoid boiling.

Add tomatoes to pot. Continue to simmer soup until beef is very tender, for approximately 45 to 60 minutes. Adjust seasoning, adding more soy sauce by tablespoonfuls and more salt, if desired as well as seasoning with pepper.

Meanwhile, cook noodles according to package directions and drain well.

Add noodles to soup and bok choy as desired. Ladle soup and meat, then garnish with chopped green onions and coriander.
Share this


Link to this
Printer Friendly