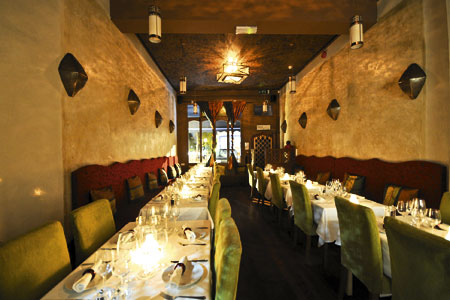 La Sophia Restaurant
Issue 75 December 2010
Review by Mohammed Elshimi
Golborne Road is situated in a vibrant corner of North Kensington, a multicultural hotspot, home to "little Morocco" and other communities. It's a place where the smell of food engulfs the air, where the chatter of Arabic and Spanish chime loudly, and where cafe tables spill onto the pavement. La Sophia is a recent addition to this dynamic area, and an exciting restaurant which promises to bring the traditionally exclusive French culinary world to halal eating diners.
La Sophia is a spacious and beautifully decorated restaurant, with parquet floors, high ceilings, rough hewn walls, and comfortable low tables. It manages to combine the feel of French sophistication with the exotic touch of the Middle East.
The owner, Ali, is a Palestinian with a wealth of experience working in the finest kitchens in many countries. Passionate about fresh and local produce, he is asking halal eating diners to "think outside the kebab roll" and easy take-aways.
The starters, pan seared scallops in langoustine butter sauce were nice in a squeaky-clean sort of way. Eating the roasted pigeon with saffron sauce made me feel like I had taken a bite out of rural France, a lovely and indulgent precursor to the magnificent main course.
The main (the good stuff), pan fried lamb cutlet harissa spice and lamb shoulder confit with garlic mash was well-seasoned and packed with lovely flavours. Meanwhile, my brother's sirloin steak with asparagus tempura and miso veal jus was delightful and tender; the asparagus tempura being a new and welcome addition to both our inexperienced palates.
The food was extremely polished and came together wonderfully in the mouth. La Sophia offers halal eating diners value for money French cuisine and a lovely dining experience.
For more information on the restaurant, go to www.lasophia.co.uk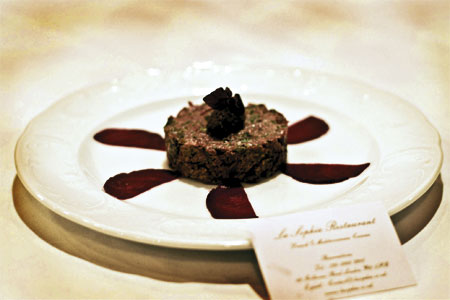 Share this


Link to this
Printer Friendly