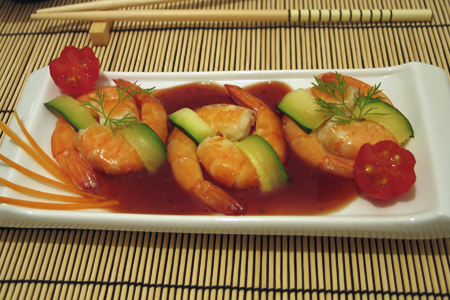 Rose Palace Restaurant Review
Issue 76 January 2011
Review by Yasmin and Firoz Bandali
We went to the Rose Palace on a cold, dark, wet Friday evening; fortunately awaiting us was a warm welcome and what turned out to be dish after dish of delectable food! The décor at the Rose Palace is simple and tasteful and enhances the homely, comfortable atmosphere.
The menu is varied and comprehensive and Rose Palace has a strictly no alcohol policy, which is very welcome.
We started with 'house special happy tasteful plate', which consisted of crispy spring rolls, crunchy seaweed, fried shrimp toast, deep fried prawn won ton and really moist lamb ribs.
We proceeded to crispy Peking Lamb pancakes, which were delectable and made a change from our usual duck (which is also delicious).
After the substantial starters, we took a little break before embarking on the mains. There is so much to choose from that it took some time. I indulged my taste for sea food and ordered spicy king prawn with salt and chilli which my husband (who isn't a fan of seafood) also enjoyed immensely- and said it was one of the best dishes of the evening.
The prawns were big and juicy and were accompanied by fresh crunchy vegetables. It was the one dish I was reluctant to share! This was followed by deep fried sliced fish with ginger & spring onion which had a really strong but wonderful flavour.
The 'prawn pinching' husband had sliced lamb in chilli and black bean sauce and house special chow mein noodles. The lamb again was moist and the black bean sauce flavoursome.
We had to make room for desert and ordered banana fritters with toffee and vanilla ice-cream. The fritters were crunchy and sweet on the outside and hot and gooey in the inside. For someone who does not normally like banana, I found them irresistible.
The Rose Palace is good value for money, the staff are friendly and the food delicious; best of all they don't serve alcohol or allow any in. We often book the Rose Palace for family occasions and we would highly recommend the Rose Palace.
Share this


Link to this
Printer Friendly