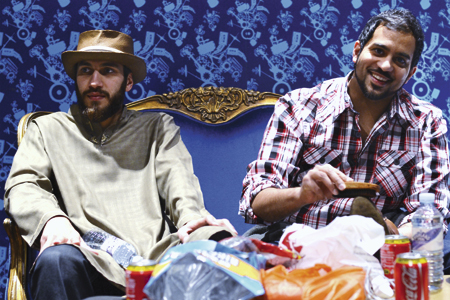 SilkRoad
Issue 77 February 2011
Review by Fatema Zehra
SilkRoad are a relatively recent addition to the Brit Muslim music scene and they consist of three guys – two guitars and a tabla. The group are most definitely a unique act in their own right, described as an 'acoustic Sufi soul fusion'. Their lyrics speak of the Lord, matters of the heart and the world – of course as with any art medium, the smooth sounds are left to the listeners own interpretation and the often deep lyrics give you much to reflect on.
SilkRoad leaves you quite spoilt with the talent of rhythm guitar, smooth vocals and the exotic sounds of tabla and percussion. The group included the audience in its journey, with beautiful vocals by Faraz Yousufzai, taking the listener from song to song, and even treating us to acoustic renditions. A solo by Ashley Sayyed on bass guitar was definitely the highlight of the evening.
The night's talent reached its peak with a special inclusion of the main vocalist, Yousufzai's 11 year old son on the drums. He truly left the crowd impressed and is definitely one to watch.
SilkRoad is definitely a group effort, each adding their own unique touch to create a sound set to inspire.
Share this


Link to this
Printer Friendly