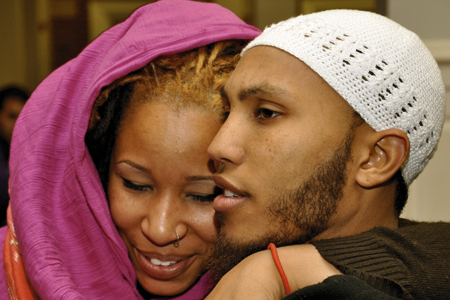 Love and Lyrics
Issue 78 March 2011
Husband and wife duo, Aja and Samir from Hip-Hop group The ReMINDers, talk about how their love and passion for music synched them together in perfect harmony.

Samir

Aja and I first met in 1998 when I moved to Colorado. I was born in Belgium originally but my father was in the military, so we travelled around a lot. Our families became good friends and thus our friendship blossomed.
Aja's family is full of so many wonderful people, so my first impressions were definitely positive. Her brother was roommates with my friend and her father would shop at the store I worked at. Both are incredibly genuine, loving people so it came as no surprise that Aja was just the same. She has a wonderful sense of humour and that's the first thing that attracted me towards her. We also shared similar interests; both of us were paving our own individual paths in the entertainment industry, and had a great interest in history. I also identified a deep-set spirituality in Aja; she had a lot of faith in God and that was another attribute of hers that I admired. I had already converted and had been practicing Islam for some years before I met Aja. Though she wasn't following any particular religion, I recognised her spirituality as being a strong component in building and developing our relationship.
Sometime later, Aja moved away for college.Upon her return, we began to interact a lot more. We moved in the same social circles and had the same hobbies; music was and remains a tremendous part of both our lives. We were still relatively young when we decided to get married – I was 24 and Aja was 22. The process was, of course, a little different for us as both our families aren't Muslim but they were very understanding.
The actual ceremony itself was really intimate and private. It wasn't particularly large or lavish, but it was stress-free and the focus was on our union. A lot of the times, people have big, glamorous weddings but unfortunately, their marriages don't last very long. I've seen that when the union between two people is the focus of the ceremony, then the marriage itself is blessed and healthy.
Marriage is a process of discovery; about yourself and your partner. Having to share your living space, your schedule, your day-to-day routine – it takes a while to adjust. Having said that, the patience and consideration you invest during that process definitely pays off once you've found your rhythm and are in sync with one another. Aja and I worked really hard individually too, so it felt good to see each other when we returned home!
Married life is definitely a lot better than what I had expected. We're both from a background where we've seen a lot of divorce; I was raised by a single mother, so we were determined to build a marriage with a strong foundation. Having children is also a life-changing experience; watching our children grow is a wonderful thing and has definitely strengthened our relationship. I have so much respect for Aja; her strength never ceases to amaze me, especially after having three children.
Aja

The first thing I noticed about Samir was his genuine smile. He was studying Philosophy and Religion at the time and had a great air of certainty and decisiveness about him. I had always said to myself that if I ever found someone who looked genuine and was happy with what they were doing, that was the person I needed in my life.
As our families were good friends, I had the opportunity of really getting to know Samir well. I had moved away for college but when I returned to Colorado, I really began to think about marriage. I knew Samir was Muslim and that his faith meant a lot to him. Having observed him for years, I learnt a lot about Islam. I became Muslim because of the example he set; he always spoke so respectfully to everyone, listened intently and smiled constantly.
The wedding day was stress-free? As if! Samir had gone to work on a music project in Virginia and was flying in on the actual day of our wedding. He was supposed to arrive at 11.15am and the ceremony was arranged for 4.30pm. He arrived that day at 11.30pm! As we had kept the entire thing quite intimate, I only had to make a few calls to let everyone know that we needed to postpone until later in the day, so it wasn't too hard to facilitate. But I went to the airport in my wedding outfit to pick him up!
Being married has given me a great insight on gender relations and the wisdom behind some of the roles assigned to us by God. There is great strength to be found in acknowledging that someone can be stronger than you. That realisation doesn't take anything away from you but is actually a mark of strength in itself. Similarly, knowing where to apply your strength is equally important as well as learning when it's applicable, which for me is my children and my family. I have learnt how to harness my strength and not waste and exert my energies on trivial matters. That's not to say the process has been easy; I am naturally a proactive individual but I've had to learn to take a step back sometimes, which has made happier and so much more balanced as a person.
One thing that always gets neglected when talking about marriage, is sharing every inch of your personal space with someone. For me, having left something on the floor and then to have someone come long and say, 'Are you going to pick that up?' was a huge adjustment! And once your mind gets going, there's no stopping it: does he think I'm showering too long? Does he think I use too much milk? It's endless! But with time and patience, things slowly start to fit into place and you develop a new routine in tandem with your partner.
I love Samir's sincerity; not only are his words sincere but his actions too. He's also a great dad. He's become somewhat of an example to our friends and family. When we had our first daughter, he'd take her to the barbershop with him. Everyone would laugh because it didn't make much sense but he didn't care. Then we had our second daughter, and he began taking them both! He's very caring and always concerned about the kids' feelings. These were qualities I recognised in him a long time ago but I guess they've magnified since our children were born.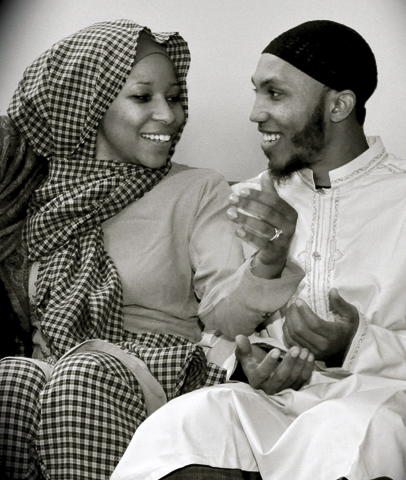 Aja and Samir make up the Hip-Hop duo, The ReMINDers. Both cite their strong spirituality and love for music as being key factors in strengthening their relationship.
Photography by Savera Iftikhar
Share this


Link to this
Printer Friendly