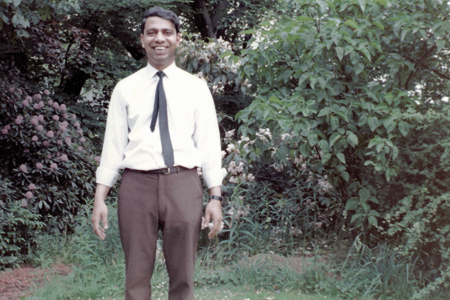 Against the Tide
Issue 78 March 2011
Having disliked Churchill whilst in India, Riazul Hasan came to England and joined the Wartime leader's funeral procession. Here, he recalls Enoch Powell's Rivers of Blood speech and worries about the future of Muslims in Britain.
I landed at Heathrow on a cold, bleak January morning in 1965 with my Indian civil engineering degree certificate and just £3.00 in my wallet. My friend, who had arrived here three months earlier, met me at the airport and took me to another friend's flat in Victoria. I had already marked his address in a second-hand London A-Z that I had bought in a bookshop in my native Hyderabad for just 25 paise, or two pence.
I had migrated to the UK not only to work, but also to do a post-graduate degree to enhance my job prospects. My friend had bought a copy of The Daily Telegraph, which carried more job ads than any other daily. I started job-hunting from day one in earnest, and after nine weeks and 109 applications, I found a job not in a consulting firm as I had wanted, but on a motorway construction site in Kent. I accepted it reluctantly.
I eventually found a bed-sit after encountering several "Sorry, no coloureds" signs displayed prominently on the windows. My landlady was Polish and the rent was £3.50 per week. While searching for a job, I kept myself occupied with visits to museums, art galleries, the British Library (of which I am still a member) and the Strangers' Gallery of the House of Commons where a single cop at the entrance would greet me with a 'Good Evening, Sir'. The death of Winston Churchill kept me busy for two days. I joined the long queues to see his body lying in state in the Great Hall of Westminster, and then the following day I joined the funeral procession from Westminster to St Paul's Cathedral.
Coming from a politically conscious left-of-centre Indian family, I never liked Churchill and his vehement opposition to Indian freedom. How could I like a man who described Indians as 'those beastly people' and Mahatma Gandhi as 'a naked fakir' and 'a seditious Hindu fanatic'? What actually attracted me to his funeral was my desire to watch the inimitable British pageantry and the VVIPs who were attending. I also wanted to see Lord Mountbatten who was leading the procession and who, according to the Oxford historian Andrew Roberts, "should have been impeached by Parliament" for partitioning India and causing millions of deaths.
After three months, I found another job as a design engineer and saved enough money in five years to start my post-graduate degree. Even in the 1960s, the firm had some outdated Victorian practices. For example, the annual staff increment were not conveyed in writing, but the personnel officer - a plumpish old woman - would go around the office whispering the rise into the ears of staff members. The office had some right-wing characters too, and one of them asked me if I went to my office in India in a bullock-cart. Another asked if I had a lavatory at home.
I went to Bradford University, whose chancellor was the Prime Minister Harold Wilson. Bradford was a boiling cauldron of racism in those days, and the highly visible Pakistani community was the target of racial attacks. What made the situation worse was the infamous 'I can see the River Tiber foaming with blood' speech by Enoch Powell. Although his leader, Edward Heath, immediately sacked him from the shadow cabinet, the speech was a shot in the arm for the white racists. Also, during the 1966 elections another Tory MP, Peter Griffith, was elected in Smethwick using the slogan 'Vote Labour for Nigger Neighbour,' and the prime minister, Harold Wilson, caused a political storm by calling Griffith 'a parliamentary leper' in the House of Commons. The speeches and writings of Enoch Powell and other right-wing politicians kept the cauldron of race boiling during 1960s and 1970s and resulted in the Brixton and Liverpool riots.
My post-graduation helped me find a job in the UK's biggest consulting firm. I worked in ten countries in Africa and the Middle East and spent one year in Iran where my daughter was born. Iran was a good place to work in the 1970s as long as you shut your eyes and ears to what was happening around you. After 15 rewarding years with a premier British consulting firm, I moved to the Food and Agriculture Organisation of the UN in Rome as an independent consultant, and then to the World Bank.
Having been in the UK for 45 years and having become a citizen some 40 years ago, I think I have achieved most of the things that I had aspired. I got married to a medic some eight years after I came here; she was from my native Hyderabad and my arranged marriage has survived 37 happy but tumultuous years. I have two children, and I do not hide the fact they were both educated in the best public schools, and today both of them occupy senior positions in the British media. The sight of my daughter receiving the Best Asian Woman Journalist of the Year award in 2003, and my son becoming the first non-white non-Christian political editor of New Statesman at 30 were the proudest moments of my life.
The lives of British Muslims in particular, and of Muslims all over the world in general, have taken a turn for the worse since 9/11 and 7/7. The apocryphal events of 9/11 have cast a long and dark shadow over us. In an article I wrote in India's leading English daily The Hindu soon after 9/11, I said, "The Talibinisation of Islam had started long before the American CIA, the Pakistani ISI and the Saudi secret service created Talibanism to achieve their ignoble ends." What I find shocking nearly a decade after 9/11 is the sinister influence of a handful of extremists on the vast majority of Muslims in the UK, Europe and elsewhere that is increasing and not decreasing. I say this from my own experience of working in some thirty of the fifty-seven Muslim countries in the world. A majority of them today are not being ruled according to Islamic principles of governance, but rather according to the whims and fancies of their despotic rulers. An article in New Statesman recently showed that five of the top ten dictators in the world are Muslims. In the twilight of my life, I worry about my religion because some of its followers, instead of preaching the Islamic tenets of peace, harmony and brotherhood, are spreading intolerance and apathy. I partly blame our religious leaders and our own ignorance of Islam for our present predicament. We seem to have forgotten what Ali ibn Abu Talib, Islam's fourth caliph and the Shia's first imam said, "All human beings are your brothers and sisters, either in faith or in humanity." I never thought I would be stopped and searched in London in my lifetime, but I have gone through this humiliation. I think British Muslims should be more vocal and vociferous in their condemnation of extremism – of all types.
Although my wife and I regularly spend winter months in India since our retirement, the UK - which was originally my adopted home - has become my permanent home, and I wouldn't change it for any price. Despite all its political, economic and social problems, it remains 'the only heaven on earth' because it offers all immigrants total freedom of thought, expression and religion, which they can't dream of even in their own countries.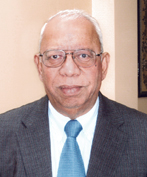 Riazul at his home in Harrow, London
Share this


Link to this
Printer Friendly