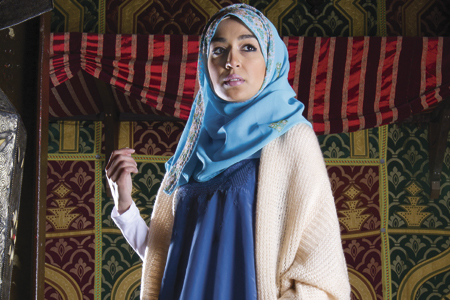 Fashion Compassion
Issue 78 March 2011
Fatema Zehra introduces Master's student, Amina Mahmood Sheikh to the fashion house with a heart:Fashion ComPassion, and takes a look at how fashion can make a difference in the lives of people all around the world.
Photography - Hannah Rajah
Stylist - Fatema Zehra
Luxury brands with a difference—not a phrase you hear extensively in the fashion world. Fashion ComPassion, an enterprise founded in 2010 by Ayesha Mustafa is exactly that; 'an ethical fashion house that represents socially responsible luxury brands'.
The fashion house works with social enterprises from around the world focusing on developing countries in regions such as Asia, Africa and the Middle East. The brands involved work primarily towards empowering women in their own communities, by providing a positive system of employment, creativity and profit. There are currently four labels under Fashion ComPassion's umbrella; Palestyle, Beshtar, Polly & Me and Savannah Chic but the project is ever growing with interest from across the market. These socially conscious labels work towards providing beautifully crafted one off pieces, made by hand by the talented women they work with. Projects such as these are quite rare, offering jobs and enriching lives, whilst enhancing creative skills, providing education and guidance on design and working in a small enterprise.
Savannah Chic
Savannah Chic is a jewellery label exclusively designed and handcrafted by talented African artists. The brand works with local communities, giving them design guidance, business insight and access to the European as well as local markets. The collections are a celebration of talent and tradition, and the collaborations with skilled craftspeople and fair trade workshops. The jewellery works to not only accessorise, but also improve lives. Savannah Chic produces a limited selection of pieces, each individually handcrafted with personalised tags bearing the name of the artisan who made it and the location.
Beshtar
Beshtar derives from the Dari word for 'more', tying in with its ethos to be more than just a design brand. Its philosophy is based on the notion that more can be done for Afghanistan, and therefore aims to work with Afghan craftsmen and women in the sourcing and making of beautiful and unique items.
Beshtar works to benefit Afghanistan directly by sourcing indigenous materials. A percentage of the profits are ploughed back into the country through the Zaher Shah Foundation, a charity based in Kabul. Beshtar is a harmonious balance of traditional fabrics and craftsmanship encompassed in contemporary and modern design.
The current collection focuses on clothes made from fabrics such as the traditional burqa and other items such as wall hangings and tribal jewellery from all over Afghanistan. All the textiles and raw materials are made by craftsmen and women in Afghanistan working towards supporting themselves and keeping their craft alive.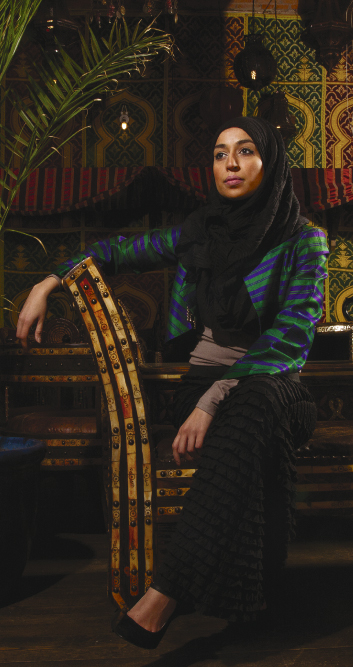 Purple and green silk stripe shrug from Beshtar; Black ruffle maxi skirt, £35 from Louche at Joy; Mink coloured top, £19 from mbym at Joy; Scarf and shoes—stylist's own.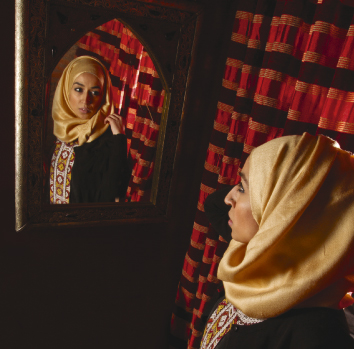 Neckline embroidered black maxi dress from Beshtar; Black cropped cardigan, £35 from Louche at Joy;
Scarf­—stylist's own.
PALESTYLE
Palestyle is a trendy blend of a traditional Palestinian flavour such as distinct embroidery mixed with contemporary fashion styles. Palestyle aims to empower Palestinian refugee women in Jordan, Lebanon and Palestine to share their creative skills and embroidery heritage to provide a source of income and percentage of revenue from sales. Palestyle launched in 2009 with the help of Magnet Fashion, a venture built on the concept of fashion for a social cause. Palestyle works specifically with women in Biqaa Refugee Camp- Amman and with the women in Mar Elias Refugee Camp in Beirut and various other embroidery organisations that empower refugee women like Al Amal Society and Ajyal. Palestyle has a wide range of silk and chiffon hand-embroidered scarves & shawls and beautiful leather clutches, purses and jewellery.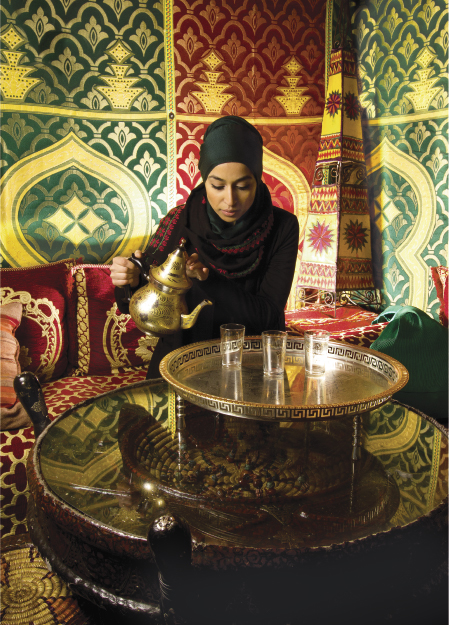 Black and green embroidered scarf from Palestyle; Black blazer jacket, £55 from Soaked in Luxury at Joy; Silk green scarf, £29.99 from Tie Rack.
Polly & Me
Polly & Me is a social enterprise focused on designing and creating accessories made by women's embroidery collectives with over 500 women in Chitral, Pakistan. The brand was founded in 2003 by Cath Braid, a designer trained at Central St Martin's School of Art and Design and later supported by development worker, Rolla Khadduri. Together they work to help the women of Chitral share their own stories.
Each piece starts with a three-foot tapestry that depicts an aspect of the life of women in Chitral, such as her thoughts, her dreams and her concerns of life. This is then translated into a limited collection of handbags that creates dialogue whilst also working as a statement accessory addition to any wardrobe. The current collection entitled 'Gup Chup' which translates from Urdu as "chit chat" was first launched in March 2008 on Women's International Day.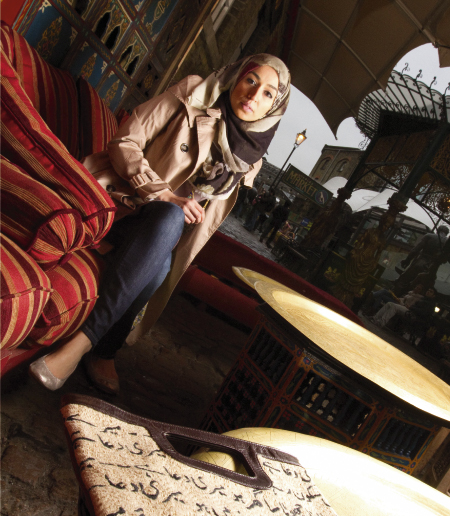 'Prayers' clutch from Polly & Me; Cream mac, £65 from Louche; Blue jeans £39 from Blend, all at Joy; Printed scarf from a selection at River Island; Shoes—stylist's own.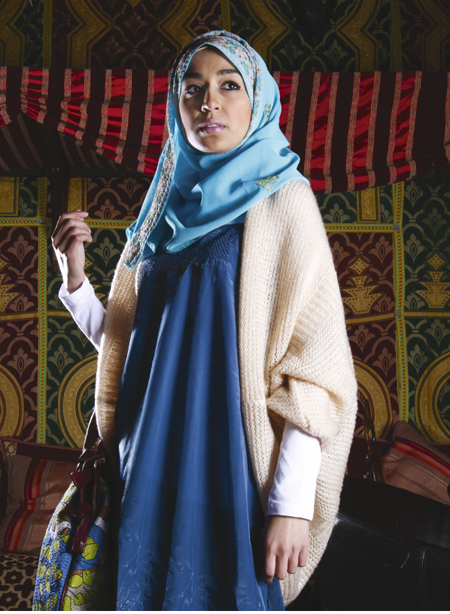 Blue burqa dress from Beshtar; Blue embroidered scarf from Palestyle; Embroidered design bag from Polly & Me; Cream knit cardigan, £39 from Blend at Joy.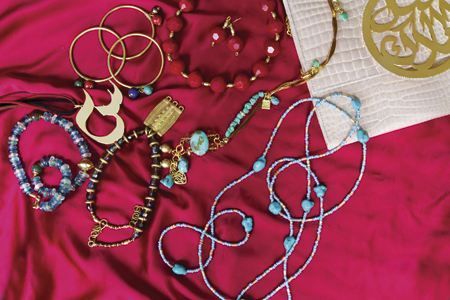 CLOCKWISE FROM ABOVE
Cream clutch bag from Palestyle; Turquoise long beaded necklace from Savannah Chic; Qamar necklace/bracelet from Palestyle; Brown and antique gold necklace, blue glass necklace, both from Savannag Chic; Arabic letter 'seen' necklace, from Palestyle; Splash of colour bangles, red bead necklace, both from Savannah Chic.
All products from the Fashion ComPassion brands are unique, hand-made and bespoke; therefore it takes 4-5 weeks from order to delivery.
For more information, send an email to info@fashioncompassion.co.uk

Stockists
www.fashioncompassion.co.uk
www.joythestore.com
www.riverisland.com
www.tie-rack.co.uk

Location
Marrakech, 96 West Yard, Camden Town, London, NW1 8AF
Share this


Link to this
Printer Friendly