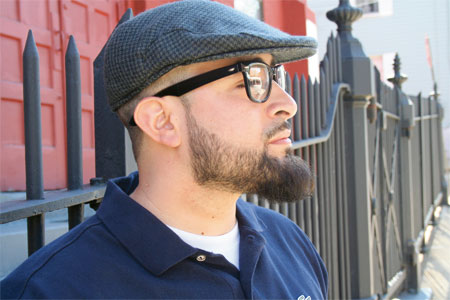 New Muslim Cool
Issue 78 March 2011
Film Review by Mohammed Elshimi
New Muslim Cool is a beautiful and entertaining documentary about the power of music and culture to create social change. Directed by Jennifer Maytorena Taylor, this riveting documentary follows the life of Hamza Perez, his family, and nascent community of Muslims post 9-11 in Pittsburgh, America. Jokingly described as "Americas worst nightmare", Hamza is a Puerto-Rican, Hip-Hop artist, and ex-gangbanger striving to do good works as a convert to Islam, "The Prophet as a model teaches me the kind of man I want to be." We follow the journey of Hamza's life through the challenges of conversion, his marriage and family life, the streets, as well as his work as a community activist, and struggle to regain his job as an interfaith jail counsellor.
However, the story transcends the struggles of one man. Ultimately, New Muslim Cool is about the challenges Muslims face trying to harmonise and reconcile a world that never stops changing with their Islamic identity. In fact, it captures the distinctive Western and Urban Islamic culture that is organically developing and being forged, and which is learning to be comfortable in its own skin. This colourful cultural synthesis expresses itself in the way Muslims are reshaping and redefining language and food; we see Hamza, for example, cooking "Boricua Halal" (Puerto-Rican) food, rapping about Islamic issues with a hip-hop vibe, switching between Arabic and Spanish phrases, and his artistic venture with a Jewish woman to collaboratively compile poetry from their respective communities.
Although touching political and religious issues, this is not a political or religious film. Rather, it's a human story about trying to reach out and connect with others across the colourful human kaleidoscope- a search for a common ground in our increasingly inter-connected and diverse world. It is a fast-paced, insightful, and inspiring documentary that stunningly depicts the reality of being Muslim in America.
Share this


Link to this
Printer Friendly