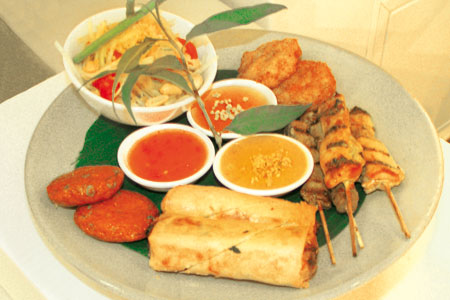 Restaurant Review - The Mango Tree
Issue 78 March 2011
Restaurant Review by Marya Ahmed and Farkhanda Mohiyuddin

Mango Tree, seated in the heart of Belgravia square, is far from your average Thai restaurant. Having competed on the widely acclaimed Gordan Ramsay's best local restaurant, it is clear the diners like what they eat. An adventurous fusion of flavours, ingredients and tastes, combined with a dimly lit, noisy and intimate setting instantly takes you away from the dreary, cold and grey evening that we are more accustomed too.
The staff were all smiles and very friendly; a bit over zealous at times, as by the end of the evening we had been served by over seven waiting staff but pleasant, nonetheless. While our table had been cleaned on more than one occasion, we had a lingering wait in between courses, as all seven had thought the other had dealt with us. But this was only a minor setback to an evening that was nothing short of a grand feast.
The tone was set with our uber fashionable non-alcoholic cocktails, a blend of fresh fruits and herbs, which instantly puts you in the mood for some fine dining. One could not help but notice the overbearing conversations that were flowing from the tables around you, and at times there was a struggle to hear the person across the table.
Where to start on the food? Every dish that arrived on the table was something exquisite that was devoured promptly. The signature dish created for us, a duck and cherry tomato salad with a honey, coriander and lime glaze was packed full of flavour. Mains consisted of a combination of the chef's specials and a round up of the crème de la crème of the menu. Needless to say, it was hard to pick a favourite; from the thai green curry, to the stir fried noodles, each dish was its own triumph. The proof, however, was surely in the pudding. I recommend the guay ob ma prow sod and crème brulee, which ended the evening on a sweet note. A definite must-go for those wanting to experience a culinary delight.

The Mango Tree
46 Grosvenor Place, London, SW1X 7EQ
020 7823 1888
Share this


Link to this
Printer Friendly