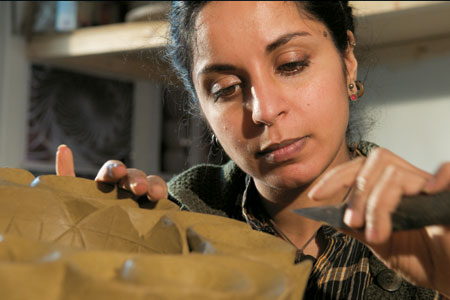 Exhibition Review - The Shape of things
Issue 78 March 2011
Exhibition Review by Khadija Gulamhusein
With the rise of far right parties and anti-immigration sentiments across Europe, from the recent and unexpected outcome of the Swedish elections to the long-established presence of the FN in France, multiculturalism is seen as a botched ideology. Angela Merkel's and Cameron's damning verdict that German and British multiculturalism has 'utterly failed' is the latest in a frightening trend towards monolithicism.
That's why it was so refreshing to visit 'The Shape of Things' exhibition at the Flow Gallery. The exhibition has brought together the work of nine British artists, in a celebration of the unique contribution that national identity presents to the multicultural fabric of British society. From Seiko Kinoshita's use of Japanese textile to explore the British fascination with weather, to Pakistani-born, Halima Cassell's use of ceramics to combine North African and Islamic artistic influences to speak through the common medium of geometry, pattern, and number, the exhibition is an inspiring showcase of diversity and the richness of British culture. I would have to say that Alinah Azadeh's installations were my favourite. Her ability to transform mundane objects into cultural masterpieces through the use of colour and poetry was inimitable.
Although the exhibition has now been replaced by a newer one, interested viewers can examine tasters of the featured artists' work online.
Flow Gallery, 1-5 Needham Road London, W11 2RP
www.flowgallery.co.uk
Share this


Link to this
Printer Friendly