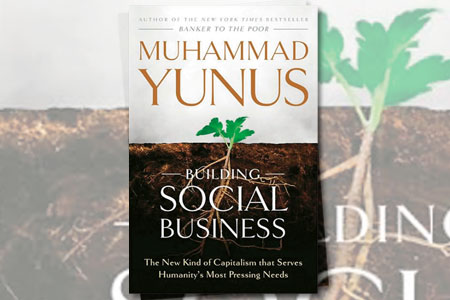 Book Review - Building Social Business by Muhammad Yunus
Issue 78 March 2011
Book Review by Munir Quddus
Muhammad Yunus' new book, Building Social Business: The New Kind of Capitalism that Serves Humanity's Most Pressing Needs, is a manifesto for those who care deeply about solving the society's "wicked" problems – poverty, illiteracy, malnutrition and global warming. It is a treasure trove of creative ideas, exciting business models, and plans on how to create sustainable solutions for the betterment of the world's poor, and slowly chip away at global poverty.
Yunus builds up the case that hundreds of social businesses would be a powerful addition to the available anti-poverty weapons, including the much-celebrated micro-finance. Yunus shares stories of his experiments with creating and running newly designed companies to solve specific problems related to extreme poverty – malnourished children, disease from lack of wearing shoes, unemployment among girls. Yunus has been busy crafting prototypes of the new business model in partnerships with some of the most dynamic global companies - Intel, Addidas, Viola, and Danone.
The overall message is hopeful. Yunus sensibly points out that if profit and greed were the sole driving force in modern society, "There would be no churches or mosques or synagogues, no schools, no art museums, no public parks or health clinics or community centres…there would be no charities, foundations, or non profit organisations."
Yunus is brimming with ideas on how thousands of social businesses can be set up in every possible sector across the world. There is a "how to" chapter where he discusses the steps one must take to start a successful social business. To pick one idea, preferably in field of expertise, take baby steps to gain experience and confidence, learn from mistakes in a pilot project, and make the necessary adjustments to be successful on a small yet significant scale.
In a chapter titled, "The End of Poverty: The Time is here," he recommends bold action to conquer global poverty. As the US economy slowly recovers from the Great Recession the message in this book is timely. The author's call to use business and entrepreneurship to solve societal problems, not to create personal fortunes, is pregnant with possibilities. He would like not just corporations, but more ordinary citizens to start businesses to solve problems.
The author believes that if we chose to dream big (a world free of poverty) and use all the tools at our disposal in a free market economy, including micro-credit and social business, by leveraging the power of science and communication technologies, we can finally send off poverty to museums.
Share this


Link to this
Printer Friendly