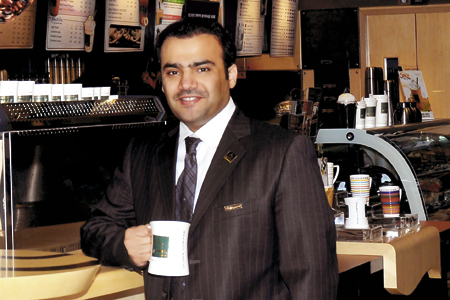 10 Questions with Yousef Al Rajhi
Issue 78 March 2011
Starting in 1997 with a small kiosk, Yousef's chain of cafes is now set to challenge some of the best, most established brands.
At 23, Yousef Al Rajhi opened a cafe in Riyadh. Now his dr Cafe Coffee has over 120 shops all over Saudi Arabia, with plans to increase to 650 in the Middle East and Asia by 2014, and then to thirty three thousand worldwide by 2030; of which three in Malaysia and one in Singapore are already operational through franchising model. Yousef's inspiration to open a cafe came from a visit to Italy where he observed the warmth between friends and family generated over a cup of coffee. Further research informed him that the cafe culture was an ancient one in the Muslim world, and by opening dr Cafe he was merely bringing coffee back home.
1. To what extent is your success a product of your upbringing and background?
I come from a family of traders and businessmen, so I imbibed from an early age their daily experiences. It made me think "business-like" in every aspect of my life. As a consequence, I have learnt not to chase success stories. It has always been about achieving certain goals set out in a unique roadmap by taking advantage of the great things around us. It is about how we respect and learn from the mistakes and failures in the business community. This accumulated knowledge gave me a strong foothold in business life.
2. How did your parents/family influence you?
My parents gave me balance in life. My father, Sulaiman Al Rajhi, is a successful businessman in his own right (real estate, finance, agriculture). He infused the business mentality in my young mind, persistently shaping my thinking; and he instilled in me the concept of community welfare and social development. Seeing his colleagues and business partners meeting at his office, and sometimes being a part of their conversation in our home, made a big difference in how I thought. It gave a practical context to what I was learning at school. My mother inspired me by her wisdom, true values, positivity and dynamism. She believed that successful businessmen essentially take care of their business through taking care of their people. She fostered in us passion, faith, pro-activity and a selfless, giving attitude.
3. What is your educational background and were you good at school?
I have a Bachelor's degree in Industrial Administration, and a Major in Finance from King Fahad University of Petroleum and Minerals.
4. What was your biggest break and was there an element of luck involved?
I don't believe that there is a single "big break" in business life; every day is an opportunity. In the first five years of a business, there are challenges from every direction.
Positioning the business during severe competition, gaining new customers, introducing new products, describing the business model to colleagues and customers, trying to convert every challenge to an opportunity, trying to build the company to be stronger each day, all of these were continuous "breaks" in business that I had.
I do not see success as luck—it is a generous gift from God. Being born in a country where our families and businesses are safe, secure and healthy, getting appreciation and support from customers makes me feel blessed.
5. What has been your biggest failure and how did you recover?
We don't have the word failure in our dictionary. Every problem is seen as a new challenge; every letdown is a chance for improvement, and usually we deal with these letdowns as a wake-up call, a reminder that there is something wrong in the system, the people, or our way of doing business. We prefer to deal with letdowns strategically, analysing by adopting a 'what-if' process and then coming up with either a better approach, an addition to our expertise, or an improvement to our system. Sometimes it leads us to improve the training processes.
6. What can others possibly learn from your success?
Firstly, that you can start a business from scratch, build a brand, expand internationally and leave a footprint in the world. We did not let our conservative culture or the limitations of facilities in Saudi Arabia become an obstacle. We concentrated all our energies on delivering a lifestyle brand that could make the coffee experience 100% unique and rewarding.
Secondly, never pity your situation. We never compared our business environment with the leading companies worldwide and their more established business structures. Their environment allowed them to reach their goal faster and more economically. We confronted our weaknesses by setting pragmatic goals. We believe that success in Saudi, with the weather problems in summer, the conservative culture, the difficulties in outsourcing services (everything from designing, engineering to landscaping, maintenance and logistical services) has allowed us to be stronger and more confident. It has made our expansion into more developed countries much easier.
7. Who are your heroes in life?
Every energetic, passionate, positive, pro-active doer is a hero. They are the ones that I will never forget, will always admire, and learn from.
8. What's the greatest pleasure you have had from your success?
It is a pleasure to see people coming early in the morning, waiting for the cafe to open; to see people together, chatting, studying, doing business deals, smiling; to see them in the café till the last minute before closing time because of the great cup of coffee they're finishing off; to see the smile on our friendly baristas and admire the cosy environment, great work systems, outstanding interior designs of the cafes and the uniqueness of the brand shining in the coffee and cafe industry. It is also a pleasure to do something different: to build new outlets, enter new markets and to know that we are doing something special - something to enhance the people's daily life.
9. What do you think are the greatest enemies of success?
Succumbing to negativity can be the greatest enemy for success. Negative ideas and perceptions are present in every place and if we give them a chance, they would impede us in a way that there would be no success stories to share. Hence, energies should be invested into keeping ourselves busy to be more energised and more effective. Negative comments are part of life in the service industry; they affect business morale. We should receive all comments constructively and with respect, and consider them as an opportunity to improve.
10. What would you like to say to people when it is time for you to leave this world?
I am a product of what previous generations have achieved and left for me to build upon. Everything around me has reached its present stage by a series of continuous and incremental improvements.
The things I enjoy today and that make my life easy were not there a few generations ago. Prophet Muhammad said , "Live in this world as if you are going to live forever; prepare for the next world as if you are going to die tomorrow." This saying has influenced my business philosophy, which focuses on continuous improvement, adding value to the community and contributing to the industry. I wish to face God in modesty, and so I want to be sure that everything is built through faith, honesty, and integrity.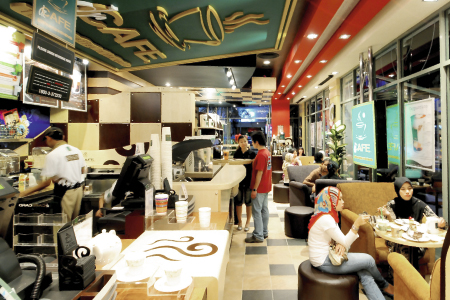 Share this


Link to this
Printer Friendly