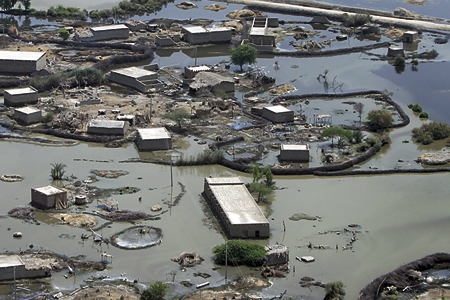 Diary of a travelling Imam - Hope Amongst Despair
Issue 78 March 2011
I was in two minds about going to Pakistan. Islamic Relief had made a promise to their donors to take me to the flood affected areas to see the work their UK donors had sponsored. I arrived in Islamabad in the early hours of Friday morning and I took a short nap before going to pray jummah at the huge Faisal Mosque. The architecture of the mosque is amazing. It is an enormous pyramid-shaped prayer hall with no pillars inside and maximum light shining in through glass enclosures from every direction. No photography was permitted inside the mosque. As I was carrying a huge camera, I had to pray outside.
In the evening we were invited to the Marriot hotel, a fortress with armed security guards. This was the hotel that was hit by terrorists detonating a truck laden with explosives that killed over 50 people and injured 300. British entrepreneur James Caan and his family invited us to discuss their work plan, and the partnership Islamic Relief and James were embarking on to build villages in Pakistan. James and his team were scheduled to travel with us to a village that had been fully constructed as part of the long term sustainable and integrated reconstruction work Islamic Relief was undertaking.
We left Islamabad the next morning for the infamous Pakistani Taliban area which is locally known as Khaybar Pakhtun Khuwa and politically labelled as a Jamaat stronghold. Whatever one calls the area, the devastation I saw even after several months since the flood left me numb and speechless. We arrived at a village called ManjureI in an area called Charsadha. I stood next to the River Indus that flows from the mountains of Afghanistan and criss-crosses the entire country and empties into the Arabian Sea. What I saw cannot be described in words. The river had changed its course and moved half a mile into the village, destroying everything on its way. I could see the remains of houses, even a mosque in the middle of the river. The water was crystal-clear and calm now, but the same river had raged through this village leaving only a handful of houses standing. One remaining house had more than a metre of mud covering the entire floor and the yard outside. The fertile soil of the surrounding plane was now covered by sandy and non-irrigable mountain soil. It would take years to excavate the land and make it cultivatable.
This was too massive a task, I thought to myself. Islamic Relief or any other NGO would not be able to rebuild a country! This needs a government that cares about its people. I got the feeling that the President, Mr Zardari
(previously known as Mr 10% but now contemptuously referred to as Mr 100%), was not interested in doing anything to help the people; he was busy looting the wealth of the nation. He had a bunch of corrupt politicians who did his dirty bidding.
James Caan and his team, with Islamic Relief officials, went to a village called Lunda to check the house-building project. Villagers were given keys to their new homes and there were celebrations. I arrived a little after James to meet and talk to the villagers. It was truly humbling to see how people were so grateful for the help and support they were getting from UK donors. There was a genuine sense of hope and resilience amongst them. One of the local Islamic Relief officials told me that they have a very good system in place: they identify villages that need rebuilding, they assess the situation before embarking on building programmes, then they build a complete package including drainage systems, roads, health centres and communal spaces such as mosques for the people.
We met a very old couple, in their 90s. The old man cried when he heard of us coming. He said, "Look at my house, nothing left apart from debris and straw. If it wasn't for your help and donations from the people of UK, my wife and I would be dead by now.
The old lady stood up to greet us, and kissed us all on our head and prayed in earnest. We were all overcome with emotion when the old man spontaneously raised his hands to the heavens and cried out, "O God, please give them what they deserve for saving our lives."
Share this


Link to this
Printer Friendly