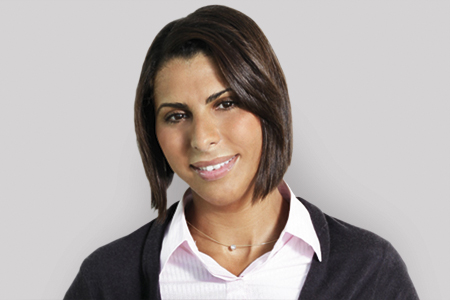 A Week in the Life of Nabila Ramdani
Issue 78 March 2011
Freelance journalist, Nabila Ramdani, is one of 10 winners of the European Muslim Women of Influence award. She specialises in Islamic issues, Anglo-French relations and the Arab world.
My day starts at 6am, with my head still swimming with the thoughts of the previous day's stories. Sometimes I am woken up in the middle of the night by the news desk giving me a heads up on a breaking story. Within seconds, I'll turn my attention to the possibility of a big day ahead; full of excitement.
I begin with a calming cup of green tea, and read up on all the latest movements in current affairs through print, online or television. I'm mainly based in London, but also spend time in my home city of Paris when I'm writing about French affairs. No week ever seems to be the same, apart from the great deal of travel and the very tight deadlines. I could be covering a diplomatic conference in the Middle East, or hanging around housing estates in Europe trying to get marginalised people to speak to me.
I'll eat a proper breakfast in mid-morning, and have my usual bowl of cereal, yoghurt and berries. Day-to-day work mainly involves reactions to the news as it develops. I can start with an 8am appearance on a breakfast TV programme and end with putting the finishing touches to a newspaper column at 8pm.
I also love the freedom of not having to deal with the same boss all the time. When I speak to commissioning editors, I can usually pick and choose which commissions I take on, and can concentrate on stories that are truly newsworthy. I'll also put forward my own ideas, as I feel that the best work comes out of my genuine interests.
On a usual day, I'll pop into my local Italian delicatessen for lunch to have a sandwich or some delicious pasta. If time permits, I'll have a cappuccino and a chat in Italian with the charming old man who runs the place.
One thing I've learnt is that journalists are only as good as their contacts. For example, a friend of mine introduced me to a friend of his who in turn introduced me to David Cameron. Pretty soon you realise what an entirely small place the world is!
I've also found that you get the best story through face-to-face discussions, and trying to experience what people are going through. Recently, I spent time with Muslim women who wear burqas in countries where they are considering banning them. The first-hand accounts made the articles I wrote a hundred times better than if they had simply been produced from behind a desk.
I didn't always want to be a journalist, but I have had a passion for storytelling for as long as I can remember. Growing up, I would write short stories for my younger brother and sister. I also studied history at university and would focus on the human aspects when looking at events. The transition to journalism was therefore a natural one as I also love the exciting lifestyle it provides.
There's two particular interviews that I've done which have stood out—David Cameron and Nicolas Sarkozy. Both conversations were remarkably similar—one was with a Frenchman who went on about how much he admired the English, the other was an Englishman who went on about how much he admired the French. That's politicians for you!
My TV work can be extremely demanding because I'm often called into studios at very short notice, often when I'm in the middle of doing something completely different. Once, I was playing tennis when the BBC called me in to speak about a breaking French government story. Luckily, they lent me a spare top.
While all this is going on, I try to keep long-term projects going—investigations, extended features, or programme ideas. One of my ambitions is to produce a documentary about Algeria, where my family originally came from. Due to journalistic restrictions, this will be much harder than it sounds.
I love reading, so I always have a good book to help me relax. I also watch a lot historical documentaries, and really admire the serious archival work and revelations. The thing I enjoy most about my job is that I can literally work on anything I want to, at any time of day or night. This can get extremely hectic, but nothing beats the buzz of seeing something come off. Weeks can be spent rushing everywhere, desperately trying to keep appointments and to make sure work is filed on time, but there's certainly nothing else in the world I'd rather be doing.
Share this


Link to this
Printer Friendly