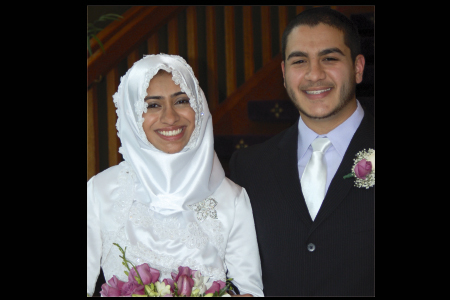 Learning Love
Issue 79 April 2011
Having met and married whilst at university in the USA, Sarah and Abdul Rahman continue their studies together at Oxford.
Sarah
When I first met Abdulrahman in 2005, I was an undergraduate at the University of Michigan. We were both quite involved in the Muslim Students Association and by the beginning of 2006, we were working on some of the same projects.
I wasn't really considering marriage at the time and it didn't come across that Abdulrahman was interested in me, so it was a bit of a shock when my sister told me that he was! I thought Abdulrahman was an intelligent, disciplined and upright individual, so I talked it over with my parents, and after a week or two of thinking about it, they gave us the go-ahead to communicate over the phone and internet.
After a few weeks, my parents invited Abdulrahman's family over for dinner, to get to know them better. My family and I were expecting things to go a bit more slowly, so we were very surprised to hear them ask when the wedding would be. When Abdulrahman's family left the room for prayers, we had a quick family meeting to check if I was okay with things progressing. When they returned, we talked about the future and our families decided on the engagement date. As soon as they left, the house erupted into screams and giggles as we spread the news amongst our friends and family.
Following that, we set the bounds of only seeing each other in chaperoned environments or in public places at the University, but we decided not to go on outings together or eat together on campus. We also set the date of our wedding ceremony within a few months, but we agreed not to have the reception until the following year when Abdulrahman had graduated.
As with any couple, wedding preparations can get pretty stressful as you try and balance the preferences of both families. My family is Indian and Abdulrahman's Egyptian, so we tried to incorporate traditions from both cultures in the ceremony. We had the wedding ceremony in the mosque that Abdulrahman attends, but we invited the imam from our local community to act as witness to the proceedings. On the same day, we had a beautiful reception at Abdulrahman's house and invited around 200 guests. I was wearing a white Indian outfit, which is traditional for our village in India. It was a day filled with anticipation, relief and joy.
One year later, we had a bigger reception at a hall with 700 guests. I wore an American wedding dress to this, which has become the norm in Arab-American culture.
Marriage has definitely taught me to put things in perspective, and thereby be a more considerate person. I think Abdulrahman's discipline has rubbed off on me too; if I'm feeling a bit lazy or slacking off, I only have to look at him working diligently to serve God in whatever way he chooses to motivate me to get things done.
Within any marriage between people of different backgrounds, there are bound to be different traditions, but also different expectations which often shape one's priorities. But because we were both born and raised in the US and neither of our families were 'super cultural', these differences were not overwhelming.
Both of us were very committed to negotiating and compromising on our culture to protect our relationship. For us, religion comes first and everything else is second.
Abdul Rahman
I was studying at the University of Michigan and was quite involved in some of the same Muslim Student Association initiatives as Sarah when we first met. I was looking to get married at the time, so after speaking to my family, I made a decision to pursue my interest.
I was extremely nervous and cautious about the whole situation, as it is not easy to put yourself up for rejection like that. Rather than speak to Sarah directly, I contacted her sister who was also a student at our university, but was a few years older. I pretended to want to discuss CV edits, as she was a business student and an expert on this, but I quickly changed the subject to her sister.
Sarah came across as a modest, intelligent and righteous person. I really admired her ability to work with people, and these were definitely some of the qualities that I wanted in a spouse. My family were very supportive throughout the whole process, but they made sure that I knew that it was my decision to make. When I would seek advice, they would tell me to follow my heart or put my faith in God. This approach paid off in the end, alhamdulillah.
I vividly remember the day of our wedding ceremony. It was a wonderful occasion; the weather was perfect and most of my friends and family were present. Holding Sarah's hand for the first time will always be one of the fondest memories in my life.
After I had completed my studies in Michigan, I decided to undertake my DPhil at the University of Oxford. As Sarah was completing the fifth year of her undergraduate studies, she couldn't join me right away. That year apart was very difficult, but it helped reinforce our devotion and dependency. As they say, distance makes the hearts grow fonder.
Sarah and I do have personality clashes from time to time, but every couple has them in some way. The crucial factor is that our values align very well, so it's easy to iron out any differences. We were also the first to get married amongst our siblings, so we learned a lot by watching our parents. However, we both realised that one can never fully understand something until they experience it.
I definitely feel that marriage has changed me in many ways. It has taught me to be more patient and compassionate. Often, having to live with someone so intimately forces one to reconsider many aspects of their character and change for the better. But marriage has also shown me how beautiful companionship can be, to have someone stand by your side through thick and thin.
Unfortunately, the Muslim community is divided along ethnic lines; we fail to come close enough to one another to recognise the miniscule nature of the differences and the grandness of our similarities. As Sarah and I come from different racial and cultural backgrounds, we thought this might be a big obstacle in our relationship. However, the whole experience has highlighted how similar people are, especially those united in submission to God.
Share this


Link to this
Printer Friendly