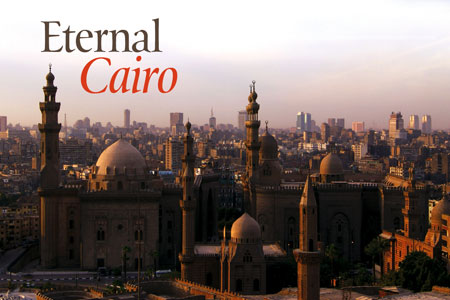 Eternal Cairo
Issue 79 April 2011
This ancient city has much to offer, and Omair Barkatulla thinks the revolution is no reason to stop visiting Cairo now.
For anyone who knows Cairo, a walk through Tahrir Square, the site of January's anti-regime protests will never be the same. The uniquely worn urban fabric that forever looked stuck in the sixties has a glimmer of rebirth. Ten months ago, when I was new to Cairo, I was stopped and searched in Tahrir Square by an undercover policeman while heading home from work. After realising I was a British citizen, he pointed at my beard and said he thought I was an Egyptian extremist. Under Mubarak's emergency laws, this kind of harassment was common, but it was nothing compared to the routine torture by the police, and the detention without trial many Egyptians were subjected to. Naturally, I felt bitter and I prayed to see Tahrir Square and Egyptians free from the vicious regime. Right now, Tahrir feels like a free people's forum, where crowds meet and exchange news, pray and feel good about being citizens.
Cairo is not only rich with ancient and medieval history, but has a living, breathing energy with its future being written right now. The exhilaration and beauty of this city is in the many things to discover and also the friendly, good-humoured people. With a population of around 15 million, Cairenes have learned to live together and somehow make this congested jungle work.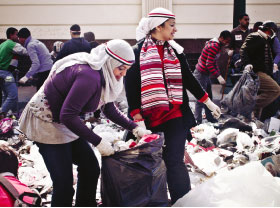 A clean-up of Tahrir Square by local residents after the weeks of protesting, Maggie Osama
During the unrest many visitors fled, leaving Cairo slightly less crowded. Politically, things are up in the air and there are many peaceful strikes and protests still going on. Despite this, it is a good time to visit and you might even skip the usual hassle from tourist touts in high season. With fewer globetrotters around to sell papyrus and perfume to, the streets are full of vendors selling Egyptian flags and revolution souvenirs, while every citizen is proud to be Egyptian. The residents of Cairo say "welcome to Egypt" whenever they see a foreigner. We read in the Qur'an Prophet Yusuf saying 'Enter Egypt, God willing, safe and secure' (12:99). Egyptians are proud their country is in the holy book, and remarkably, Cairo is and has been relatively safe throughout the pages of history.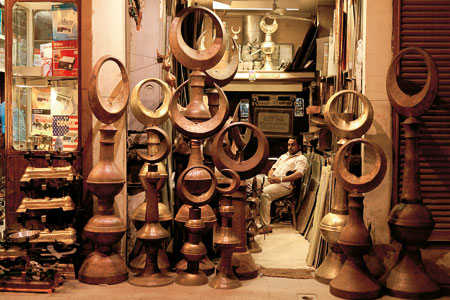 A shop selling minaret tops in Khan el-Khalili Bazaar, Steven Lawson
Tahrir Square is in downtown, which is the city centre where many hotels, government buildings, shops and offices are located. Protests and crackdowns raged in the vicinity, but the aftermath was agreeably positive as protesters cleaned the roads and repainted kerbs to mark a rebirth and reclaiming of the Square, and the entire country. Tahrir Square is now a tourist attraction in itself. This busy intersection of traffic and people, with the Nile to the west is also home to the Egyptian Museum. Thousands visit daily to see the ancient artefacts, like the gold Tutankhamen mask and the mummy of Pharaoh Ramses III. Be extremely cautious crossing the streets downtown as drivers weave through jaywalkers on roads with reckless abandon. Walk down to Talat Harb Square to see an eccentric medley of ornate Parisian and Art deco architecture, side by side with lurid fashion stores. The Talat Harb area on a weekend is buzzing with liveliness, and my favourite place to eat is in Champillion Street's famous Abu Tarek. Here, they only serve koshary—a popular Egyptian dish of pasta, rice, delicious tomato sauce, lentils and chickpeas. For meat-lovers, right across the road there is Abu Khaled's grill, where you must try the mouth-watering beef chops (known as riesh).
A walk to the historic Islamic Cairo district is not short, but it is definitely worth going on foot to see how the changing urban landscape wonderfully transports you from European Cairo back to the Islamic past. Head down Talat Harb Street, towards Attaba where you will find a swarming array of streets dedicated to furniture, electronics, textiles and kitchenware, and a good place for people-watching.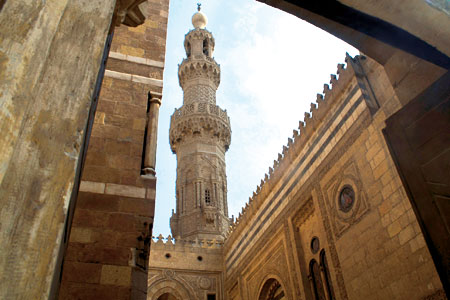 A view of the Al-Azhar Mosque, Omair Barkatulla
Few Muslims have not heard of Al-Azhar University, the Muslim world's most respected institution of scholarship and the second oldest university in the world. Founded in AD 970 by the Fatimids, a millennium later it is far from being a museum. The elegant Al-Azhar Mosque is open to visitors and still holds lectures, Qur'an recitation and dhikr.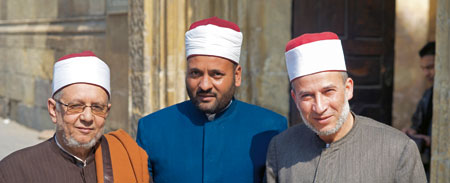 Approachable and friendly Azhar scholars, wearing distinctive red and white headgear are seen throughout Cairo. Spend some time relaxing in the peaceful courtyard before you head back to the commotion of the material world.
The Khan el-Khalili Bazaar is a maze of narrow alleys that fit every stereotype of the Arab world (if you have seen Disney's, Aladdin). Although it is called Islamic Cairo, do be advised that not everyone here will act very Islamically. Watch out for scamsters. Say "shukran" a lot, which people will take as a "no thanks." Regardless, you will enjoy your time, browsing everything from spices, antiques, jewellery, perfumes and shockingly bad belly dance costumes.
Off Hussein Square, wander the Khan into the charming Fishawi's for a dark Egyptian coffee or milky shai. Coffeehouses (ahwas) are where the locals catch up, watch football, play backgammon or read the papers. The whiff of sweet shisha smoke will let you know you are near one. Ask for directions to Sharia al Muizz for a walk to some exquisitely preserved old mosques, madrasas, houses and workshops of the Darb al-Ahmar district, where there is a community of craftsmen, traders, scholars and residents.
An afternoon at one of the only green spaces in Cairo, the lush Al-Azhar Park is a well needed breath of fresh air. By far the most beautiful space to relax in Cairo, there is exquisite architecture and gardens on a hill, coupled with picturesque views of a skyline of minarets. Splash out on a meal at the luxurious Citadel View restaurant.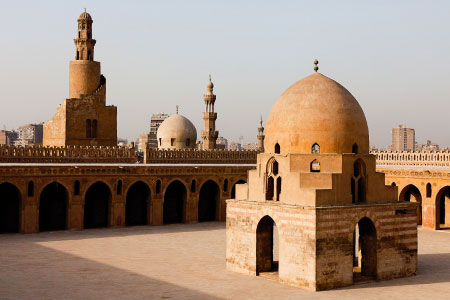 The Ibn Tulun Mosque, Steven Lawson
Cairo's oldest preserved mosque, Ibn Tulun, built in AD 879 is my favourite place. Be sure to climb the solitary spiral minaret based on the mosque of Samarra (Iraq). Dominating the skyline is the Citadel of Salahudin (Al Qala'a). It was the seat of power in Cairo until the 19th century, and Salahudin built complex water systems and aqueducts to supply it. Visitors will be amazed at the power and grandeur of the Muhammad Ali Pasha mosque, with its distinct Turkish influence from Ottoman days.
Further south in Coptic Cairo (also called Old Cairo), is the heart of Egypt's Christian community. It was here that General Amr ibn al-As first pitched his tent when he conquered Egypt. He founded the first mosque in Egypt and Africa (known as the Masjid Amr). Now a huge 200-pillar structure, it is especially lively in Ramadan. Visit the Churches at Mar Girgis, where typically Islamic ornamentation and Arabic calligraphy adorn Christian places of worship in an interesting fusion.
The grave of Imam Al-Shafi'i, founder of one of the four main schools of Islamic law and one of the greatest scholars of Islam, is at the southern cemetery. The Shafi'i school is the main school in Egypt, practiced also by millions of Muslims from Indonesia to Somalia. You cannot fail to be inspired at the resting place of such an important saint and scholar. You feel even more rewarded just for finding it in the maze of tombs and alleys.
No matter how many postcards of the Pyramids of Giza you may have seen, nothing can prepare visitors for beholding the awe-inspiring giants in the 'flesh'. The Cairo air fills with the adhan five times a day with a constant reminder that "God is the greatest. There is no God but Allah."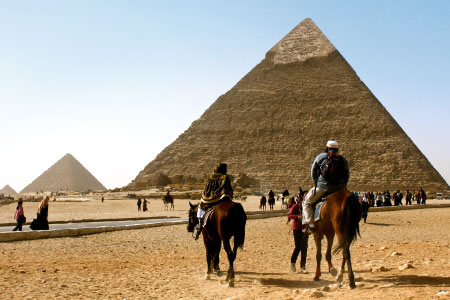 One looks out at the pyramids and thinks of any great power in the world, and realises how fleeting they all are. The Giza Pyramids area offers camel and horse rides, but a short taxi hop away is the stables of Hassan Abdou Breash at the International Equestrian Club, where you can ride in the open desert. Back towards Tahrir, near the Qasr an-Nil bridge, the best end to the day is to jump on a felucca (sailboat) to view Cairo by night, peacefully from the Nile water. Sit back and enjoy some quiet in this notoriously noisy city.
The noise of protest has definitely not disappeared as thousands promise to rally after Friday prayers in Tahrir every week until real democracy is established in the country. The initial euphoria of Mubarak leaving is transforming into serious work toward change for the better. At the moment, Cairo is a place of hope and good will. As the tourists slowly come back, the Cairenes are saying, "Enter Egypt, God willing, safe and secure."
Share this


Link to this
Printer Friendly