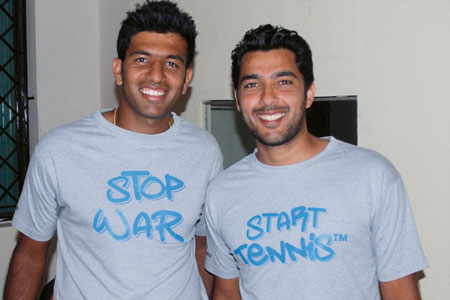 Kith and Kin - Indo-Pak Express
Issue 79 April 2011
Doubles partners, Aisam Qureshi (right) and Rohan Bopanna, believe that tennis can unite the nations of India and Pakistan.
Aisam
I met Rohan during the ITF Futures singles tournament 2000 in India. My assessment of him as a tennis player was that he was a power player with a big game. When I actually spoke to him, I encountered a nice guy with a great sense of humour. After the tournament in India, we both played in Europe, where there weren't many Indian or Pakistani participants. Our friendship was probably cemented in our cultural and geographical connection, and the time we spent together on the European tournaments allowed it to mature.
Although Rohan is an Indian Hindu, and I am a Pakistani Muslim, we have never allowed this to separate us. I respect Rohan's religious and political identity and he respects mine. We both have our sincerely held beliefs, but we never really discuss these things because we have an array of other interests at a human level, that bind us closely as friends.
Our friendship off the court was strengthened on the court when we started taking part in doubles tournaments, like ITF Futures and ATP Challengers. We always worked well, and achieved well together. I think the attention that we received brought us closer together than any other doubles pairing could be because of the symbolism that surrounded our partnership. We started the 'Stop War, Start Tennis' campaign, which affected the perceptions of many people for the better. We believe that politics cannot justifiably interfere in sport and our campaign aims to promote peace and unity.
As a Muslim, I feel a personal obligation to let the world know that extremism and terrorism have nothing to do with this religion- or with any religion for that matter. As for politics, we hope to play a match across the Wagah border; we want to prove that although India and Pakistan are two nations, we share one soul. Sport is a great means of getting that message across.
My sporting hopes are for me and Rohan to win our first grand slam. The Bryan brothers are great role models because they have achieved so much together. We also greatly admire Leander Paes and Mahesh Bupahti, who are great friends of ours and very entertaining to watch.
Rohan
I recall Aisam was someone who was pretty easy-going and when we met at various tennis tournaments, we just connected. Aisam and I are born two weeks apart, we're from the same sub continent, speak the same language and have the same tastes in food and music. These similarities definitely provided a good grounding for our relationship because they are all more or less permanent characteristics of us. Our friendship developed during our spare time and the bond was further strengthened in the place where it was first formed- the court. What makes us such great friends is the fact that we share a mutual sense of loyalty and trust. One would suppose that there are tensions in our relationship, but I can't recall a time when we've had any real problems.
Both Aisam and I are determined and ambitious tennis players. It was this and our contrasting but complementary playing styles that meant that we could play together and achieve success.
People assume that the mood at the political level is the mood at the level of the general population. But this is not at all true for Indian tennis fans. Irrespective of the political tensions, people appreciate a good sportsman and a good sports team. The two of us are definitely proving our worth, and the public has respect for that. I also honestly believe that the 'cross border friendship' is much more media frenzy than a public frenzy. People in both the countries respect and admire a winning combination, which means they respect and admire us!
Last year, we reached the final of the US Open. We faced some pretty tough matches en route, knocking out the number two seeds in the third round, and came up against the Bryan brothers in the final. Even that match was close, with two tie-breaks, but we played our game well. Interestingly, both the Indian and Pakistani ambassadors attended that game and were cheering us throughout.
Aisam and I are involved in the 'Stop War, Start Tennis' campaign, which took off at Wimbledon in 2010. We feel strongly about using our global presence to spread the message that sport goes beyond borders and is non-racial, non-cultural and can be used as a medium for creating peace.
Do you have a close friend or relative who's your partner in crime? Know two interesting people that are always telling tales of their adventures? Then let us know, so we can feature them in our Kith & Kin section! Drop us an e-mail at info@emel.com with some details and we'll get back to you.
Share this


Link to this
Printer Friendly