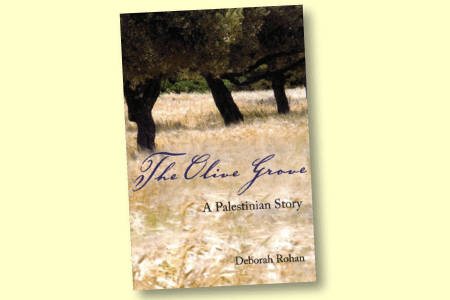 Book Review - The Olive Grove, A Palestinian Story
Issue 79 April 2011
The Olive Grove, A Palestinian Story by Deborah Rohan
Review by Kamran Shaheen
Deborah Rohan undertook this unenviable task of writing a fictional autobiographical account about a Palestinian family. The story follows the Moghrabi family's transition from comfort, prosperity and luxury, to statelessness, uncertainty and hardship amidst a time of political unrest due to two world wars. It then depicts their fight for freedom under Turkish and then British rule, which was consquently followed by the illegal Zionist occupation.
The novel is based around the lives of Hamzi Moghrabi and his father Kamel Moghrabi, a secular and socially conscious man whose life seems to echo the tragic demolition of a nation. The story begins in 1913 when Kamel joins the Ottoman Army as a young soldier, believing that he is joining others in a movement that will eventually lead to a united region for Armenians, Arabs, Jews and Turks. However, his romantic dream unravels before his eyes and he awakens to a whole new reality.
The story moves onto a campaign for property; now married, Kamel refuses many offers for his land from Jews and he quickly finds himself imprisoned, leaving behind his beloved wife, young children, community and friends­—both Jewish and Arab. As the fighting gets closer and closer to their home and the Zionists are unapologetically grabbing more and more land, the Moghrabis make a heartbreakingly difficult decision—to flee. Now residing in Lebanon, poor and broken, he questions his decision to leave his homeland; here the novel highlights the many moral, social and economic issues faced by numerous Palestinians at this pivotal moment in history.
When Hamzi later returns to his homeland, now known as the occupied territories, he sees that his father's beloved olive grove has disppeared from the landscape. This is a deeply moving, family-orientated narrative, which portrays the emotions, life and culture of a Palestinian. It is written without rancour and laced with incredible warmth, depth and for good measure it has a love story too. It is highly recommended read for those wishing to learn more about the plight and struggles of the Palestinian people or for someone who would simply enjoy reading something heartfelt, expressive and at times, deeply emotional.
Share this


Link to this
Printer Friendly