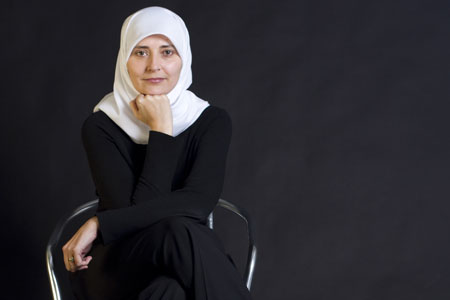 The Passing of Time
Issue 81 June 2011
I turn 40 this June. Forty is one of those ages that are culturally important in Britain. I can remember with great clarity my mother's 40th birthday, as it was significant to her and all those around her. I was just eight at the time, and it shocks me that the passing of time is such that I am myself now at this milestone. I know it is 'just a number', and will pass like other numbers before it, however the number is one that has been given importance since childhood, perhaps due to its Biblical significance.
Within the Bible, the number represents the passing of a period of time that is not exactly determined. So it rained for 40 days and 40 nights when God wanted to cleanse the world and start over with Noah. Moses was on the mountain with God for 40 days. The Israelites spent 40 years in the wilderness. Goliath came for 40 days before being killed by David. Jesus fasted for 40 days in the wilderness, and many other instances.
As the nature of these Biblical examples relate to trials and tribulations, 40 is also a number associated with testing, with the answer and the relief coming upon 40 being reached. Perhaps this is why the saying holds 'Life begins at 40', although this is actually a relatively modern addition to our vocabulary.
As trials hopefully bring perception with them, 40 is also considered the age of wisdom, and is the age of prophethood for Moses, and also for Muhammad. The significance of 40 can be seen widely in the Islamic traditions. Muhammad prayed and fasted in the cave for 40 days. Muslims have been encouraged to devote themselves to God for 40 days. The hadith, "Whichever Muslim learns forty hadith by heart will be raised on the Day of Judgment with scholars and jurists," has led to a series of collections of "Forty Hadith". It is said that our neighbours are people 40 houses in front, behind and beside us.
And there are other cultural reference points with regards to the number 40, such as the Arab proverb, "To know a people, you must live amongst them for 40 days and 40 nights." Even the number of thieves in Ali Baba is 40!
Most agree that the use of 40 generally means "many" rather than indicating a specific number, and although I am not one for putting significance to numbers, as I reach this milestone I am mindful that the Qur'an itself marks the reaching of 40, "...when he attains to full maturity and reaches forty years, he that is righteous prays, 'O my Sustainer! Inspire me so that I may forever be grateful for those blessings of Yours with which You have graced me and my parents, and that I may do what is right in a manner that will meet with Your goodly acceptance; and grant me righteousness in my offspring as well. Verily, unto You have I turned in repentance: for, verily, I am of those who have surrendered themselves unto Thee'." (46:15)
Somewhat daunted by the fact that I have now reached "full maturity," and there really are now no excuses for failure of character and action, I do find this verse very joyous. Being forever grateful for one's blessings despite the trials that come from time to time, is the way to a contented life. To seek a life acceptable to God is a life of peace and sacredness. To have offspring who are righteous is to have the calmness of heart. And to turn in repentance is the way of return when we stray from the Divine. For my whole life, I have wanted to surrender to Him. I have failed to do that on more occasions than I care to mention, and yet my heart yearns to keep trying so that I can be amongst those who have surrendered themselves to Him completely.
As I enter 40, I am fearful that I have not yet acquired the wisdom I need; worried that I have not enough learning; sad about the wasted time to this point. Yet, I am also hopeful that the blessings of people, experiences, journeys, even trials so far will grant me a reserve from which to draw for whatever time lies ahead. I know that I have to become more fully the person that my life, up to this point, has made me, for I am truly grateful of all that my life has bestowed upon me, and I hope that I am able to bear forth with strength and fortitude and reap the fruit of seeds planted in these 40 years.
Share this


Link to this
Printer Friendly