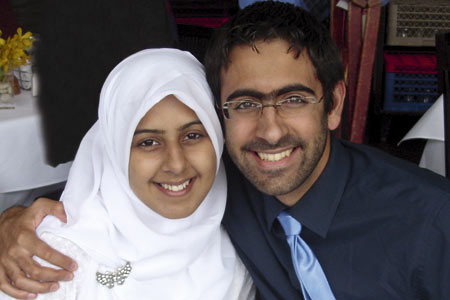 Shared Values
Issue 81 June 2011
A strong sense of duty and commitment unites Zahra and Miqdaad, who put the success of their marriage down to the fundamental principle of helping others.
Zahra

Miqdaad and I were first introduced through his aunt, who knew me quite well. The first time we spoke was over e-mail, as he was in London and I was living in Tanzania at the time. Our initial series of e-mails were just a way of beginning initial introductions.
To be honest, I wasn't looking to get married because at the back of my mind, I always thought that I would graduate first and settle into my writing career before embarking on such a journey. I had just taken six months off of my university degree in New York to fly to Tanzania and undertake charity work at The Ocean Road Cancer Hospital, an institution that is very close to my heart. When I found out that he wanted to get to know me for the purpose of marriage, I sat on the idea and figured that I wouldn't have anything to lose.
I still remember the first e-mail that I ever received from him. It was funny, friendly, open, intelligent and to the point. I immediately felt that I could relate to him, through his approach to life and practice of Islam.
The first 'real' meeting happened a few months later, when he came to meet me in Tanzania, along with his family members. It was a very awkward and nerve-wracking experience for me in particular; there were 10 people sitting in the room, just watching intently to see if there was any connection between us.
I was feeling everything from excitement and interest to nervousness and fear at the time, but I still felt very comfortable in his presence; I found that he was able to understand me better than anyone else.
After I accepted Miqdaad's proposal, we both worked on the wedding preparations together. Miqdaad is a great organiser, and I was a box full of ideas, so we complemented each other very well in that respect. The wedding day was a beautiful occasion, and full of emotions, but everything went smoothly and it was wonderful to see two families coming together. I was excited to be embarking on a new journey with Miqdaad, but I knew that my relationship with my family would change.
Marriage has been such a blessing in that by sharing everything with that other person, you reveal more and more about your inner core and begin to recognise the strengths and weaknesses that both you and your partner have. There's absolutely no opportunity to shy away from anything. Sometimes you just have to tell it as it is, and as a result, I've learned to receive as well as give criticism very fairly.
I really admire Miqdaad's sincerity, patience, and willingness to help others. He is really involved in the community and works effortlessly to serve others. Being married to Miqdaad has given me a more positive outlook on life, and I am so glad that I now have a companion to share my experiences and life journey with.
Miqdaad

My aunt was the one who initially introduced me to Zahra. I was looking to get married at the time, so we started communicating over e-mail, then spoke over the phone before I went out to meet her in Tanzania, with my mother, father, brother and grandmother. I recall it being extremely hot.
My initial impressions of Zahra when we first met were that she was very shy and I continue to make fun of the fact that she wasn't making eye contact with anyone in the room, but simply sat staring at her feet! But we had got on very well over e-mail, and I enjoyed spending time with her. At this point, I was pretty certain that I wanted things to progress.
It was quite natural to have doubts at the time, as they come with any major life choices. Especially in marriage, as it will never be how you expect it to, and people can bloom in ways that you could never imagine. But we both knew what we wanted and what was important to us, so the vital thing was to ensure the other person had the same outlook.
I still remember proposing to Zahra on the beach. The sun was shining high above us, the waves were crashing down across the sea, and the wind was blowing through my hair. She would have been crazy not to accept my proposal!
After we were engaged, I went out to New York to visit her whilst she was studying, and Zahra also came to London once. It's quite a challenge to keep things long distance, and neither of us wanted to compromise the way that we communicated, so we made a commitment to meet every two to three months.
I found it quite stressful to organise everything for the wedding over the phone and in particular because it was in Tanzania, and we were both in different countries. Fortunately, it all worked out well in the end. I recited my own nikah at the wedding ceremony, and was a bit nervous because of that. But overall, I was feeling good and the day went without trouble.
Marriage allows you to learn more about yourself, but more importantly, you begin to take into account the effect your actions have on others as you get closer. Married life is quite different to what I had expected; I didn't anticipate how much I would learn about myself, and the time that was needed to develop our marriage. I also feel that I have become more empathetic and sensitive since getting married.
Zahra has a great passion for doing work for the community and others, but this, along with faith, is something that is close to the heart of our marriage. We pray together, are both active in the community, and have great shared values, which is why we are both heavily involved in faith and charity work. Being able to share that sense of duty with her strengthens our marriage.
Share this


Link to this
Printer Friendly