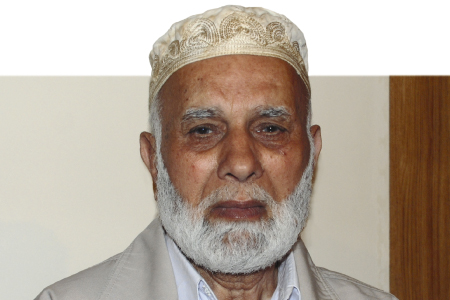 Soldiering Through
Issue 81 June 2011
A young soldier in the army, Mahboob Hussain Chohan was no stranger to self-discipline and hard work when he arrived in the UK from Pakistan. Working as an engineer, Mahboob settled his family here and later became one of the founding members of UK Islamic Mission.
I was born in the Punjab region of India in 1935, now known as Rawalpindi in Pakistan. Our family had always made its living through agriculture and farming and my father inherited a moderate amount of land. He wasn't very wealthy but he did his best to support the family. I adopted a great number of family values from my father through his positive mental attitude and determination.
When I turned 17, I decided to join the Pakistani army, following in the footsteps of my elder brother in order to help contribute financially towards the family.
The army was an important learning curve for me, as it was not only the first time I had moved away from home but I also knew very little about the outside world as it were, let alone the responsibility of a soldier. It was a very strict regime, which I had to learn and adapt to very quickly—not that I had a great deal of choice there! I learnt how to cook and clean and developed tremendous self-discipline. It was then that I realised the back breaking chores my mother endured day in and day out. My respect for her grew an immense amount and I missed the comfort of home terribly but that difficult time definitely prepared me well for the future.
Whilst in the army, I faced many struggles and hardships and endured some of the most horrific sights. In one incident, my finger got stuck in the clip of a grenade, and it was blown off. One of my comrades managed to retrieve the finger. Experiences such as these, though traumatic, helped to make me a stronger person in faith and character.
During the 1960s, Pakistan was a very young country and there were no real job prospects. Where I lived, the only way to support your family was to acquire your own resources and keep them for your disposal. My family survived by growing their own food supply. After being in the army, I felt that I needed a new direction. The UK was open to Pakistani people at the time, and all that was required was a passport. My brother was already working and living in England at the time. So, after serving in the army for nine years, I left the artillery branch in 1961. Looking back, I had never anticipated that I would end up here, but now I believe that it was God's plan for me.
When I arrived in the UK, I was living with my elder brother and 10 other people who had also arrived from Pakistan, seeking a better future. It was a real struggle to pay the rent at the start. For the first few days, all I felt was nostalgia and I longed for some sunshine. However, I managed to settle down quickly and enrolled onto a training course for engineering. As soon as I qualified, I instantly found work with some assistance from my course tutor.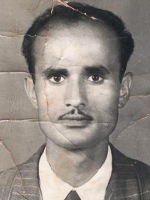 I worked in the field of mechanical engineering for almost 25 years, and was mostly involved in the manufacture of bearings for all types of components, including cars. The work was very disciplined, and my experience as a soldier helped me to settle in. There weren't many major advances within the industry as we see today, however, so there was a great deal of manual labour. I remained in that field for the majority of my career and I spent my last working years at Vauxhall.
I was already married when I came to the UK, and my wife joined me soon after. She worked as a tailor and dressmaker in Pakistan, and continued to do this when she came over. I spent very little of my earnings on myself and the savings I did acquire, I'd send back home to help other members of the family establish themselves.
Living here has been a blessing as my children were able to receive the best possible education. It is so important to gain a solid education as that is the foundation for success. I have taught my children to value their education, and it has made me proud that they have all acquired great qualifications and honours degrees. One of the proudest moments of my life was accompanying my children to receive their university degrees. I supported my children throughout their education so one day they could acquire good jobs and could contribute to the economy just as I had done in my working years. It was hard work no doubt, but very well worth it.
My father was involved in voluntary work in Pakistan, and this had a massive influence on me. When I came to this country, I became one of the founding members of the UK Islamic Mission. Its main mission was to encourage the development of mosques and organise events in which fellow Muslims and those of other religions could meet and learn about each other's faiths. I became the president of my local branch, and was elected for consecutive years. My role involved structuring the running of the mosque, which ranged from ensuring Qur'an classes were running smoothly to organising charity events.
Throughout the fourty years I have spent in the UK, I have participated in organising charity collections. As well as the UK Islamic Mission, I've helped to raise money for Muslim Aid and Islamic Relief. I have also helped to support villages in Pakistan, especially those where people are suffering from poverty. It is vital that we assist those who are rebuilding their lives, as we need to create a better future for the generations to come. Today, Muslims in the UK have become a lot more involved in community affairs and interfaith work, which will lead to a better future for all of us. I have also encouraged my children to contribute to the community at large by engaging in such activies and I hope that they will reap the rewards in the Hereafter.
I see myself as a British Pakistani, and have been influenced by the British culture in many ways. I have been retired for some time now, but I'm enjoying relaxing. I'm a keen gardener and have built my own greenhouse. I grow my own vegetables and encourage the rest of my family to eat healthily. I also take pride in the fact that all my children are good people, and they participate in Islamic work and are financially stable. We have 17 wonderful grandchildren, and my wife and I spend a lot of our time in their company. I am grateful to God for blessing me with a good life, and I pray that He always considers me to be one of the thankful ones.
Share this


Link to this
Printer Friendly