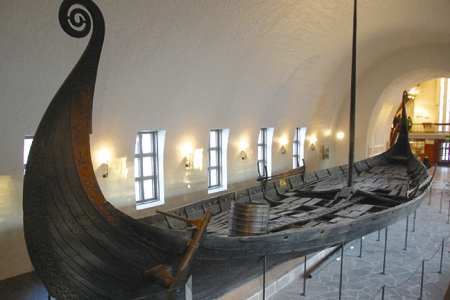 Diary of a Travelling Imam - Viking Hospitality
Issue 81 June 2011
I was invited to Norway for meetings and discussions with the Muslim and non-Muslim communities. I had never visited the country before, and always associated it with snow and reindeers. The sun was shining brightly in Oslo; there was still snow on the ground but the day was warm. I was taken to a beautiful building that had a combination of British, Scandinavian and American decorative features. The house was devoted to bringing people of various communities together to build trust and peace. In Scandinavia, lunch comprises of cheese, jam, butter, salad and cold cuts of meat. I was humbled by the effort my hosts had made to provide me with halal food. After lunch, I was introduced to Norway's favourite sport — cross country skiing.
The first public engagement was with young Norwegian Muslims who were increasingly visible and causing anxiety amongst the locals who feared they would be radicalised. Most of them were of Pakistani ethnic origin, and so the natives were worried about imported fanatical ideas. My talk was entitled "Ten ways Muslims can win the hearts and minds of the non-Muslims." I was inspired to hear that there was a large number of young Muslims breaking cultural barriers, prejudice and racism, and becoming more engaged with wider society.
I prayed jummah at one of the biggest mosques in Oslo. I was impressed with their modern facilities. Sadly, the Imam gave the khutba in Urdu and read a sermon in Arabic that was probably written three centuries ago. A modern mosque with an archaic Imam! I was invited to meet the Imams of the mosques in Oslo. The idea was to explore ways of improving interaction between Imams and the local non-Muslim communities. I delivered my speech entitled, "Imams in the West" and encouraged them to think big and act local. Their roles should not be confined to serving the Muslim communities, but should also include the wider society. The Muslim presence in Europe should not be treated as an accident, but should be viewed as an opportunity to add value to Europe.
One of the Imams stood up, congratulated me, and said, "That was one of the most inspiring talks I have ever heard." He was Gambian, and he personified the ideal Imam in my view: handsome, humorous, cheerful, and warm. He spoke Norwegian, Arabic, English, French and Gambian. There was an older Imam who had been given an award by the Norwegian society as an ambassador of peace and cohesion. He was of Pakistani origin; did not speak Norwegian or English very well but had become known for his extraordinary ability to bring people of all backgrounds together. I was very impressed. He said that we could all talk integration until we were blue in the face, but unless we proved it through our actions, no one would take us seriously. He also said that the Muslim community should not be discriminated against and shut out. This would delay natural community cohesion.
The next day I visited the Viking museum that had on display the remains of ships that were used as funeral pyres by the Vikings. It was amazing to hear their story and how they had sailed the oceans and even reached America before Columbus.
My final meeting was with non-Muslim Norwegians from all walks life — youth workers to chief executives, bankers and politicians. My speech was entitled "Integration is a two way street". The people listened attentively and I felt I was able to get my points across adequately. I tried to shake them up by claiming Europe was more Islamic than many Muslim countries. I challenged them by asking if they were willing to share their country with the growing Muslim population. An ardent secularist spoke up saying he believed I may have said all the right things, but Islam fundamentally is non-European and illiberal. He could not see how I could claim to have a shared European destiny.
I told him secular fundamentalism is no different to the extremism we see in some sections of the Muslim community. If we are not careful, we may be responsible for the next major war, which could be between religious and secular fundamentalists. Next, there was a question about why there were no good Muslim societies in the world as an example of what Islam is capable of providing the world. My reply was simple: as a start, let us unite in asking our western governments to stop supporting the Muslim despots; a free and democratic Muslim world would be the best gift the modern world could have.
Share this


Link to this
Printer Friendly