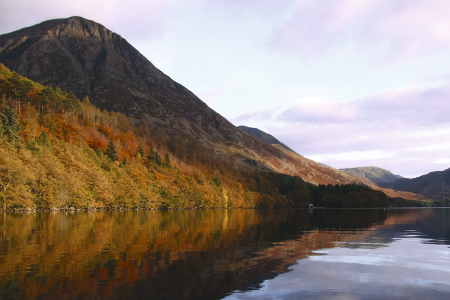 The Great Outdoors - Part 1
Issue 81 June 2011
As holiday season approaches and travel brochures fly frantically around the house, Ali Khimji encourages staying close to home to explore the magnificent beauty of two of the UK's National Parks.
It's typical of us; holiday season comes around and the usual selection of Muslim countries is on the table. "Which part of the Middle East are we yet to explore kids?" announces Dad. When that list of potential destinations has been completely exhausted, it is usually followed by cities in America and Canada where close relatives live, and nowadays, it isn't uncommon to visit European cities on a cultural trip — but let's admit, these are far and few between.
Any mention of holidaying within the UK or exploring the great outdoors is usually met with great reserve or in some cases, confusion. "There aren't any mountains in London. What outdoors?" Often, the idea of a 'holiday' for us is somewhere exotic — "We go on a holiday to get out of the country. Why would you want to spend the holiday in the outdoors? We have a perfectly good garden at home that you can spend time in."
Outdoor holidays are usually associated with primitive ideas, much of which have evolved from popular culture's representation of 'camping'; sitting around campfires, toasting marshmallows and singing kumbaya, while sleeping in tents and waking up in the middle of the night to wage wars with creepy crawlies.
But the outdoors has evolved to be so much more than this; the stunning scenery and beautiful landscapes are a chance to get away from the hustle and bustle of cities. The fresh air and open space gives you the opportunity to appreciate nature in its magnificent glory and marvel at God's creation, as well as experience the peace and tranquillity that most of us crave in our daily lives.
England and Wales have 13 National Parks, and all have unique features. Known as 'Britain's breathing spaces', the parks are surrounded by mountains, meadows, moorlands, woods and wetlands – an ideal break for the entire family to enjoy.
The Lake District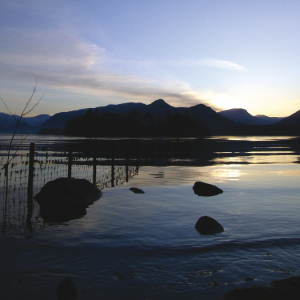 Possibly the most popular of the National Parks is the Lake District. Set in north-west England in the county of Cumbria, it is the largest of the 13 National Parks in England and Wales, and the highest mountains in England can be explored here; some rising 3,000ft above sea level, so there's plenty of that 'fresh mountain air' to be enjoyed!
The eponymous lakes are one of the main features of the Lake District, and there are 16 major ones, without mentioning the countless other smaller lakes, reservoirs and tarns. Windermere is the largest at 10.5 miles in length and 219ft deep, and is known as a 'ribbon lake' on account of its long and narrow shape. There is plenty to do around Windermere, including Fell Foot Park which is cared for by the National Trust. The 18 acre grounds are perfect for a picnic and to watch the boats go by. If you're feeling tempted by the water, you can hire a boat to go out onto the lake.
For the more adventurous types, Coniston Boating Centre has a range of aquatic activities. As well as rowing, you can hire an electric self-drive boat; take up some sailing lessons, or go canoeing or kayaking.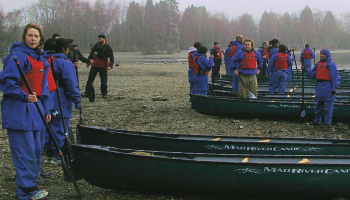 The Lake District is known as the birthplace of modern rock climbing, and there's ample opportunity to have a go. You can also try your hand at caving and explore the underground caverns. It's well worth venturing down the cascades to discover the stalactites and stalagmites.
Lake District is reputed for being the ultimate place for cycling, and it's clearly evident in the variety of landscapes. There's off-road mountain routes for those that like a challenge, and there's gentle country lanes for those who like to enjoy the breeze and admire the stunning backdrop.
The woodland areas bring a rich texture, colour and variety to the landscape. Whinlater is one such forest, and it is home to a variety of wildlife. There are roe-deers, badgers and foxes, and rare birds. It is also a Red Squirrel Reserve, and if you tread carefully enough, you might be able to spot one. Bassenthwaite Lake is nearby, and a family of otters is known to gather and be seen from the viewpoint at Dodd Wood.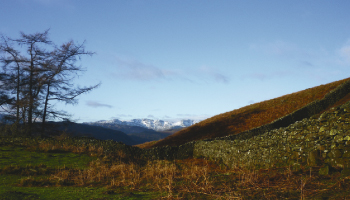 The Lake District is known to have inspired many authors and poets over the years, including William Wordsworth, Samuel Taylor Coleridge, and Beatrix Potter. Wordsworth's poem 'I wandered lonely as a Cloud', commonly known as 'Daffodils', is the quintessential Lake District poem, and on the mountains of the area, he once said, "In the combinations which they make, towering above each other, or lifting themselves in ridges like the waves of a tumultuous sea, and in the beauty and variety of their surfaces and colours, they are surpassed by none."
Dartmoor National Park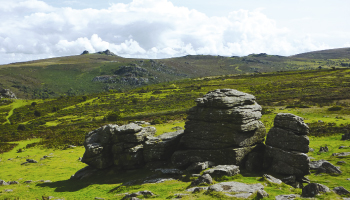 At the other end of the country lies Dartmoor National Park. It has a very rich history, and every civilisation has left its mark on the region. In prehistoric times, it was used as farmland due to its warm climate. It also has the largest concentration of Bronze Age remains in this country.
There are numerous menhirs (usually known as standing stones or longstones) and stone circles to see. Some are associated with burials, but it is also thought that they were used for religious or ceremonial purposes.
Archaeological sites aren't the only highlight at Dartmoor. The landscape is crying out to be explored. Like the Lake District, it has served as a source of inspiration to authors, most famously Sir Arthur Conan Doyle. He began writing The Hound of the Baskervilles in what is now the High Moorland Visitor Centre, and the many nearby landmarks feature in the novel.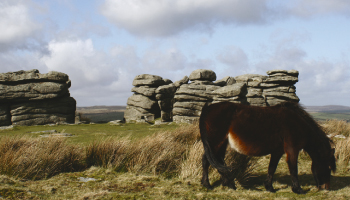 Dartmoor has over 47,000 hectares of open countryside and 450 miles of public rights of way for you to explore. There is an abundance of wildlife around Dartmoor, and the Dartmoor Pony is very much intertwined within the culture of the area. The ponies have been around for a very long time, as an archaeological dig uncovered hoof prints from as early as the Bronze Age. Although the native pony is now a rare breed, they can still be seen wandering across the moor.
If you thought that thatched cottages only existed on English postcards, then you're in for a surprise, as the villages of Lustleigh and North Bovey are full of them. Lustleigh is also home to a historic church from the 13th century. Moretonhampstead has a thriving crafts community, and has a number of open studios and galleries that you can visit.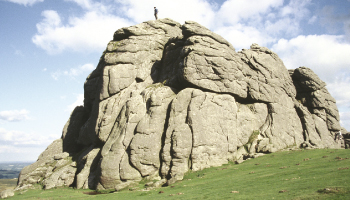 There are also the historic market towns of Bovey Tracey and Okehampton, with traditional stores and tearooms. Four miles to the west of Bovey Tracey lies Becky Falls Woodland Park, which was voted Devon's Top Beauty Spot. The waterfalls are stunning and offer a peaceful treat, and you are free to walk across the stones in the water. Okehampton is in the northern foothills of Dartmoor, and there are facilities for riding, swimming and fishing. To the south west of the town are Dartmoor's two highest peaks if you fancy a challenge.
If you're a fan of ghost stories, then you'll want to check out the eerie forests at Dartmoor. Black-a-Tor Copse is known to be one of the best examples of high altitude oak woodland in Britain. The unique clean air feels extremely refreshing on a stroll around the woods.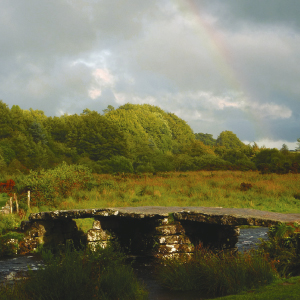 Dartmoor even has its own skyline, with Brent Tor, a rock formation perched on a hill which rises to 1100 feet above sea level. The Church of St Michael sits atop the rocky outcrop. The view is spectacular in all directions.
Going back to the words of Wordsworth, he once said of the Lake District, they are "a sort of national property, in which every man has a right and interest who has an eye to perceive and a heart to enjoy." And this could be said of all the National Parks. While they are all bound by the similar environments of forestry, mountains, villages and lakes, each one has its own personality and offers something unique.
Next time you're trying to decide where to go on holiday, don't bother jumping on the travel agency website to check out the latest deals. The ideal destination for the whole family is available a lot closer to home.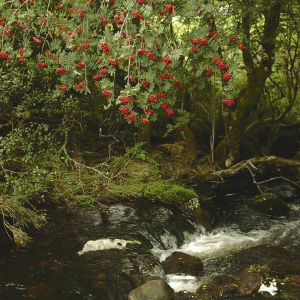 For more information on visiting either of the National Parks:
http://www.lakedistrict.gov.uk/
http://www.dartmoor-npa.gov.uk/
Share this


Link to this
Printer Friendly