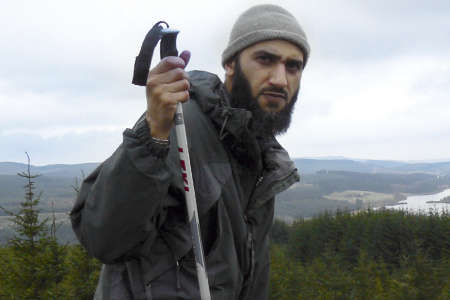 A Week in the Life of Kabeer Bostan
Issue 81 June 2011
Kabeer Bostan's love for the countryside developed when he realised the landscapes resembled those of his family home in Kashmir. He now encourages members of the community to get involved in the outdoors.
As the Mosaic Project Officer for a number of National Parks, my work can be quite varied and can also involve a fair amount of travelling. I can be amongst the hustle and bustle of London one day, and up on a mountain in the Lake District the next.
My main role is to recruit Champions from ethnic minority communities, who can promote the National Parks to their communities through talks, local media and organising trips. All of our Community Champions do their work on a voluntary basis, or they incorporate it into their day jobs. I work across the four northern National Parks: Northumberland, North York Moors, Yorkshire Dales and the Lake District.
I help provide Community Champions with an insight into what their local National Park can offer, and then organise any relevant training for them. Usually, I'll put together a personal development plan for them, and find out how they intend to publicise the park. The training is based on this, and can be anything from delivering presentations, first aid, navigation training or volunteer ranger placements.
I also organise weekends away for all of the Champions at the National Parks, so that they can experience the range of activities on offer. This can tend to be a balancing act at times; our Champions range from being quite sedate, to the energetic adrenaline junkies!
I got involved with Mosaic when I was volunteering with another organisation that were trying to get ethnic minorities involved in National Parks. I became a Community Champion and really enjoyed my experience of working in the outdoors and publicising the work of Mosaic in the media.
I have a personal connection to the parks because they offer a space for reflection on the direction of life, and there are abundant examples of the marvel of God's creation. I mostly enjoy walking and kayaking, as I like relatively relaxed and chilled out activities.
My family is originally from a village in Azad Kashmir, and I first visited when I was really young. This was probably when I was first smitten with the beautiful countryside, and the accompanying sense of exploration and adventure that came with it. I only discovered this was possible in England, when I did the Three Peaks Walk at the Yorkshire Dales, which is a 26 mile route around the park. I really enjoyed it, and I had the opportunity to build on it when I started the Walking Group Leader Qualification at the age of 23. Like many others I meet, I realised you don't have to travel halfway around the world to see beautiful landscapes.
I also spend time working with the National Park Authorities to ensure that they are doing everything they can to engage with ethnic minorities. This can involve running various consultation sessions, and getting in touch with community publications to publicise the National Parks as widely as possible.
One of the biggest challenges is working across four National Parks, seven towns and cities, and over 70 volunteers. I have to understand each of their individual needs, and create achievable goals based on this.
My work is quite flexible, and I do work some evenings and weekends. I used to spend a lot of my spare time walking the outdoors, doing interfaith work and volunteer placements, but these days I spend a lot of time with my family, including my one year old son.
When I initially started my job, it was an opportunity to explore some of the most picturesque regions of the country, but now I really enjoy meeting inspiring people, who go above and beyond in their work, either in their community or in their passion for the outdoors. I'm also very fortunate in that I get to learn more about the different communities up and down the country, as well as a deeper understanding of how the countryside contributed to shaping the country we live in today.
Share this


Link to this
Printer Friendly