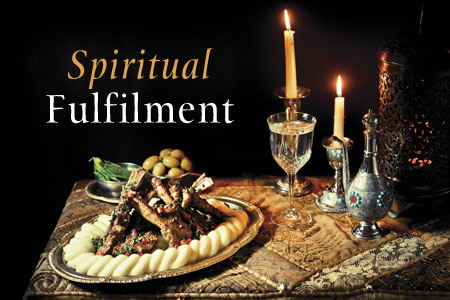 Spiritual Fulfilment
Issue 83 August 2011
With the month of Ramadan approaching, Saman Khwaja presents recipes that stem from foods mentioned in the Qur'an.
Photography Steven Lawson Stylist Saman Khwaja

"By the fig and the olive, and Mount Sinai, and this land secure! Verily, We create man in the best conformation; and thereafter We reduce him to the lowest of low excepting only such as attain to faith and do good works: and theirs shall be a reward unending!"
(At Teen – The Fig, 95:1-6)
Lamb Chops with Chilli & Black Olives
Ingredients
12 lamb rib chops
6 tbsp olive oil
3 cloves garlic, peeled and sliced
1 tsp dried chilli flakes
1 tsp dried oregano
Zest and juice of 1 small lemon
½ tsp table salt
15 black olives, pitted and sliced
1 long red chilli, deseeded and finely chopped (optional)

Method
Layer the rib chops between cling-film and flatten gently with a rolling pin or mallet. Unwrap and place the chops in a large dish, so that they all fit in a single layer.
Pour the four tablespoons of oil over the chops and add the sliced garlic, chilli flakes, oregano, lemon zest and juice. Sprinkle with the salt and the olives, then turn the rib chops in the marinade so that both sides are coated.
Cover and leave the lamb to marinate for 20 minutes at room temperature.
Heat the two tablespoons of oil in a large, heavy-based frying pan, and add the chops, scraping off the marinade before you put them in the pan. Reserve any leftover marinade.
Fry the chops for a couple of minutes on each side, on a fairly high heat so that they take on some colour.
Turn the heat down to medium and pour the reserved marinade into the pan over the now coloured chops. Add approximately two tablespoons of water and cook for 10 minutes or a little longer if you like your lamb well done.
Transfer the chops to a serving plate, pour over the juices from the pan and sprinkle with the chopped red chilli.
To read more mouth-watering recipes in our Food feature, as well as gain access to exclusive videos, plus behind the scenes footage and more interactive content, log on to http://digital.emel.com to get your digital issue today.

Share this


Link to this
Printer Friendly