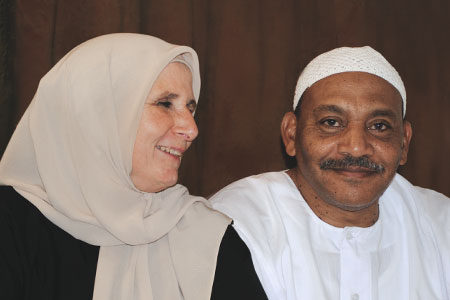 A Tale of Two Homelands
Issue 83 August 2011
Volunteering from her homeland, Germany, Carola met Sudanese Jamal on a project in the Nuba Mountains. Both felt an instant connection through their joint desire to help people.
Carola
As if it was the most natural thing in the world, Jamal helped me out with the project and provided me with practical tips on how to live in the mountains. He was always attentive, and managed to display strength, without ever appearing dominant or patronising. He maintained his composure when dealing with people of different attitudes, and it was this that convinced me about him and Islam. Without really noticing and rather intuitively, I felt very close to his way of believing in God. In fact, it felt so natural that the expression of the Islamic creed was only an official act.
A few weeks after arriving in the Nuba Mountains, I travelled alone to Khartoum, the capital of Sudan, and made time to visit Jamal's family. I was touched by the warm hospitality and friendliness that was shown to me there, and felt welcomed immediately.
Jamal
Thirty years to the day, I still remember how one evening we were sitting together, whilst talking and drinking tea. A farmer passed on his donkey carriage, carrying fresh milk and poured some into our glasses. I distinctly remember how content and happy I felt at that moment. In my heart, I always felt from the start that Carola was a believer. So I waited patiently until she turned to Islam through the mercy of God.
Some weeks after her arrival, she had to go to Khartoum to collect a bicycle that she had ordered. I had to stay in Nuba, so I gave her a package to take to my family there. Even though marriage was not on my mind at the time, once Carola had returned from Khartoum with her new bicycle, everything fell into place quite quickly.
To read more of Carola and Jamal's story, as well as gain access to exclusive videos, plus behind the scenes footage and more interactive content, log on to http://digital.emel.com to get your digital issue today.
Share this


Link to this
Printer Friendly