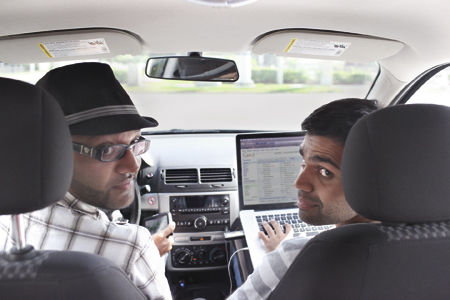 Kith and Kin - Voyage of Discovery
Issue 83 August 2011
Friends, Aman (left) and Bassam had a crazy idea one Ramadan. The next evening, they set off to visit a different mosque in New York, every night for 30 days. This Ramadan, their adventure continues.
Aman
I first met Bassam in New York, back in 2008. Neither of us were native New Yorkers. We were both from a creative background, which isn't very common in the South-Asian culture, so we latched onto each other pretty quickly.
On the first night of Ramadan in 2009, we were sat in a mosque in New York together when we broke our fast. We started talking about the number of Muslims in New York, and worked out that there were over 150 mosques in the city. So, we came up with the crazy idea of visiting 30 mosques across New York in 30 days.
Bassam
The idea for 30 Mosques in 30 Days around New York City was pretty impulsive, but it was a very rewarding experience on the whole. For our 2010 trip, I was in Pakistan filming a project for five months, so the majority of the planning was left to Aman.
I distinctly remember the time we spent in LA when we met the Cambodian Muslim community. A lot of them had been persecuted under the Khmer Rouge regime. They had been in the country since the 1980s, trying to sustain their community and instil the historical significance of what happened to them amongst the younger generation. Their story was fascinating.
To read more of this article, as well as gain access to exclusive videos, plus behind the scenes footage and more interactive content, log on to http://digital.emel.com to get your digital issue today.
Share this


Link to this
Printer Friendly