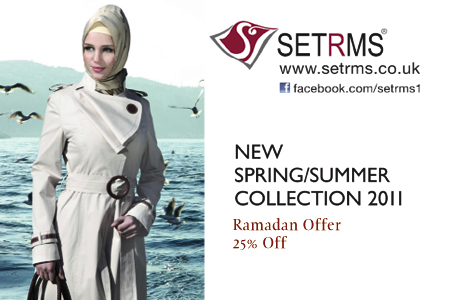 Elegance As You Wish
ADVERTORIAL
One of the most popular clothing labels in Turkey has arrived in the UK. SETRMS was founded in 1974 by Mehmet ÇELİKTEN, a tailor by profession. With humble beginnings in a small tailoring shop, SETRMS has grown to being one of the biggest fashion brands in Turkey.
SETRMS has always brought the latest in women's fashion, combining elegance with modesty, producing over 500 different pieces in various collections each season. Its outstanding quality and 100% customer satisfaction as well as original designs and collections consisting of special fabrics make it a cut above the rest.
Providing clothing for all occasions, ranging from work suits to wedding outfits, the seasonal clothing lines include a variation in styles; including,Mens Designer Shirts overcoats, tunics, dresses, night dress, knitwear, scarves and even accessories.
The SETRMS brand is now sold to customers in over 250 stores in Turkey. In addition to this, SETRMS exports to more than 15 countries worldwide, including Europe, Canada and much of the Middle East. Having built a prestigious reputation of quality, original design, customer satisfaction and innovation, SETRMS UK Limited is set to transform the modest fashion market in the UK.
The Spring/Summer collection of 2011 will particularly long jackets and skirts in a range of colours. To view the collection, flick through the SETRMS catalogue and keep up to date with the entire SETRMS UK line, visit www.setrms.co.uk
Exclusive Ramadan offer 25% off. Promotional code: RAMADAN25
Valid until 28th August 2011

Share this


Link to this
Printer Friendly