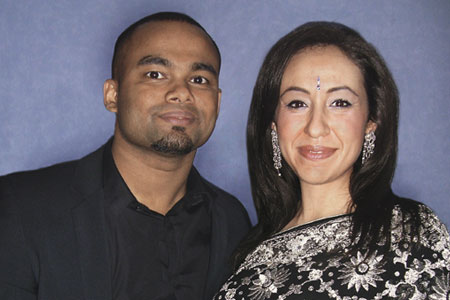 A Journey of Faith
Issue 85 October 2011
Years after having shared a 'spark' as like-minded university friends, Abs and Eman rekindled their connection with Islam as a married couple on a quest to learn more.
Eman
When I first met Abs at university in 1999, where we were both students of Sociology, I found him to be very loud; he was the centre of every conversation and every group. To be honest, I thought he was slightly arrogant, but as time went on and we got to know each other better, I realised that he was just very confident and because he was extremely outgoing it was easy to like him immediately — there were never any awkward silences. I was not looking for anything more than a friendship and my thoughts never went further than that, yet I did acknowledge that there was a spark between us. That spark put us on a level distinct from friendship. Time elapsed, and it was not until four years later that we found the spark in our friendship igniting again, and we decided that we had both reached a point in our lives where we were ready to take our relationship to the next stage. We were ready to get married.
The wedding preparations were surprisingly easy since we had two weddings to organise. We tried to make our first celebration in the UK exactly what we wanted — we organised a summer celebration at Syon House. The weather was beautiful; we had drinks and canapés on the lawn as our guests were arriving, and as we were having our perfect pictures taken against the dazzling backdrop of a magnificent stately home. A week later, we travelled to Morocco for our second ceremony, a highly traditional Moroccan wedding with approximately 500 guests. I was very fortunate that my mother helped me plan the second wedding —I could not have done it without her. I was feeling super nervous on my wedding day and, as it was an evening wedding, I had a day full of anxiety and it made things that much worse. Once I finally made my entrance and we were formally married, I felt great and all set to enjoy myself.
At first, Islam was just another thing that we had in common, as neither of us were very practising. Now, it is a totally different story. Islam is a large part of our lives and we are grateful that we have started our journey together and are on the same path. It would be difficult if we were in different places within our faith. Like every married couple, we do not agree on everything all of the time, but we do agree on the most important things. Since the birth of our daughter, Lily Ayah, things have changed, but it has made us stronger. I think the reality of married life is always different than the idea of it, although I have got a lot more out of it than I ever could have imagined. It is such a good feeling to know that no matter how hard your day has been, there is always someone there at the end of it to support you.
Throughout our relationship, I have learnt that I am able to be ever more patient than I hitherto believed was possible. I have discovered that my husband has a very soft mushy side that he keeps tightly under wraps! I am much less selfish — I know now that I cannot always come first.
Abs
From when we met, it was clear that there was a strong connection between Eman and myself. We had similar views and were both very confident in our opinions and how we expressed them. My first impression of Eman was of a very opinionated woman who held her values and beliefs close to her. She demonstrated strength, independence and a high intellect. At the time, I had a lot of respect for her because she was not afraid to share her opinions and views at the tender age of 19. Eman was never afraid to step up and share her feelings on controversial issues; she came across as a leader—many people were drawn to her precisely because of her strong views.
We stayed in contact after university and as we started our respective careers, we shared a number of our experiences at work with one another. I could always pick up the phone and talk to Eman if I had a hard day and as time progressed, we talked more and things flourished from there. I knew that we were very in-tune with one another —to put it simply - we just 'got one another'. We had a connection that I knew would be the perfect basis for a married life together.
Sometime after we got married, Eman and I got to a point in our lives where we wanted to find out more about our faith. As professionals, we never found the time to focus on religion, but having Lily encouraged us to concentrate more on ourselves, our values and our beliefs. During our journey to find out more about Islam, we were faced with a number of obstacles and as we searched keenly for support, we felt that it was limited. This prompted us to create a tool that could support others who were in a similar situation to us on their journey to Islam.
The objective of our online project, Islamic Ayat, is to assist people in finding literature that has been deemed beneficial by other readers. We have asked Muslims to recommend the books they found most inspirational on their path to the faith, and we have incorporated them into our website. We hope to provide a comprehensive list of Islamic titles for the practical and spiritual benefit of Muslims and non-Muslims alike.
Before I was married, I was a typical guy, accustomed to putting my own needs first. My weekends were full of football and hanging out with friends — the regular routine of any bachelor. But since being married, I have had to grow up a great deal, ensuring that I am physically and mentally supportive of my wife and our friendship so that our marriage continues to stay strong. I have learnt to compromise and appreciate the fact that my wife's needs are of equal importance to my own. Islam is the most important thing to both of us; it is the seal that binds us together and provides our family with stability. More than that, it is the foundation for our beliefs and values.
www.islamicayat.com
Share this


Link to this
Printer Friendly