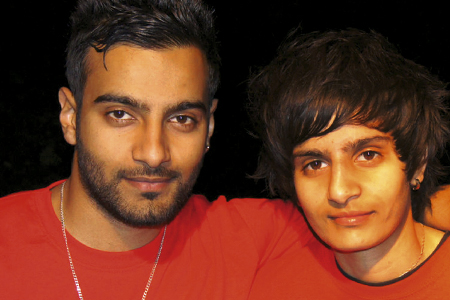 Songs of Kinship
Issue 84 September 2011
After losing their parents, siblings Karar and Faz bonded over music.
Karar
I have few early memories of Faz. One was when she was a toddler and was trying to walk, but kept falling down. The other was when she was two, and my brother and I were getting ready for school. She saw us putting cream on our faces and decided she would do the same, except she used butter instead! That still remains of one of the funniest memories I have growing up.
I was nine years old and Faz was only four when my father passed away, so I had to grow up fast and take on the role of a father figure for my brother and sister. We lost our mother a few years after, and initially, all we did was just be there for each other, with a shoulder to cry on or open arms to hold each other.
As Faz was the youngest, I had to make sure that I guided her as positively as I could and did not let any of her dreams or ambitions get restricted. Faz and I had grown close over the years and would confide in each other about things that we were not comfortable discussing with our friends. However, after the death of our parents, our bond grew in strength.
I have been interested in music for as long as I can remember, and it ranged from listening to rap albums, old jazz records and even qawali songs. We both began writing lyrics as a private way of helping us to deal with everything going on in our lives. But as we got more and more into it, we developed a deeper learning of poetry and began to experiment with our own music.
These days, whenever Faz or I write verses, we cannot wait to show each other what we have written. Faz has a great ability to incorporate metaphors and meaningful descriptions in her lyrics, which I have tried to help her blossom.
Given everything that we have gone through, one of the biggest challenges that we have both faced is keeping our faith in God and trying to come to terms with the belief that everything happens for a reason. Over the years, we have both learnt that many dark days will come, but having faith will ensure that the sun rises for you the next day. As God says in the Qur'an, "No calamity can ever befall the earth, and neither your own selves, unless it be laid down in Our decree."
Faz
Karar and I have always been close to each other, but when you lose someone close at such a tender age, your bond grows due to fear. We have never actually sat down and had a heart-to-heart about the loss of our parents, or even made it official that they are both gone. Whenever we see that one of us is upset, we just try everything to cheer up each other.
Music became the way that we expressed our feelings, and we would use it to tell each other that everything was going to be okay, as well as letting each other know that we were going through the same emotions. After a while, we learnt to hear past the lyrics that each other had written and understand the mind frame behind the song.
Karar has had a heavy influence on my taste in music. He would put on a rap record, and before I knew it, I was rapping along to the song that was playing. I was 11 when I performed my first freestyle in front of my class, and I could not have done it without his support.
Karar and I rap about a range of different topics, from daily struggles and poverty to relationships and becoming orphans. We could easily write lyrics about big cars and diamond chains, but we would not be able to relate to that in any way. Many of our fans listen to and support us because we give them music that talks about what we are going through.
Everyone tells me that I am very lucky to have a brother like Karar, so there definitely is something special there. I feel that I can confidently speak to him about anything, and have always aspired to be like him. I love his ability to succeed at anything that he puts his mind to, and have seen him excel at painting, sketching, composing beats, writing lyrics and much much more.
Although the loss of our parents took us on an emotional rollercoaster, we experienced a number of other problems: financial difficulties, having to mature before our age, channelling our emotions, and questioning the futility of life. All of these left me in a dark place for a while. But thanks to a thin line of hope that Karar and I found, we discovered the greatest treasures in life: faith and patience.
Share this


Link to this
Printer Friendly