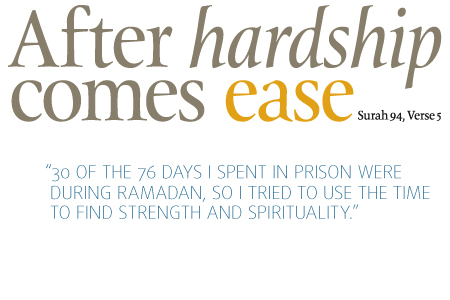 After hardship comes ease - James Lee
Issue 84 September 2011
James Yee was a well-respected chaplain at Guantanamo Bay. After a year, he was falsely accused of spying and espionage.
I became a Muslim Chaplain in the US military in early 2001. Following 9/11, I was interviewed many times about Muslims in the military, and this media attention earmarked me for a move to Guantanamo Bay in November 2002.
At Guantanamo, I was an advisor on religion to the prison camp commander, and I was also a chaplain to all the Muslims present. It was a very challenging job and the majority of my time was spent talking to prisoners, and fielding any complaints or concerns they had whilst in detention.
In September 2003, I left Guantanamo to go and see my wife and young daughter. On arrival in Jacksonville, I was stopped by customs agents and immigration officials. They searched through my luggage and claimed I was carrying suspicious documents.
I was arrested and kept at a prison in Jacksonville. At the time, I thought I would be released within a day or two. However, everything seemed to come crashing down when the authorities accused me of spying, espionage and aiding the enemy, and threatened me with the death penalty.
After a week, I was transported to the Consolidated Naval Brig in South Carolina, which is a maximum-security prison. During my transportation, I was under sensory deprivation. I was shackled in chains, blindfolded with goggles that had been painted black, and devices were placed in my ears to prevent me from hearing anything.
When I got to the brig, I was put into solitary confinement. I was in a small, concrete cell, about the same size as the cages the detainees in Guantanamo were kept. Initially, I was kept in my cell for the whole day, but my civilian attorney fought to allow me to have one hour of recreation time each day.
Once I had come to terms with the reality that I might be put to death, I began to focus more on myself. In prison, you develop a routine and I had nothing in my cell except a copy of the Qur'an and a handbook of the prison's rules and regulations. Thirty of the 76 days I spent in prison were during the month of Ramadan, so I tried to use the time to find strength and spirituality. I would read the Qur'an regularly and maintained my remembrance of God.
After a few weeks, I still had not been charged with the original allegations, but was charged on smaller offences, which included mishandling classified information. On this basis, my attorney wrote a letter to appeal to the President.
The White House acknowledged receipt of my letter, and whilst I was unsure of the extent of its influence, I was released a few days later. I had to go to a pre-trial hearing for the smaller offences, which was delayed after the US Government failed to present any evidence of the charge. It then became clear that they would be unable to show that I had held any classified information, and these charges were dropped.
In April 2004, I was reinstated as a Muslim Chaplain at Fort Lewis in Washington. In August that year, I tendered my resignation. I considered continuing in my role, but I found that I was still under surveillance and high-level scrutiny.
I believe that one of the reasons I was arrested in the first place was that the authorities did not want me to return to Guantanamo Bay. It was retaliation for my objections to the cruel and degrading treatment of prisoners at Guantanamo. During my time there, I had raised many concerns about the mistreatment and torture of detainees. Since my release, I have published a book in 2005 entitled For God and Country, Faith and Patriotism Under Fire which, to date, is the most detailed insider's account of Guantanamo Bay.
Unfortunately, I still suffer from repercussions of my ordeal. In 2006, I made a trip to Canada and on return to the US I was detained for several hours by the border patrol. My car was searched, my personal items were confiscated, and I was interrogated. This was very frightening, as it felt like a replay of what had happened to me previously. I could not bear for it to happen again. After several hours, I was released without explanation.
I also have difficulty in flying on planes. I have been taken off planes before, and my belongings have been re-inspected by security officers in the terminal. It is now less of a problem for domestic flights, even though I am identified for selective screening and increased security measures. When I fly to international destinations, on my return to the US there will also be a security officer waiting at the door of the plane, who will personally escort me for another intense interrogation that will last several more hours.
My ordeal has certainly made me more passionate about the protection of civil and human rights. I became more engaged with community activism and recently started working for CAIR, and its work in defending Muslims' rights is a continuation of what I have been doing previously. My civil rights and liberties were completely violated during my ordeal, but in my new role I hope to create a future where no one is subjected to these awful circumstances.
Share this


Link to this
Printer Friendly