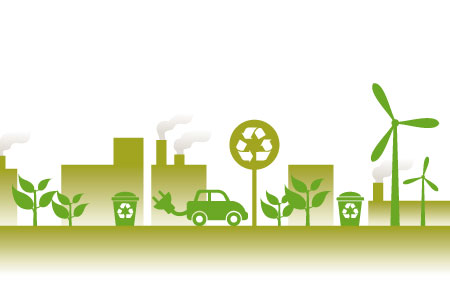 Doing Green Business
Issue 85 October 2011
The wonders of environmentalism are endless, we're told. Yet many corporate companies operate in flagrant disregard of green policies. Ali Khimji explores the danger of this.

To some extent, environmentalism can be equated to a beach ball. Everyone wants to have fun with it, but no one wants to be lumbered with the responsibility of taking the bulky thing home and bringing it out every time the beach calls. Companies would love to be labelled as 'green' or 'environmentally-friendly', but very rarely take it upon themselves to embrace ecologically sustainable processes at personal expense.

Companies are completely and undoubtedly myopic in their operations. With the stock market presenting us with up-to-the minute information on share prices and companies posting profits every quarter, everything in business seems to be geared towards the short-term—the 'making a quick buck' option—striving to make a company profitable in the shortest amount of time possible. Patek Philippe Replica

But whilst the general public is constantly bombarded with dreary statistics and advice on leading sustainable lifestyles, it all becomes a little futile when the companies we buy all our goods from on a daily basis refuse to comply. Hence the consequent birth of the 'green industry'.

The green industry comprises of companies and jobs that are geared towards environmentally friendly processes, and the attempt to establish a sustainable economy. They aren't necessarily new industries, but rather existing industries with environmental effects taken into account at every stage of the manufacturing or production process. Companies operating in this sector may use production processes that minimise the use of water, energy and materials, or processes which are free from harmful toxins, as well as products that are built for longevity and durability. There has also been a rise in popularity of green consumerism, where consumers observe what goes into the production of a particular item, and ensure that the institution advocating it is operating in an environmentally sound manner.

But whilst there are good intentions behind the green industry and its formation, there is a great danger in its division from the mainstream. There may be a company that is completely green in its operations, but its actions will seem redundant when placed next to a multinational corporation, which destroys rainforests on a daily basis. What we need is an effective incorporation of green processes into the mainstream economy.

So, what does this exactly mean? Well, to use a football analogy; if a team wants to win trophies, it won't go out and set up its own alternative competitions. Instead, it will strengthen its team and continue to participate in the mainstream competitions, as its successes will be more widely recognised on that level.

In order to fully appreciate the role that companies need to play in promoting environmentalism, we need to take a step back and reconsider some basic facts. Firstly, climate change is a real and growing concern. Those that continue to deny the effects of man-made climate change can be categorised with flat-earthers and psychic detectives.
Secondly, corporate organisations possess an immense amount of power in the world today. Everything in a company is geared towards their requirements, and finely-tuned to allow them to generate mass profits. Nye Bevan, the Labour politician who spearheaded the formation of the NHS in the late 40s was quoted as saying, "In practice, it is impossible for the modern state to maintain an independent control over the decisions of big business. When the state extends its control over big business, big business moves in to control the state."

We can clearly see the power of corporations today in the popularity of the Tea Party movement in the United States, which is thought of as a collective of angry American taxpayers opposed to taxes, but is actually financed by Charles and David Koch, who run Koch Industries —a massive oil, gas, minerals, timber and chemical company. Over the past 15 years, they have contributed $85m towards lobby groups who argue in favour of lower taxes for the rich, and weaker regulations for industry.

Thus in order to have an economy where the environment takes precedence, we need companies to envelop the green industry into the mainstream. And why they need to do this is simple—if there isn't a world for us to live in, there won't be a world for them to make profit in. The future of all companies is inextricably linked to the future of our planet, and the sooner this is realised, the sooner we will be on our way to a better tomorrow.

The situation isn't all doom and gloom, however, as there are a few companies that have embraced environmental policies in their own operations. Greenpeace released a Guide to Greener Electronics which ranks the 18 top manufacturers of personal computers, mobile phones, TVs and games consoles according to their policies on toxic chemicals, recycling and climate change. Nokia heads the list, with all its models free of PVC since 2005, and Sony Ericsson comes a close second for similar reasons. In the same way, Newsweek ranked the 500 largest publicly traded companies in America in order of their commitment to environmentalism. Dell tops that list, as many of its computers and laptops are using less and less energy over time, as well as having one of the most comprehensive recycling schemes in the technology industry. However, critics have argued that many of these companies have gone down this route for PR purposes, rather than because it is something that they believe in. Patek Philippe Replica

Ultimately, companies need to become more pro-active in boosting the environmentalist agenda. Environmental activists can continue in their attempts to convince companies that undertaking environmental processes will save them money, but their voices have gone on too long and are remaining unheard. What we need is a complete rethink of how companies function and operate within our economy. Admittedly, nature provides the perfect inspiration for this.

An eco-system is a biological environment where all organisms can exist in perfect balance with each other. This is in stark contrast to the economy where businesses seek the highest profits and consumers are after the lowest prices. We need a change in mentality from the current mind-set to one that takes into account the effect of our actions on those around us. By doing so, we can help society move to a position where everyone is helping others by helping themselves, and we may find ourselves in the desired state of being in an eco-nomy.
Share this


Link to this
Printer Friendly