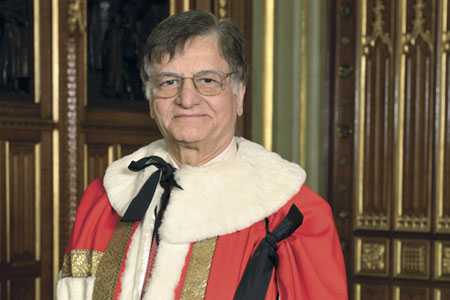 10 Questions with Lord Noon
Issue 85 October 2011
After losing his father at a young age, Gulam Noon took over the family's debt-ridden shop. Coming to the UK first in 1966 with little money in his pocket, his frozen and chilled food business, which he sold to Kerry Foods, now has an annual turnover of £200 million.

Lord Noon was born in Mumbai in 1936 and assumed control of the family business at an early age. After moving to the UK in 1966, he set up a shop in Southall. As well as founding the 'Bombay Halwa' confectionary company. In 1988, he established Noon Products, where he launched a range of authentic ethnic meals and built a hugely successful business.

After selling the business to WT Foods, he set up the Noon Foundation, his own charitable institution, which assists in areas such as education, medicine and cases of hardship.

In 1996 he was awarded an MBE in recognition of his work as an employer and his charitable activities. He was knighted in 2002, and then became a life peer in 2011.

1. To what extent is your success a product of your upbringing and background?
I was not born with a silver spoon in my mouth. My father died when I was nine, leaving my mother and her six children a small shop, and with it — debt. Those times were difficult. I had the responsibility of supporting my family and the only way was through a successful business. I knew at an early age that there is no substitute for money. I simply had to earn money to support my family, not with deceitful methods but with honest integrity. In this way, my upbringing prepared me for later life.

2. How did your parents and family influence you?
My mother was inspirational. Even in desperate times her spirit of charity towards others never diminished. As well as my mother playing a vital part in my upbringing with her wilfulness to protect and support us, my brother-in-law had a great influence over me. He had his own business and when he came to stabilise our shop, my view of him as a fatherly figure grew. He allowed me to do business and even at that age, I felt like an entrepreneur. Another influential figure was our accountant. He insisted I learn proper accounting as he said it was "the barometer of the health of a company." These guiding hands laid the foundations of me in an entrepreneurial and moral capacity.

3. What is your educational background and what memories do you have from your school days?
I was talented, but circumstance did not allow me to continue my education beyond High School. I had to jump straight into the vigorous world of business, so my early education very much stemmed from the learning and nurturing of business ideals. That did not mean my thirst for learning was curtailed. I have always sought out people to learn from. It is important to seek out constant personal growth. I have now obtained seven honorary degrees from British universities awarded to me for what I have achieved through business.

4. What was your biggest break and was there any luck involved?
Coming to the UK was one of the best things I have done as it allowed me to experience a fantastic business environment. I immediately liked the culture and the honesty of the people. Seeing a gap in the market, I decided to venture into the market for Indian food by producing ready-frozen meals for supermarkets. People told me to get a van and take the meals to small corner shops. I ignored this advice, followed my instincts and decided to introduce my ideas to the largest producers of frozen foods: Birds Eye. After being rejected countless times for an appointment, I persisted until I had obtained a meeting with the brand manager. When we got the signed contract I thought they had put the wrong figure down! I thought the contract would be for around £50,000, but it was for £2.7million. This was definitely the turning point for my business.

5. What has been your biggest failure and how did you recover?
In the winter of 1994, when business was at its peak, a huge fire destroyed the entire factory. I knew this was a turning point and the way I chose to deal with it would literally 'change my life'. I had a huge payroll and was advised to tell all the staff they were 'no longer required'. Instead of dismissing my workers, I again followed my instincts and continued to pay them their wages. I had workers of all faiths praying for me. After asking for help from friends and colleagues, I then left everything to God. Three weeks later, we were back in production, and amazingly that year we made substantial profit. However, I do not reflect on this moment as a failure, but as a test of my faith in God and the workforce. Adversities in business invariably bring opportunity, and that's exactly what happened to me.

6. What can others learn from your success?
Opportunities always walk by. Either you grab them or you let them pass. You have to take risks —true entrepreneurs are always rebels. Never give up. There will always be a way through troubled times, so be resilient. Have faith in yourself but do not forget to leave some matters to God. 'Courage and integrity' is my motto and has helped me throughout my life. You have to be brave, you have to be honest, and you have to keep your integrity alive. Finally, keep the spirit of charity alive.

7. Who are your heroes in life?
I hold Gandhi and Nelson Mandela in the greatest esteem. Gandhi inspires me because he took action against the oppression of the non-whites. He made an incredible difference to the way we think and live. Mandela has my utmost respect for his humanity — he spent 26 years in jail and still forgave his jailers. These are the super humans. We can all learn to be like them.

8. What's the greatest pleasure you have had from your success?
I do not consider my wealth as a success but rather success comes from what I have accomplished with that wealth. In my home town, there were meagre medical facilities, so I built a hundred-bed hospital with the latest high tech facilities for the people. Anyone who walks in will be treated. In addition, we have paid for evening classes in an East London university, bursaries at Birkbeck University, hired mentors in Tower Hamlets, helped support an academic centre in Oxford, plus other work. All of this gives me immense pleasure when seeing the joy and comfort it brings others.

9. What are the greatest enemies of success?
Greed is a tempting enemy. It is easy to succumb to the fervour of gaining more wealth and incredibly difficult to resist. The best person is not one who is not wholly obsessed with making a profit, but the one who finds it essential to aid others.

10. What would you say to people when it is time for you to leave this world?
If you save a single life, you will save all of humanity. Always be compassionate. Keep something for the poor, for the people who have unfortunately been deprived of the luxuries you have, due to circumstance. These are the footprints you want to leave
Share this


Link to this
Printer Friendly