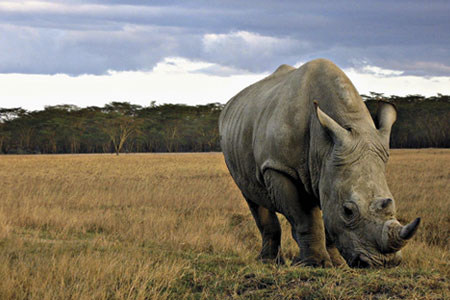 Responsible Retreats
Issue 85 October 2011
Make a difference by embarking on one of these four unique eco-holidays. From assessing climate change in Borneo, to saving endangered species in Kenya, emel encourages you to leave more than just a carbon footprint behind on your travels.

Author and environmentalist, Edward Abbey, once professed, "Sentiment without action is the ruin of the soul" — no doubt pertaining to the lacklustre approach we as individuals generally employ towards the world's many problems. In an age where climate change and global warming statistics are splashed across newspaper headlines, we've become accustomed to learning the odd phrase or two to feign sympathy and understanding, "No wonder the weather is so crazy — it's all down to climate change" and "Electric cars are obviously the way forward. I'm going to invest in a hybrid". Taking responsibility for our actions, however, is no small feat. In truth, though the statistics are harrowing and the rapid changes in our atmosphere alarming, we rarely commit to action. It is easier to be 'somewhere else', where the 'problem isn't mine'. Small, lifestyle changes can, however, contribute greatly to the preservation and maintenance of the Earth's resources and reduce carbon footprints — and even, in some cases, provide you with the unique opportunity of investing in the planet.

So, if you're planning a trip for next summer, why not consider one of these four eco adventures? From helping scientists conduct research into the current state of Borneo's rainforest and what is affecting its many organisms, to helping build homes in Kenya and living as part of the local community, these retreats boast a unique opportunity to be proactive and get the entire family involved in not only giving back to the planet, but also learning how our actions affect people and places — all around the world.

www.earthwatch.org
www.responsibletravel.com



Loons and the Gulf of Mexico Oil Spill
The BP oil spill in April last year was the largest the US has ever experienced — with over 205 million gallons of crude oil being released into the Gulf of Mexico. The spill has had a consequent effect on a number of species, including the Common Loon, a seabird which commonly breeds in Canada and parts of the northern US. As a specialist fish-eater, the loon catches its prey underwater. The oil spill not only affected the natural habitat of the loon, but also disrupted its food source.

The US Midwest and Canadian breeding population of loons spend up to six months of the year in the Gulf of Mexico, and exposure to the oil spill can have physical effects on the seabirds, such as immune system suppression, hormonal imbalance, and red blood cell damage — all of which can put the species survival at risk.
This particular expedition aims to help assess the damage caused by oil spills, whilst protecting an iconic seabird. The process will involve assisting researchers to monitor the Louisiana coast for adult loon survivorship and health, to better determine impacts from the oil spill on Common Loon breeding populations.

Full accommodation will be provided at the base camps where research is complied, alongside basic amenities and meals.



Saving Kenya's Black Rhinos

Enjoy this wonderful opportunity to work in an African savannah landscape. This project looks at the gathering of data on the distribution of wildlife and rhinos in Kenya. Working with trained researchers, you will be attempting to measure the composition and condition of the vegetation that large herbivores such as rhinos, elephants and giraffes eat.

You will also have the opportunity of spending time with neighboring communities and seeing firsthand how benefits from wildlife conservation have been used to improve livelihoods of people.

This 15 day expedition will mean plenty of early rises, but also the unique opportunity to watch the stunning African sunrise. The main research centre offers single and double rooms, with water, electricity, toilets and wood-fired warm showers.

An on-site cook prepares a selection of wonderful meals, including dinners of Nile perch, nyama choma (grilled meat), potatoes, vegetables, casseroles, and pasta, topped off with peerless Kenyan coffee and tea.
In the recreational time you do have during the expedition, the nearby chimpanzee reserve is a wonderful way to spend an afternoon, as is a trek over the terrain — well rewarded by abundant wildlife including lions, leopards, zebras, baboons and many more. The site locations also provide magnificent views of the African sunset and sunrise — not to be missed from the savannah, amidst the wildlife and scenery.




Climate and Landscape Change in Borneo's Rainforest

The rainforests of Borneo are some of the most diverse ecosystems in the world. They are home to thousands of plant species, countless types of insect, a vast array of birds and some of the world's most iconic and endangered mammals —the Sumatran rhino, clouded leopards and pygmy elephants. But these rare animals are under constant threat from unsustainable logging practices and climate change.

As a volunteer on this project, you will trek deep into the heart of the tropical rainforest and, with a team of scientists, assess the structure of the rainforest, and document the impact of the logging and fragmentation— looking particularly at how this disturbance has affected soil moisture, decomposition and soil erosion.

You can expect comfortable accommodation, with male and female dormitory-style rooms. Both the base camp and the field centre will also provide access to conventional showers and toilets, as well as amenities like washing machines. Your meals will also be catered for, with Malaysian-style home cooking, consisting of steamed rice, vegetables and a selection of chicken and/or fish dishes.

This 10 day expedition will provide you with a unique opportunity to work in a team of talented researchers to learn first-hand the extent of damage being caused to eco-systems and animals through climate change.



Kenya House Building Projects

Get your hands dirty by helping see a community development project to fruition in Kenya, including building homes and repairing classrooms, orphanages and churches. Your involvement as a volunteer will lead to the building of educational centers, accommodation and medical care for the children and community in two small towns — Nakuru and Naro Moru.

If you are stationed in Nakuru, you will be living with a local family in a home-stay. Nakuru is Kenya's fourth biggest town, about 160km from Nairobi, and is a fairly laid-back and modern town. Nakuru has a good transport system and is well linked to the rest of the country. Facilities are good, with several banks, internet cafes, tour operators, and hotels. If you're stationed on a project in Naro Moru, you will be staying at the Batians view hotel, close to the community where you will be working. Naro Moru is a village in the foothills of Mount Kenya, Africa's second highest mountain. Water is freely available, with a boiler being used for heating it.

Whichever building venture you embark on, this is a fantastic opportunity not only to live and work alongside the community who will benefit from your efforts, but to also learn something of the difficulties facing those in the developing world.
Share this


Link to this
Printer Friendly