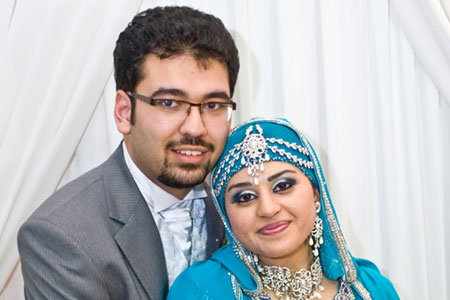 A Day to Cherish
Issue 86 November 2011
Hizer and Sabiha had a wedding day that brought together a choir performance, a bagpipe player and bhangra dancers —and an imam.

Hizer
I was spending a year abroad in Morocco as part of my university degree in Arabic. During one of my regular webcam chats with my parents, they told me how there were a number of guys in our community who were much older than I was and still not married. That was when I told them that I wanted to get married, and so the search was on.

I arrived back in London in May 2010, and had just started to get used to the cold weather when my mother informed me that she had met a potential marriage partner for me. I quizzed further, and was told her name was Sabiha, and that my mother had met her in the mosque a few months earlier.

Sabiha's family invited us over for our first meeting and, as expected, I was incredibly nervous. This was worsened by the fact that she had seen a very bad picture of me on Facebook! I quickly explained to her that this particular picture was taken on one of my bad hair days. Sabiha had prepared a list of questions for me, which I proceeded to answer in an email the following day. Read More
Sabiha
It was the night before my last exam of the academic year when I received a text from my friend saying that there was a decent young man looking for marriage. My immediate response was that I am not ready; I was still studying and was too young, and had not even thought about marriage. Her casual reply was that it was not as if I was getting married now; all I would be doing was meeting the family.

The first time Hizer and his family came over to our house, I felt slightly dizzy and weak at the knees. I eventually found the courage to enter the living room and, to my shock, was only able to respond to questions with a Yes or a No—and this from a confident young woman who is normally very outspoken on matters. The next day, we began to communicate through email, with the subject title The Chat We Never Had, and began to talk about the issues that really mattered to us.

To see more of our Marriage feature, as well as gain access to exclusive videos, plus behind the scenes footage and more interactive content, log on to http://digital.emel.com to get your digital issue today.
Share this


Link to this
Printer Friendly