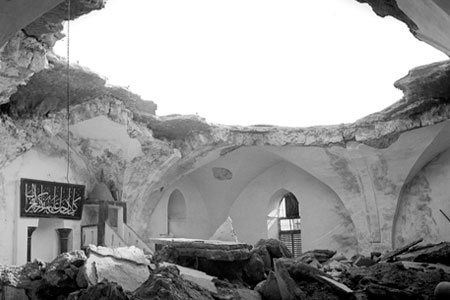 From Palestine to Israel - a photographic record of destruction and state formation 1947–50
Issue 86 November 2011
From Palestine to Israel

Review by Farkhanda Mohiyuddin
"A picture is worth a thousand words," can ring no truer than for the exhibition From Palestine to Israel. The collection showcased a photographic record of destruction and state formation during the years 1947 to 1950, compiled by the acclaimed visual theorist and curator Ariella Azoulay. Azoulay has in the past created outspoken works, such as the photography exhibition Act of State—1967-2007, which included hundreds of pictures that for the first time visually exposed four decades of illegal occupation.
The exhibition hosted by the Mosaic Rooms in November provided a narrative on the critical period in the history of state formation and features over 200 photographs from the Israeli State Archive. Azoulay must be commended for bringing into the international platform archives and photographic evidence that would not have been seen outside of Israel, nor would they have formed part of a historical analysis into the vast suffering that has occurred. With the distorted portrayal of the Palestinian situation in the mainstream press, it is very hard for the general public not to be desensitised and detached from the continual suffering and plight of the Palestinians.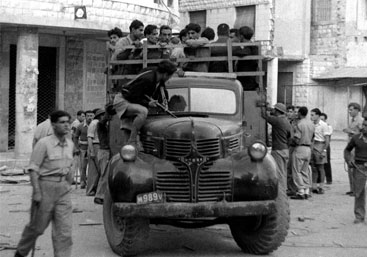 The exhibition focussed on the origin of the Palestinian struggle, alongside the background to understanding some of the root causes of the confl ict as it stands today. The creation of Israel inevitably saw a stark shift to the Palestinians being denied basic rights, and the subsequent uprooting of a population, confl ict and war all saw the grave misconduct that remains unchanged to this day. By honing in on the misrepresentation of historical events and the narratives by which these are looked upon, the exhibition recognised the fundamental issues that exist, and approached them in a very sensitive manner. It provided the 'struggle and conflict' with an identity, associating human faces, rather than the usual fi gures and numbers we are confronted with in the media. In this way, it added a deep human dimension that many choose to ignore or shy away from. The power of photography, paralleled by the curator's in-depth research and knowledge, creates a very thought-provoking, insightful and raw view of a struggle that should not be forgotten and certainly should be re-evaluated. This striking portrayal demonstrates the confl ict in a manner that can be understood, and one cannot help but be moved and saddened by this exhibition.
Exhibition open Mon-Fri 11-6pm, Sat 11-4pm
The Mosaic Rooms
226 Cromwell Road
London SW5 0SW
www.mosaicrooms.org
Share this


Link to this
Printer Friendly