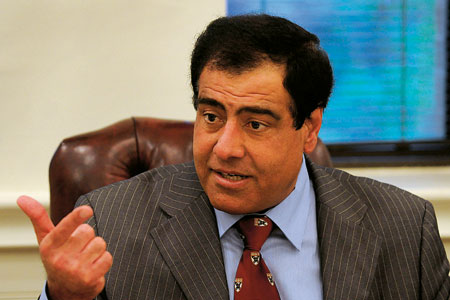 Good Actions Triumph over Hate
Issue 87 December 2011
Five months after losing his wife to cancer, Izzeldin Abuelaish's daughters were blown up by Israeli shells.

The Israeli Army assault on Gaza started in December of 2008 after dissident Gazans affiliated with Hamas launched makeshift rockets into Israeli settlements. Israel's aggressive and disproportionate response came after a period of intense political turmoil when Hamas were democratically elected to government by Palestinians exasperated by the inertia of Fatah and desiring to break the political deadlock. These tumultuous times coincided with a period of intense hardship in my personal life. My wife lost her battle with leukaemia in the summer of 2008, and not long after that my home, along with every other home in Gaza, became the target of heavy artillery fire and shelling at the hands of the Israeli Army bent on war and destruction. Before the war, the consequences of which were to permanently alter the course of my life, I had been considering taking up an academic post in either the US or Canada. As a Palestinian doctor working in Israel, I spent a great deal of time crossing checkpoints from Gaza into Israel. After my wife passed away, this way of life was simply unsustainable because my children needed me to be with them.

My family were excited about our trip and together we were planning where to go. Everything was in place when the chaos started. As I sat with my children inside our family home, bombing, shelling, firing and shooting came from everywhere. We were trapped and deprived of every vital need—we had no electricity and no water and my only comfort came from being with my children. We did not want to sleep in the same room for fear of being bombed in our sleep, so we divided into groups of three, sleeping on mattresses on the floor in the middle of the house, as we did not dare to approach the windows. For the most part we were unable to sleep. The constant bombing and shelling felt like an erupting volcano. The house shook with every bomb, and when we did sleep it was against a non-stop symphony of firing. Then, at 4.45pm on 16th January 2009, just five months after the death of my wife and several weeks after the first rocket had been launched, the unthinkable happened. Seconds after I had left my daughters' room with my son Abdullah, the sound of an explosion came from behind me. When I saw the dust and the smoke, my first thought was that it might have come from outside, but I quickly understood it was my house and my daughters' room that had been hit. Part of me did not want to face the desperate scene and on my way to find Bessan, Mayar, Ayah and my niece Noor, I heard the chilling sound of screaming as if the girls were taking their last breaths. I opened the door to find they had become parts—fragmented, decapitated and stained with their own blood. What I saw was beyond anyone's worst nightmare.
Get your digital copy of emel today. With exclusive videos, behind the scenes footage, animation, and much more, the digital edition is the perfect way to read your favourite magazine whenever and wherever you want. Get your digital edition now!
Share this


Link to this
Printer Friendly