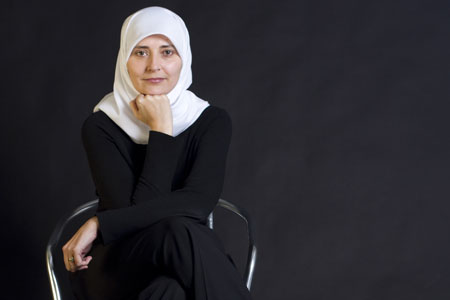 Injustice Can Never Prevail
Issue 87 December 2011
"Oh Little Town of Bethlehem" was the Christmas carol that shaped my childhood views of a picture-postcard Palestine, where kings and shepherds wandered, and Christ lay sleeping in a cradle. And until I was 14, it never occurred to me that Palestinians were anything but terrorists. The 1972 hostage taking of the Israeli athletes during the Munich Olympics, and various plane hijackings shaped the discourse of how I, and the adults around me, regarded the Palestinians.

When I was 14, a history teacher gave a different perspective, asking the class what they would do if people who had lived in our houses hundreds of years ago came back and staked a claim. We unanimously agreed that such a scenario would outrage us. "That is the situation of the Palestinians," she said. I was aghast, and asked my family, who were otherwise keen on issues of social justice, why they had not explained this to me. "It's just a tiny piece of land," they said, "Why can't the Arabs let them have it?"

Both perspectives—that of my teacher and that of the adults in my life—were emotive and over-simplified. There were of course indigenous and native Jews that shared the land or 'house' of Palestine. They had existed there for generations. Their relationships with Muslims and Christians of the area were vibrant and dynamic. As to the other argument, why should someone give up their small house to move to their neighbour's bigger residence? Why, indeed, should the neighbour be compelled to share his home? In amongst the arguments, the Palestinians have been exiled, with generations living in abysmal conditions.

This Palestine-themed issue of emel does not have all the answers to the intransigent and bloody problems of the Holy Land. The intricately woven, complex meddling of other countries has created a web that is hard to unpick. Add to this the fanatics of all hues and religions, and one realises that the road ahead is not an easy one. However, what is glaringly apparent to anyone with a sense of justice is that the systemic de-humanising of Palestinians is wrong and cannot continue. They live under iron-fisted brutality, with scant regard of their basic needs, dignity, or rights. Their situation makes this the gravest human rights issue of our day. The Wall devours Palestinian land, restricting movement, destroying communities, and ultimately creating Bantustans; it is an abhorrence to anyone with a sense of righteousness.

This is not a Muslim versus Jewish conflict. It is an issue of human rights and dignity. There are many Palestinian Christians suffering too—this is, after all, the Holy Land. There are also Jews who stand firm against the injustices perpetrated in the name of their faith, race, and nationality. They are good examples of the Qur'anic verse, "Stand up firmly for justice, as witnesses to God, even if it be against yourselves, your parents, and your relatives, or whether it is against the rich or the poor..." (4:135) Muslims must also stand firm when wrongdoing is perpetrated. Suicide bombings may seem like an answer in the face of extreme provocation. They are not. They de-humanise at the most profound level, turning body, mind and soul into weapons. And if we de-humanise through anti-Semitism, we debase ourselves. Instead, the Islamic way is to humanise each other, and everyone.
This edition attempts to show you the humanity of the Palestinian people. They have names, dreams, and aspirations. As you read the stories of a heartless existence being lived with dignity and courage, I hope you will see how you can participate in creating solutions. We cannot just abdicate responsibility to our leaders to find peace and justice—they have failed so far; we must reclaim our own responsibilities.

The road to justice may seem impossible. It is not. Injustice can never prevail, whoever the perpetrator, whoever the victim. South Africa is a recent example. Injustice is very powerful, but it is also very ugly. Might has its moments, but Right is perpetual. We must engage and make efforts to establish justice. We must visit Palestine to show our solidarity, and to learn first hand of the situation. We must support the formation of civil society with our expertise, and finances. Volunteers and money are both needed. And we should support the Boycott, Disinvestment and Sanctions (BDS) Movement.
I would never purchase anything from South Africa. Why do we buy Jaffa fruit and Israeli dates? Why do we wear Caterpillar boots when they sell their bulldozers to the Israeli army, who use them to destroy Palestinian homes, schools, olive groves (and even lives)? The Church of England has advised disinvestment from Caterpillar. We must lobby and ask others to participate in BDS. It is not the only answer, but it is a place for everyone to start.

Ultimately, we must affect the lives of the people—not because Palestinians are Muslims, but because Jews, Christians and Muslims are all human, and we need to bring each other back to our shared humanity.
Share this


Link to this
Printer Friendly