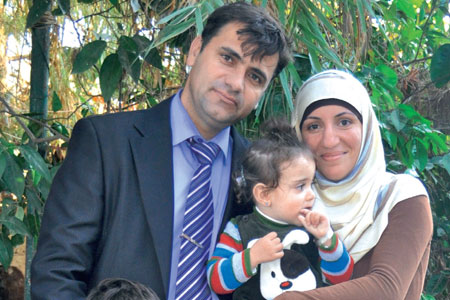 A Week in the Life of Wafaa Mohammed
Issue 87 December 2011
I wake up every morning at around five o'clock, and get ready to leave my house in Nablus by 6am. I work in the accounting department at the Ministry of Telecommunications, which is based in Ramallah. The journey to work by taxi usually takes an hour to an hour and a half, and is very dependent on traffic along the route. There is one checkpoint to go through, where the soldiers stop the car, check our identification, and then wave us through. Sometimes they say it is closed for no apparent reason, and this is regardless of whether you have government identification or are a foreign national. If the checkpoint is closed, the taxi driver can usually go through local villages to get to Ramallah, but this can take up to two hours.

I work in the postal department, and start at 8am. I deal with the accounts and daily finances. At the end of each month, we compile summaries for all 83 post offices in the Palestinian Authority with all the necessary balance sheets. I very much enjoy my job at the Ministry, as I did my Bachelor's degree in Accounting. I was a very fast learner at the start, and have become very capable in whatever is asked of me. I believe that if you have an open mind and can listen, it is possible to do anything that you want.

I was born in Beirut and grew up there, where my father was a journalist and my mother a teacher. We returned to our hometown of Tulkarim in Palestine after the Oslo Accords, because we believed that it would be the start of a new era for Palestine. I began studying at university in Nablus where I met my husband. After completing my Bachelor's degree, I went on to do a Master's in Development Planning. I am hoping to study for a PhD, but will have to seek a scholarship to fund this.

I finish work at 4:30 in the afternoon, and arrive in Nablus by 6pm. The first thing I do is go and collect my one and a half year old daughter from her carer. She used to stay at the kindergarten during the day, but at times I would return from work late because of traffic or being hassled along the way at the checkpoints, so I moved her to a carer instead. I also have a son who is six and he lives with his grandmother in Tulkarim because he attends school there. Unfortunately, I do not have time to take him to school and get to work in the morning, so now I only see him at the weekends. Read More
Get your digital copy of emel today. With exclusive videos, behind the scenes footage, animation, and much more, the digital edition is the perfect way to read your favourite magazine whenever and wherever you want. Get your digital edition now!
Share this


Link to this
Printer Friendly