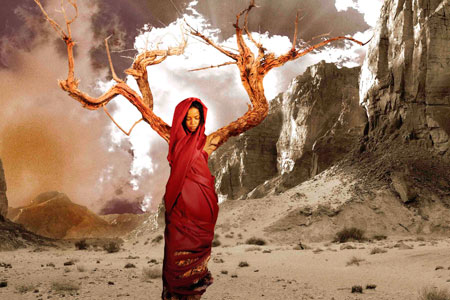 Art of the Revolution
Issue 88 January 2012
Whilst revolutions can stem from awful situations of oppression and tyranny, the hope that transcends them paves the way for tributes of inspiration. Fatema Zehra explores the mark left by the revolutionary uprisings in Egypt.
This time last year, the Arab world was experiencing a shift unlike anything before. In December 2010, a Tunisian street vendor Mohamed Bouazizi set himself on fire in protest at the confiscation of his wares, and for countless years of humiliation by the police. This tragic act triggered a series of demonstrations in the Arab world, culminating in revolutions in Tunisia and Egypt, regime collapse in Libya and civil uprising in Syria, Bahrain and Yemen, commonly referred to as the Arab Spring. 25th January is the day when the Egyptian people decided to stand up and be heard, putting an end to the country's dictatorial dynasty. Subsequently the revolution in Egypt was referred to as the 25 January Revolution, Thawrat 25 Yan¯ayir. By January 28th, the Egyptian government had fully restricted the internet and mobile phones, in an attempt to cut off social media platforms. The Arab Spring in Tunisia, Egypt and elsewhere in the Middle East heavily relied on the internet, social media and technologies like Twitter, TwitPic, Facebook and YouTube in the early stages to accelerate the social protest. On February 11th, following weeks of determined protests and pressure from the international world, Mubarak resigned from office.

The following summer saw Boris Johnson, the Mayor of London, present Shubbak, the capital's first celebration of contemporary culture from the Arab world. Amongst the film screenings, book readings and meetings with prominent Arab figures in the world of culture, a distinctively unique exhibition was held in a quiet street off London's Sloane Square. The Mica Gallery played host to From Facebook to Nassbook, a showcase of contemporary Egyptian art, culture & thought. The exhibition was a compilation of artwork from Egypt.

Curated by Sara Raza, a London-based independent curator and editor for ArtAsiaPacific Magazine and Ibraaz, From Facebook to Nassbook displayed nine cross-generational contemporary Read More
Share this


Link to this
Printer Friendly